This is an authorized translation in English of a post in French by @japon: De takayama à Tokyo
As my primary language is not English, there are probably some mistakes in my translation.
Remember that the person that speaks here is NOT me, Vincent Celier (@vcelier), but @japon, a French guy.
---
I spent the night in a wonderful traditional ryokan. On its own, it symbolizes all that I had come to find in Japan. The refinement, the carefully chosen decoration, the sense of service and this particular aesthetic.
At 7:55 AM I show up for breakfast. I am made to understand that I am too early: it is necessary to wait for 8:00 AM precise. The staff is busy, and then the doors open. I have a shock.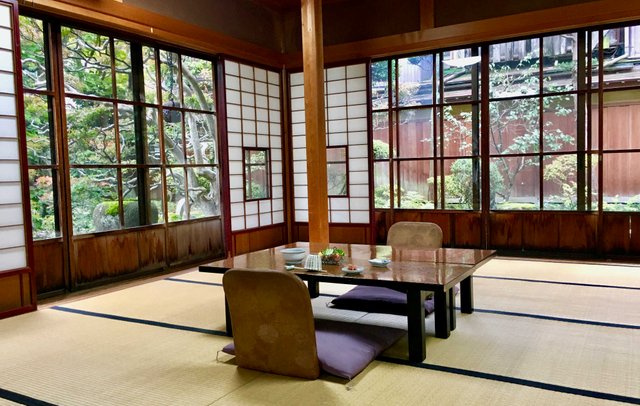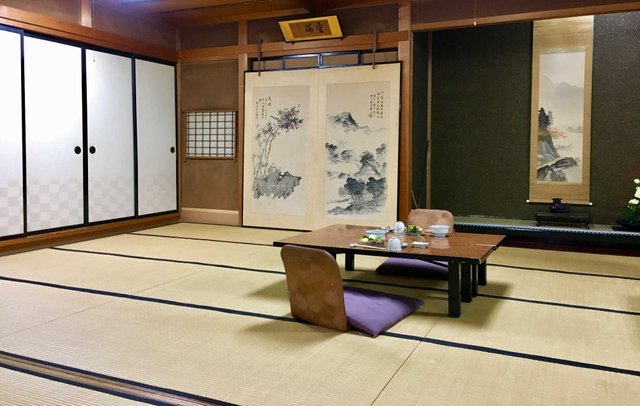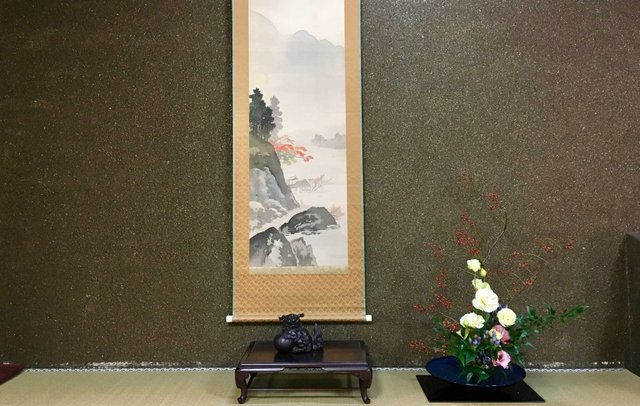 A room all in tatami, shoji panels on the sides, some tables and zabuton armchairs. That's wonderful. There is a small Japanese garden, and the ryokan manager explains to me that the azalea that stands in the center is over 300 years old.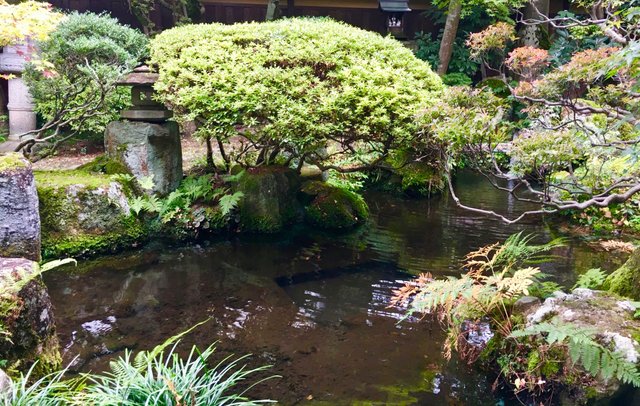 I sit down at a table, and they begin to bring me the meal. Small bowls, fish, beef in miso paste, some vegetables, rice, tea. It's hearty, it's beautiful and above all it's good. Every bite is an explosion of flavors. I had never eaten things as good as that.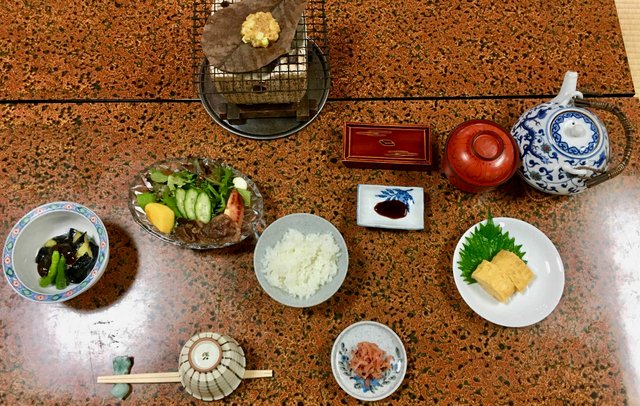 After finishing breakfast I still stay a little to contemplate the place. I am well. I did not want to leave. Yet my life is elsewhere.
I have 2 ½ hours in front of me before taking my train. I'm leaving for a walk in the city, in the cool morning.
Every morning in Takayama there are two markets. I like these popular places. Vendors of vegetables, fruits, trinkets, some takeaway cuisine.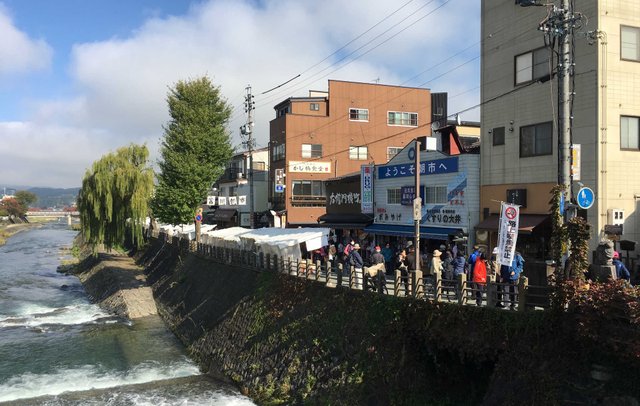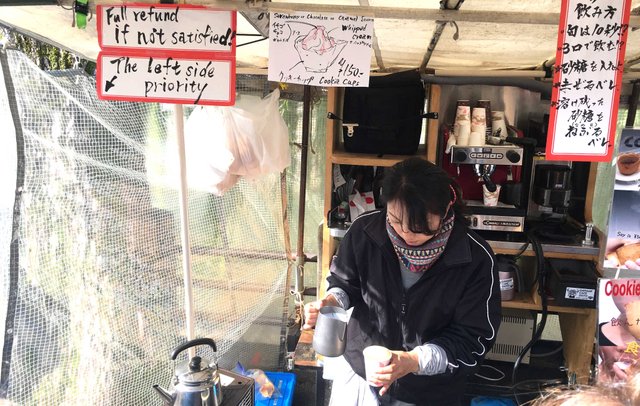 Continuing the walk in the city, I pass next to a temple and its big pagoda. I take advantage of the last moments in this small town that has retained its historic charm.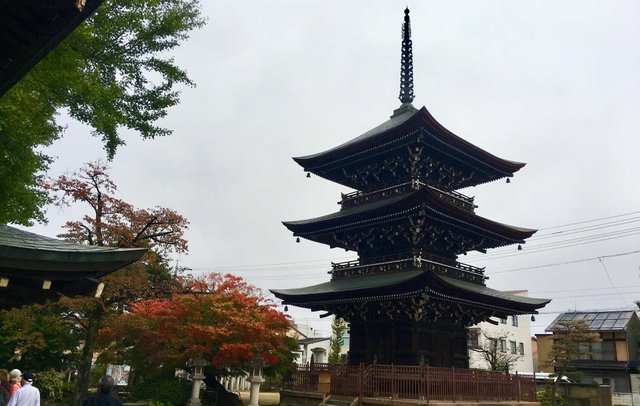 But time is running out, I return to the ryokan to take my luggage, not without thanking my hosts for a night. I get on the little local train that brings me to Nagoya. From there I take a Shinkansen to Tokyo.
Because the trip lasts a few hours, I buy one of these Bento that are on sale everywhere. I enjoy it as I see the scenery in front of me at almost 300 kilometers an hour.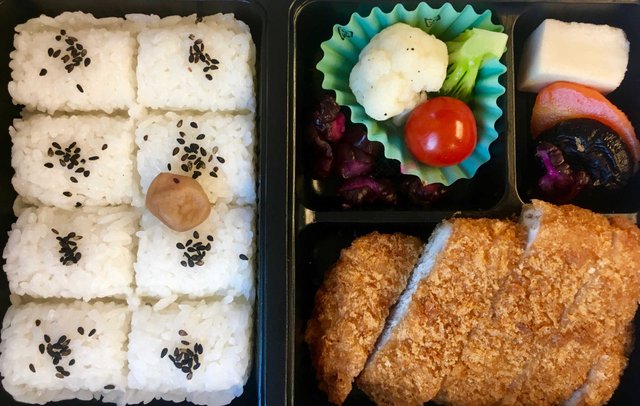 We pass next to Mount Fuji. It was my only opportunity to see it. I had planned a day in Kawaguchiko, but the weather was so bad that I could not do anything. It rained all the time and the iconic volcano remained hidden. I do not even speak to you about it because finally there was not much to say.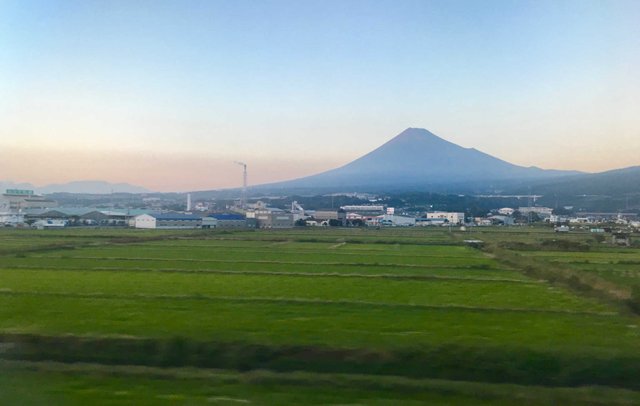 Too bad, seeing Mount Fuji is also a matter of luck. It will be for next time.
At 6 PM, I arrive at Tokyo station. It was a Friday, there were a lot of people. I have to take a train to the Asakusa area where I had booked a hotel. But I cannot find the platform. I ask an agent, who is happy to accompany me on the platform. Ah, Japanese friendliness touched me a lot during this trip.
-- @japon
---
01: Travel diary in Japan, by @japon
02: Tokyo, overcrowded city? Really? by @japon
03: Are the Japanese too disciplined? by @japon
04: Going to Japan without speaking Japanese? by @japon
05: Ueno, more than just a big park in Tokyo, by @japon
06: Asakusa, diving in the heart of Tokyo's historic district, by @japon
07: Ameyoko, Ueno's colorful market, by @japon
08: Tsukiji, the largest fish market in the world, by @japon
09: Climb the steps of Atago Jinja Shrine in Tokyo, by @japon
10: Hama Rikyu, an exceptional park in the heart of Tokyo, by @japon
11: Jimbocho, old books and tempura, by @japon
12: Shinjuku Gyoen Park and the best burger in the world!, by @japon
13: One night in Shibuya, by @japon
14: Takeshita dori : this little street dedicated to fashion (and good crepes), by @japon
15: They lie to you about Kyoto, by @japon
16: The temples and secret garden of Higashi in Kyoto, by @japon
17: Kinkaku-ji, the temple of the Golden Pavilion in Kyoto, by @japon
18: Ryoan-ji, the amazing stone garden in Kyoto, by @japon
19: The Ninna-ji Temple and its extraordinary gardens, by @japon
20: Kyoto Gyoen, the Imperial Palace Park, by @japon
21: Nishiki Market: A Must in Kyoto, by @japon
22: Ginkaku-ji, the temple of the silver pavilion in Kyoto, by @japon
23: Meditate on the path of philosophy, by @japon
24: Nanzen-ji, its impressive gate and two gardens, by @japon
25: Heian-jinju: the big shrine and its garden that I almost missed, by @japon
26: Eikan-do, the temple of the momiji maples in Kyoto, by @japon
27: Kodai-ji, a Kyoto temple dedicated to a woman's love for her husband, by @japon
28: Sannenzaka and Ninenzaka, the streets of Higashiyama, by @japon
29: Kiyomizu-dera, the temple of pure water in Kyoto, by @japon
30: Tofuku-ji: the maple lookout point, by @japon
31: Makis, Yasaka-jinja Shrine and Maruyama Park, by @japon
32: Nijo Castle and its fabulous garden, by @japon
33:Departure for Osaka and its castle, and announcement of a typhoon, by @japon
34: Osaka, the garden Keitaku-en under a torrential rain, by @japon
35: Doguya-suji, the kitchen market in Osaka, by @japon
36: Dōtonbori, the bustling district of Osaka, by @japon
37: Back to Kyoto and Typhoons, meetings and reunions, by @japon
38: Sanjūsangen-dō, the temple of a thousand and one statues, by @japon
39: On the road to Fushimi Inari Taisha, by @japon
40: Daigo-ji, the large Buddhist complex built on a mountainside, by @japon
41: Departure for Nara, we look at the fallow deers and we mistake the garden, by @japon
42: Isui-en, the big Japanese garden of Nara, by @japon
43: Todai-ji, the temple with the huge Buddha statue in Nara, by @japon
44: Nara, from Nigatsu-dō to Kasuga, by @japon
45: Arashiyama, the district west of Kyoto and its bamboo plantation, by @japon
46: Tasting the serenity of Jojakko-ji Temple, by @japon
47: Tenryū-ji, one of the most beautiful temples of Arashiyama, by @japon
48: I finally find the Gio-ji, this little Arashiyama moss garden, by @japon
49: Daikaku-ji, the great Buddhist complex of Arashiyama, by @japon
50: Departure for Takayama, by @japon
51: Takayama, this small town in the Japanese Alps that plunges you back to Samurai times, by @japon