As my primary language is not English, there are probably some mistakes in my translation.
Remember that the person that speaks here is NOT me, Vincent Celier (@vcelier), but @japon, a French guy.
---
I continue my walk south of Higashiyama district, east of Kyoto. If the whole northern part was relatively calm, the more I go and the more people there are. Entire troops of tourists walk to Kiyomizu-Dera, the temple of pure water, which is one of the emblematic places of the city.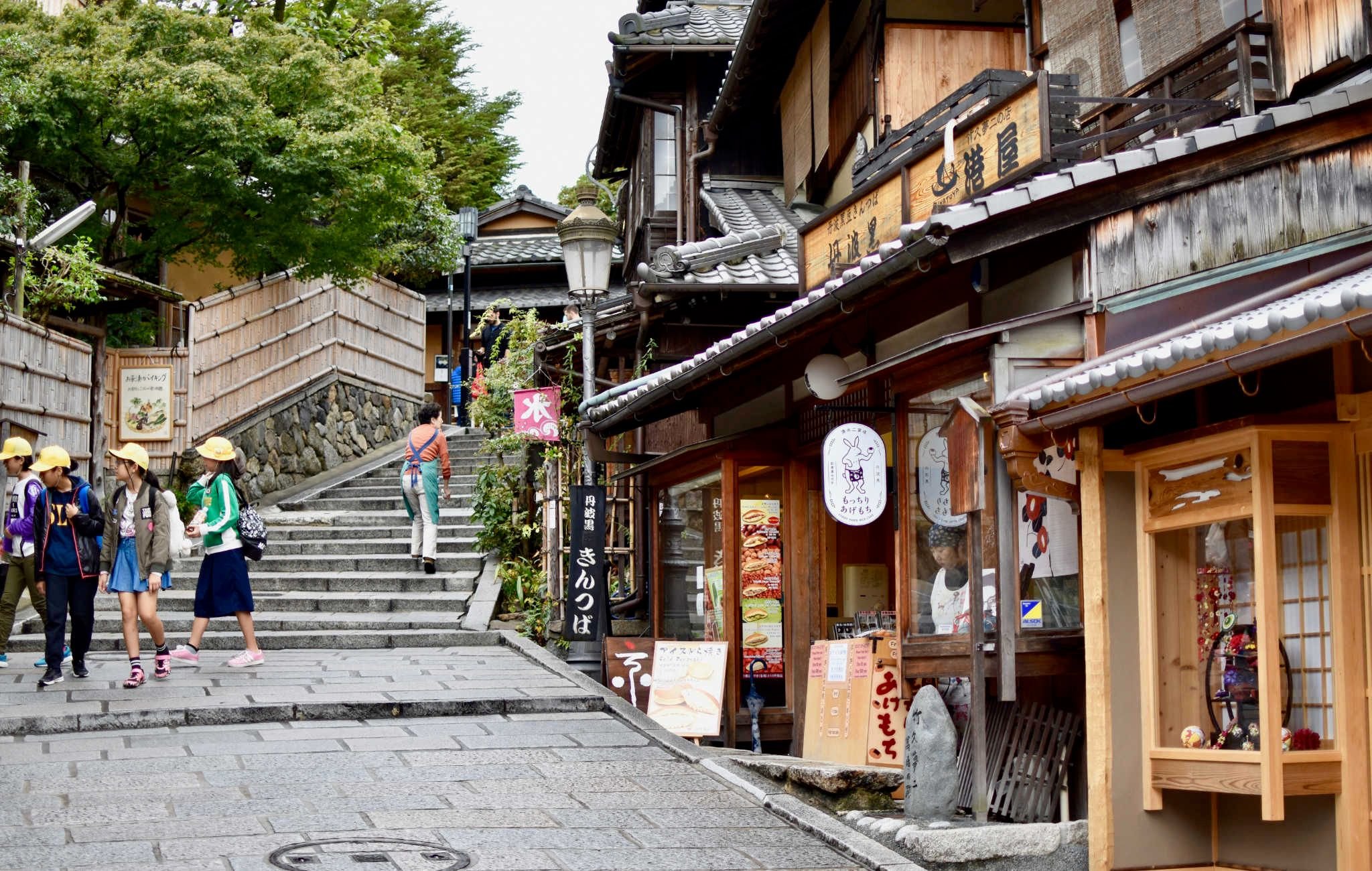 The temple is on the heights, and the almost obligatory passage, are these two narrow cobbled streets with an evocative name: Ninenzaka and Sannenzaka. Literally, it means "the slope of two years" and "the slope of three years". The legend says that you fall in the first one, you will die within 2 years. And respectively 3 years for the second one.
It must be said that the many stairs, the reduced space, the slippery pavement when it rains, and the crowd sometimes dense, make it easy to stumble. Do not worry, I stayed on my two legs, so I still have long and beautiful years in front of me.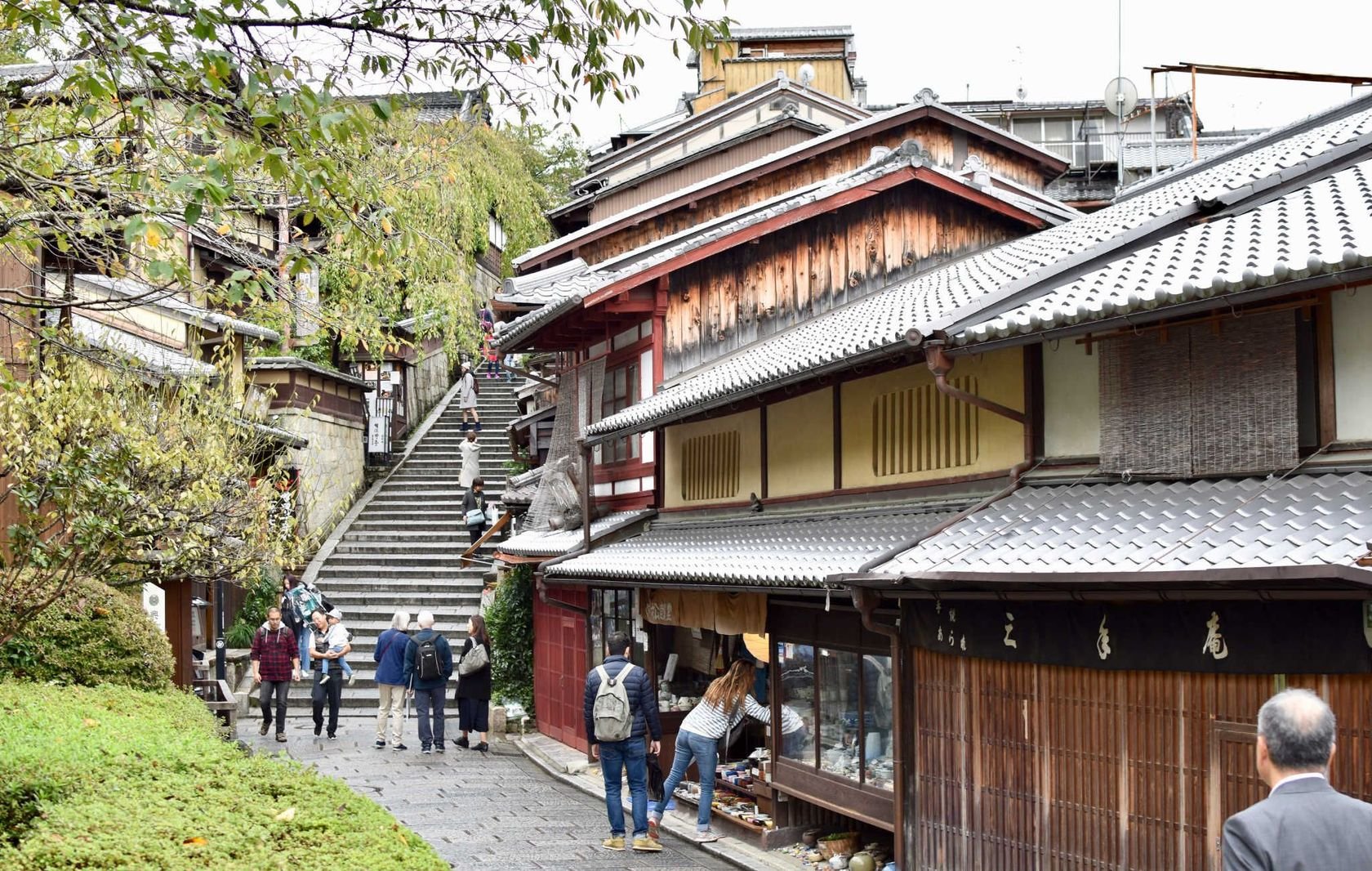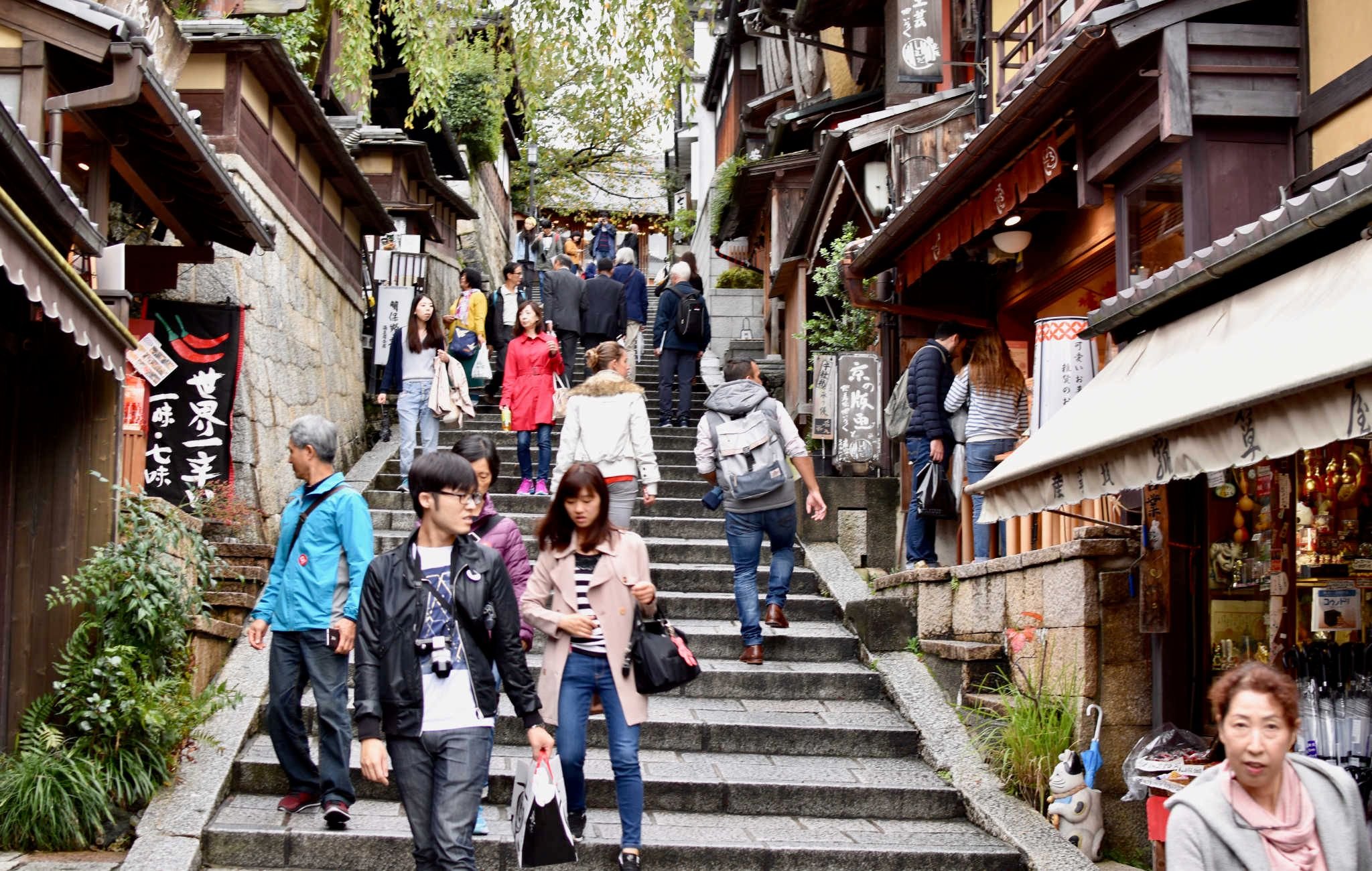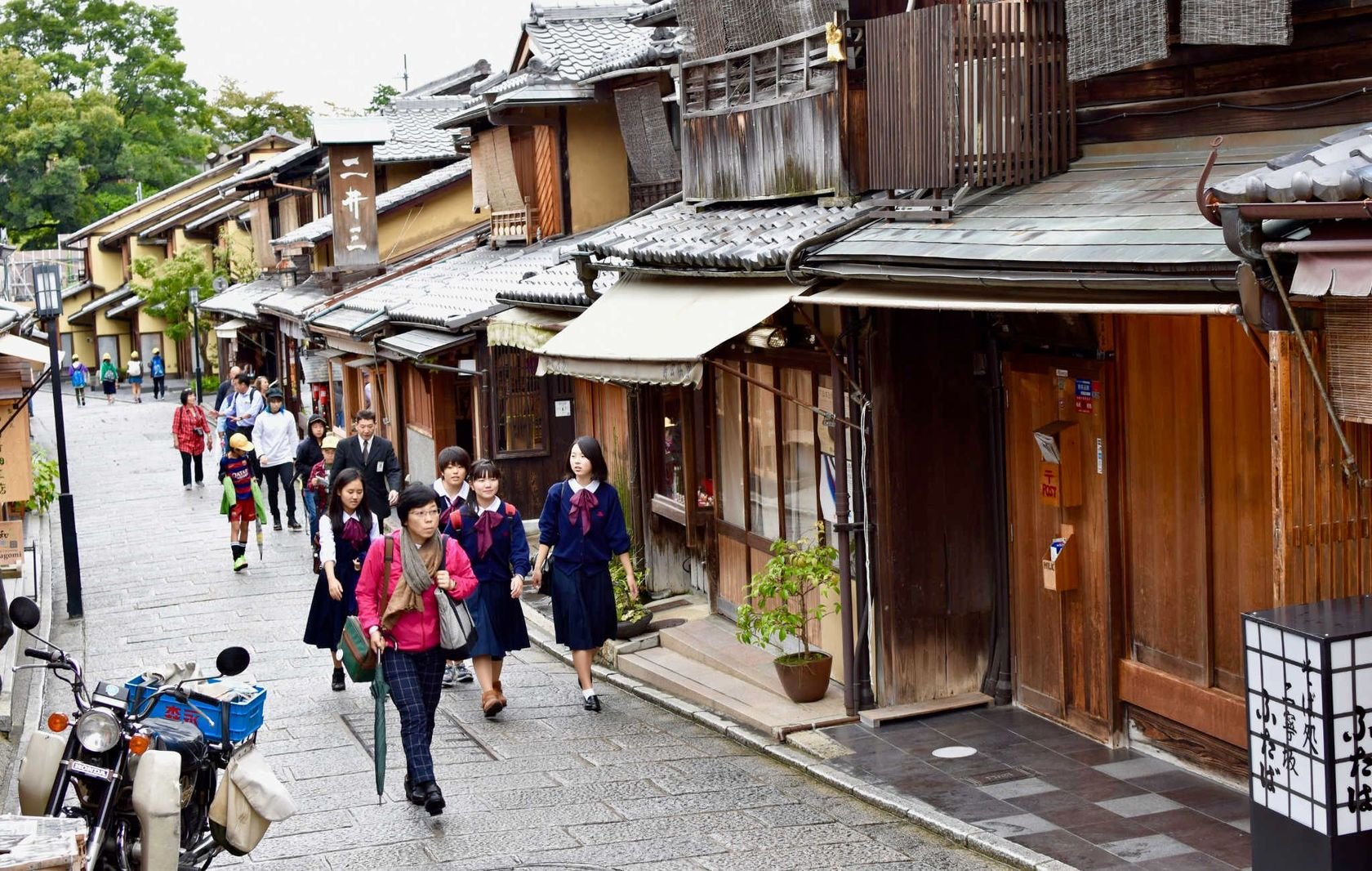 Beyond the legend, it's really a nice place to walk. We are immediately immersed in time. At times, traditional wooden houses evoke a distant Japan, the samurai, we even hope to see a geisha cross quickly to go to an appointment. All this is only imagination but these streets lend themselves to daydreaming. They also have a protection status to maintain the original character of the place.
On each side of the streets, there are many shops. Sometimes souvenirs for tourists, but also some craftsmen. Also some small restaurants, to eat on the spot or to take away.
Do not think that you come across only foreign tourists. On the contrary, it's very much alive. I meet schoolchildren with their blue uniform, couples in love walking, salarymen, Japanese women who go shopping. It's not just a place of passage, it's a living place.
The stairs allow to elevate and enjoy a view of the beautiful pagoda that is often seen in magazines and tourist guides.

![](https://steemit-production-imageproxy-upload.s3.amazonaws.com/DQmU7UsQDVG86u4qKFvoBCeq2tXqVm8orTkgbYAXkqP2Riv

The more I move towards Kiyomizu-dera and the more people there are. I also meet Buddhist monks who recite a prayer asking for some money.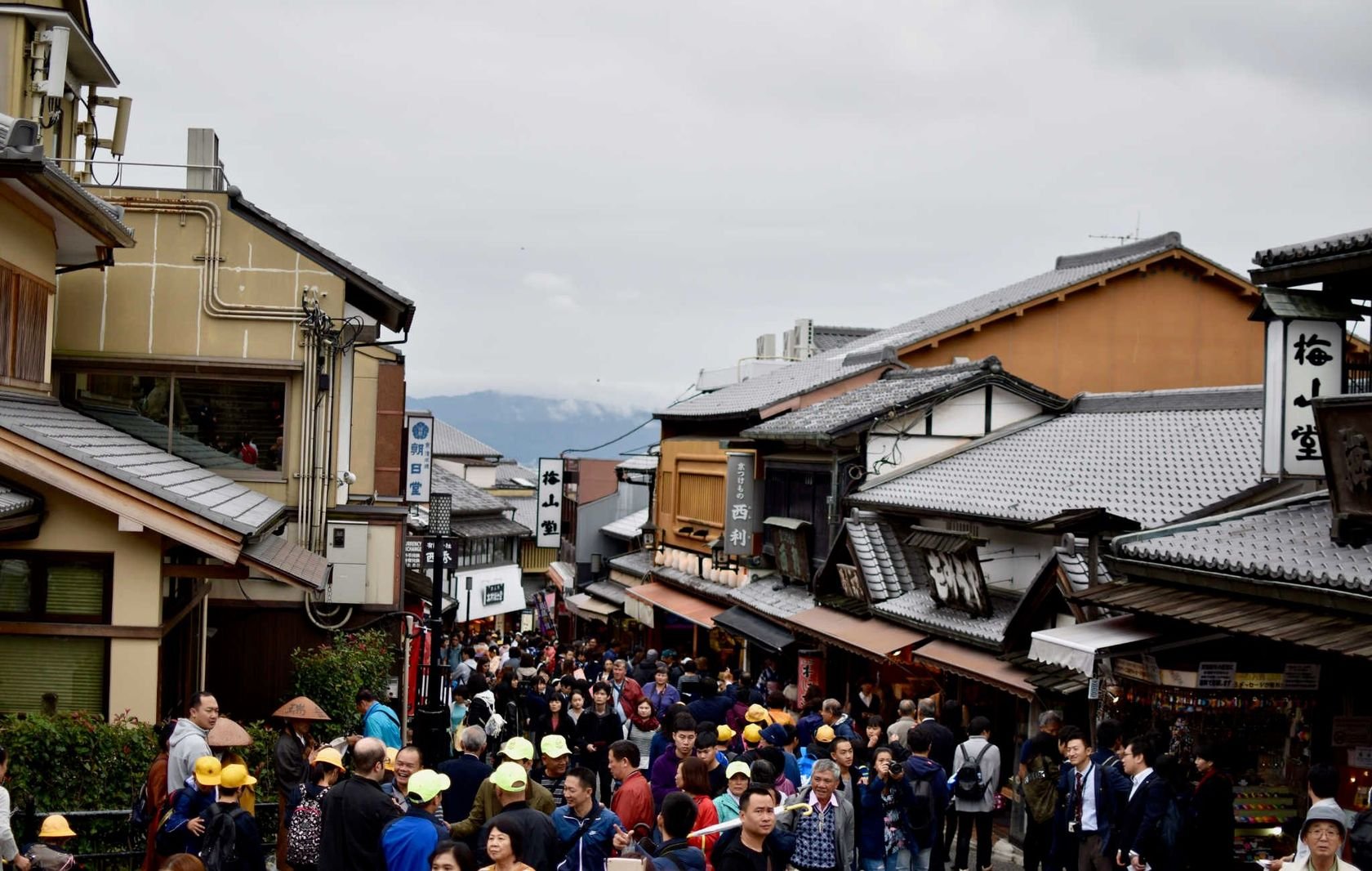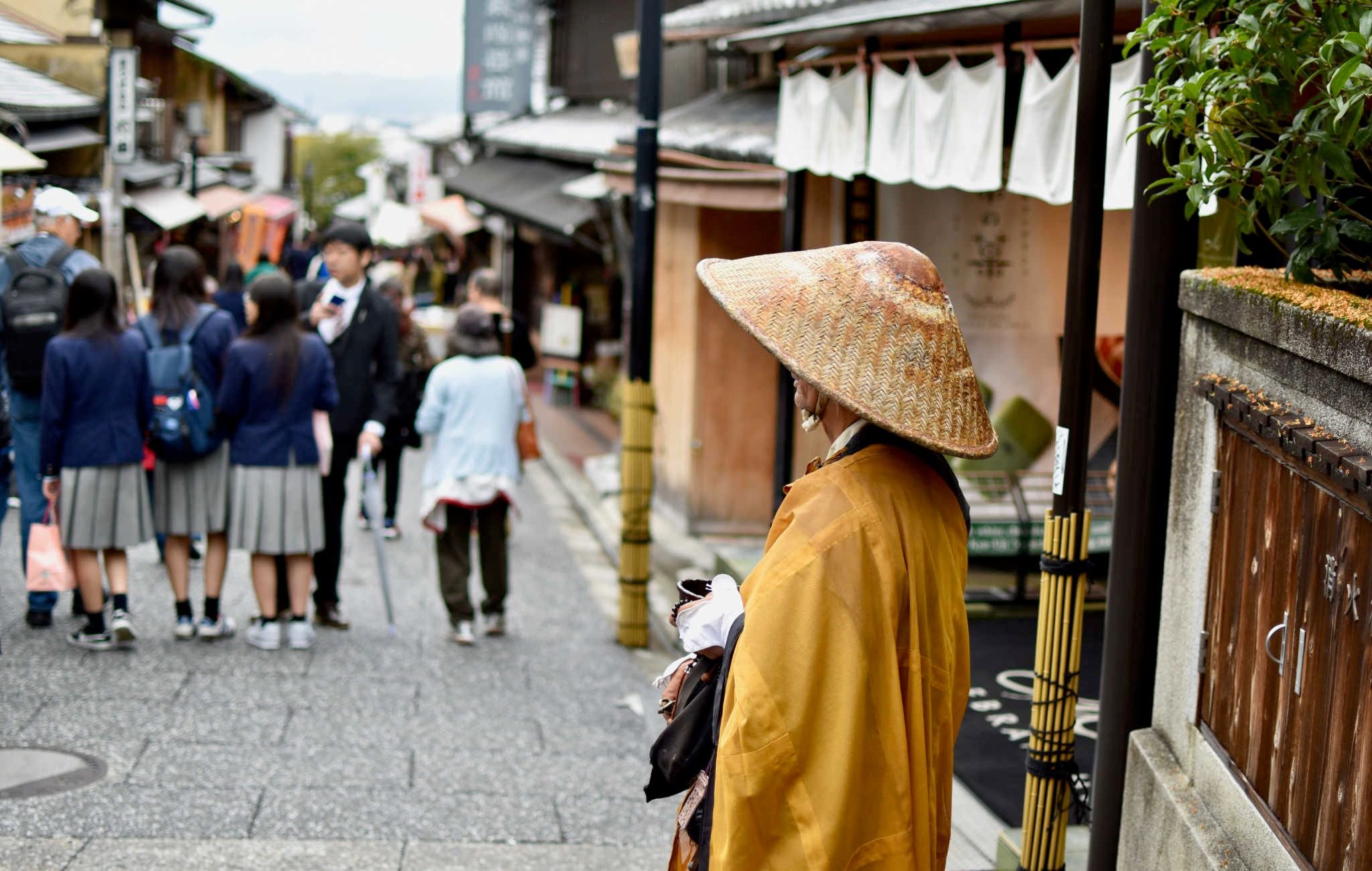 I finally arrive at my destination, but what I will see will be for a next episode of my adventures in Japan.
-- @japon
---
01: Travel diary in Japan, by @japon
02: Tokyo, overcrowded city? Really? by @japon
03: Are the Japanese too disciplined? by @japon
04: Going to Japan without speaking Japanese? by @japon
05: Ueno, more than just a big park in Tokyo, by @japon
06: Asakusa, diving in the heart of Tokyo's historic district, by @japon
07: Ameyoko, Ueno's colorful market, by @japon
08: Tsukiji, the largest fish market in the world, by @japon
09: Climb the steps of Atago Jinja Shrine in Tokyo, by @japon
10: Hama Rikyu, an exceptional park in the heart of Tokyo, by @japon
11: Jimbocho, old books and tempura, by @japon
12: Shinjuku Gyoen Park and the best burger in the world!, by @japon
13: One night in Shibuya, by @japon
14: Takeshita dori : this little street dedicated to fashion (and good crepes), by @japon
15: They lie to you about Kyoto, by @japon
16: The temples and secret garden of Higashi in Kyoto, by @japon
17: Kinkaku-ji, the temple of the Golden Pavilion in Kyoto, by @japon
18: Ryoan-ji, the amazing stone garden in Kyoto, by @japon
19: The Ninna-ji Temple and its extraordinary gardens, by @japon
20: Kyoto Gyoen, the Imperial Palace Park, by @japon
21: Nishiki Market: A Must in Kyoto, by @japon
22: Ginkaku-ji, the temple of the silver pavilion in Kyoto, by @japon
23: Meditate on the path of philosophy, by @japon
24: Nanzen-ji, its impressive gate and two gardens, by @japon
25: Heian-jinju: the big shrine and its garden that I almost missed, by @japon
26: Eikan-do, the temple of the momiji maples in Kyoto, by @japon
27: Kodai-ji, a Kyoto temple dedicated to a woman's love for her husband, by @japon