Hoooooorray readers! This will be a quick series to update during the cycling - Progress has been made!
---
Suuuuuupe readers, when you think I'm dead bang I reappear! Let me update you on the progress of our winter journey on board the bicycle in Europe - We made it to Czech Republic safe and clear!
Thanks to YOU, the awesome steemians I'm at the moment in a hostel called Poet's Corner in Olomouc (CZ), one of the luxuries I'll threat myself from time to time just to update the page and talk to you all. My computer is already working full force on the videos and material should be released today and tomorrow!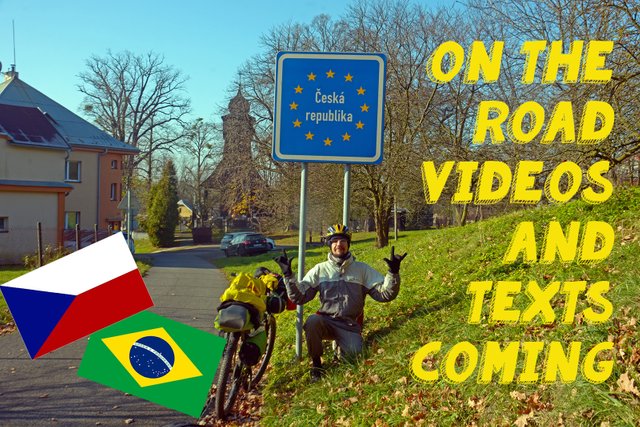 ---
Updating Life
Current Position: Olomouc in Zcech Republic.
This city is one of those places where you'd never want to leave, it's so alive and the architecture is amazing, you'll see on the upcoming posts. The hostel is awesome and has a 60's vibe; there's a piano, guitar, good music playing all day on the radio - will I leave this place to go back to the tent?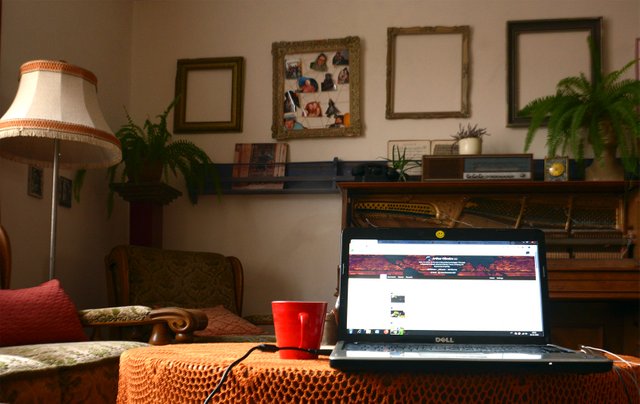 Click image to enlarge!
---
Following the Path
The route from Poland to Czech Republic was mostly paved with farms, fresh air, people looking at me suspisiously and specially tiring. Some parts were originally train tracks that they turned into bicycle lanes - smooth as butter and better than real brazilian high-ways. Here I'm resting a bit and freezing my behind when the sun hid between the trees.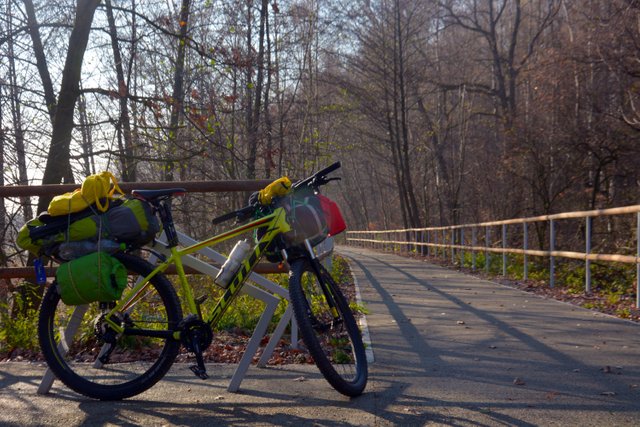 Click image to enlarge!
---
Trails and Forests
Sometimes the path would lead inside forests with gravel roads, lots of ups and downs, loose rocks and wild animals. People chopping firewood could be heard on the distance and the smell of burning fireplaces could be smelled. In front of me the road and the noise of tires going over gravel, I couldn't help but think about my next wild camp and a hot meal.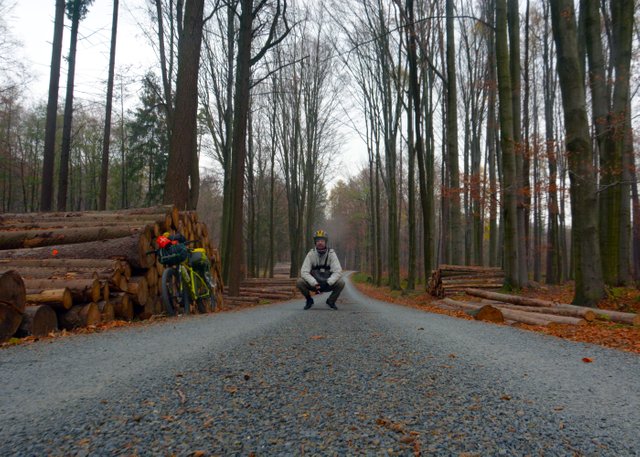 Click image to enlarge!
---
Wild Camping
In order to enjoy nature and save some money I wild camp a lot, at 4 P.M the sun starts to go down, which pressures me to find a good spot away form people. Technicaly wild camping is not allowed, so finding the perfect spot takes time and effort. However, once it's done, it's done... the rest is the pure joy of being in nature, cooking and resting 'till the next day. This camp is recorded on video and will be released soon.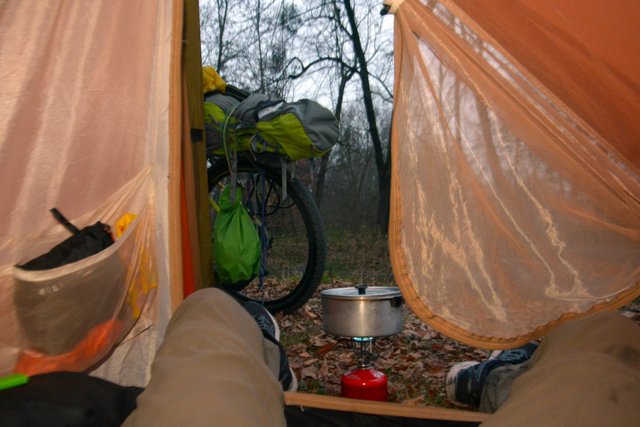 Click image to enlarge!
---
I'm staying in Olomouc until Friday so I can clear the content backlog, hopefully you'll enjoy it - all this is made possible because of you! Stay tuned and I'll try not to disapoint the monsters.
Come with me ladies and gentleman! Are you enjoying?
If you liked this post, please, consider leaving your upvote for a hot coffee.
~Love ya all,

---
Disclaimer:  The author of this post is a convict broke backpacker, who has travelled more than 10.000 km hitchhiking. Following him may cause severe problems of wanderlust and inquietud. You've been warned.
---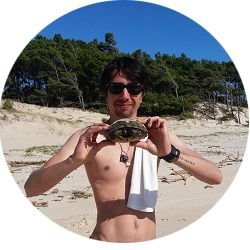 I'm Arthur. I blog about Adventure Stories, Brazil, Travel, Camping & Life Experiences.
Follow me to stay tuned for more craziness and tips.
You may also want to read:
Quick Trip Update: Enjoying Salame Somewhere in Poland
[vlog #21] Bike Tour Poland | Apocalyptic Camping | Still Alive
[vlog #20] Bike Vlogging in Kraków | SF3 | Poland
[Blog #45] Visiting Kraków | Outside SteemFest 3 | Photography"
[vlog #19] SF3 Challenge | How long from Brazil to Kraków?
CO-FOUNDER AND CURATOR ON:

A PROUD MEMBER OF: