What an awesome surprise from @aggroed! I've been away on vacation and haven't been active on Steemit or SteemMonsters. During vacation, I logged on to https://steemmonsters.com briefly and received this gift notification.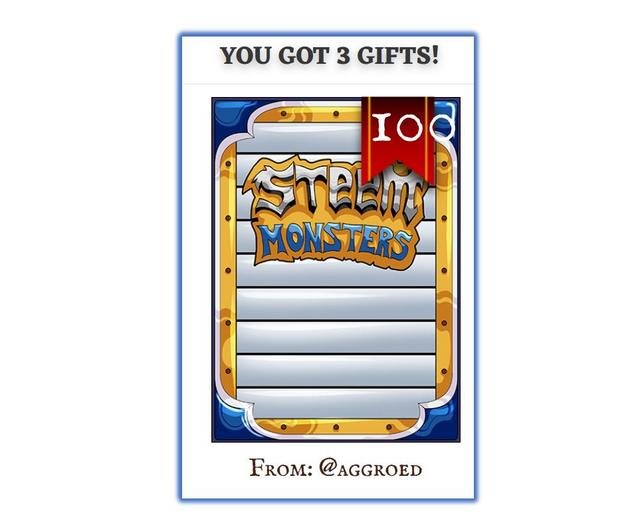 Your eyes are not playing tricks on you. The numeric value on the top right corner says 100.
@aggroed gifted me 100 booster packs!
How did I end up with this big win?!

Before I left on vacation, I read @aggroed's post on reaching a $10k market day in Steem Monsters and max-leveling his common cards. Congratulations @steemmonsters team and @aggroed! At the end of his post, he added a sneaky contest.

Back as a newbie, I used to enter many contests. It was the best way to meet others and earn rewards. I don't enter many contests anymore because others need more support, but since I had planned on commenting with my congratulations to @aggroed, I thought, why not enter too? I never expected to win. Honest truth. In fact, I don't remember seeing @aggroed mentioning me in any post that I had won. I only found out when I saw the gift notification on steemmonsters.com.
Thank you so much @aggroed! I appreciate the support both you and @yabapmatt have shown to the community on both your personal accounts, @steemmonsters account, and the curation accounts you support (@postcurator and @msp-curation).
Gotta love the Sneaky Contests!

Steem Monsters is truly a community of sharing and generosity. Let me give you another reason why I am a big fan of the community. I was fortunate to win the contest from @aggroed and am very appreciative!
Another fill-in the text contest was held by Steem Monsters co-founder @yabapmatt on his Tech Talk 5 post for the non-techie readers. The prize was 10 STEEM for the funniest text.
My friend entered the contest and was thrilled to have won. As it turned out, everyone who entered was a winner!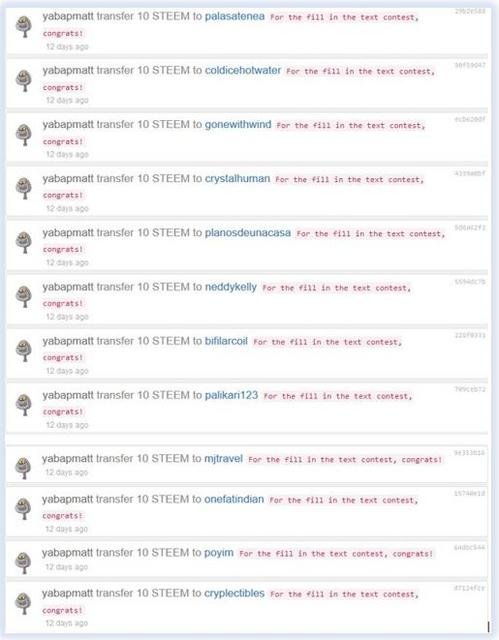 Yes, gotta love the contests and the community support from Steem Monsters founders @aggroed and @yabapmatt!

Small contest of my own
In an effort to pay-it-forward, I will host a small contest of my own. I will NOT be sending from the booster packs gifted to me. The boosters packs for my contest will be purchased and sent directly to the winners. In fact, I have yet to open the packs from @aggroed. Please, no peeking and ruining my surprise! I'm waiting for the return of a semblance of routine from vacationhood before opening the packs.
---
❤️ Prize 🎖: (5) Booster Packs for anyone new to @steemmonsters, has never received a booster pack or has yet to purchase a starter pack. Simply comment below if you are new.
Five individuals will win one booster pack each.


❤️ Prize 🎖: (5) Booster Packs for writing in the comments below why you DO or DO NOT support the two witnesses behind @steemmonsters (witnesses @aggroed and @yabapmatt).
Five individuals will win one booster pack each.
I'm curious as to why people do/do not support the witness team behind @steemmonsters. I have seen more community support from them than some of the other top witnesses. So share your reasons!
---
Here are my reasons:
I support @yabapmatt because I see his community support to others either on his personal account, @steemmonsters, or via his @postcurator account.
Even though I support the community effort of @steemmonsters, I didn't give my vote to @aggroed since he is already a top witness. He didn't need my small support. A few days ago I updated my witness list. I realized then I support Tim Cliff who is also a top witness! So my reason for not voting for @aggroed didn't make sense to me. I rectified my witness support to @aggroed yesterday. Every vote matters, small or large!
💛 Contest winners will be randomly selected. One prize per person. In the past, I used the web tool: https://www.miniwebtool.com/random-picker/. I may make a video recording my kiddo's hand selecting the winners from a hat. We'll see! 😄
💜 Payout: Prize will occur at the end of this post's payout.

Many thanks to @aggroed for the booster packs!