How Much is Your Post Worth? [A Steemit Rewards Guide]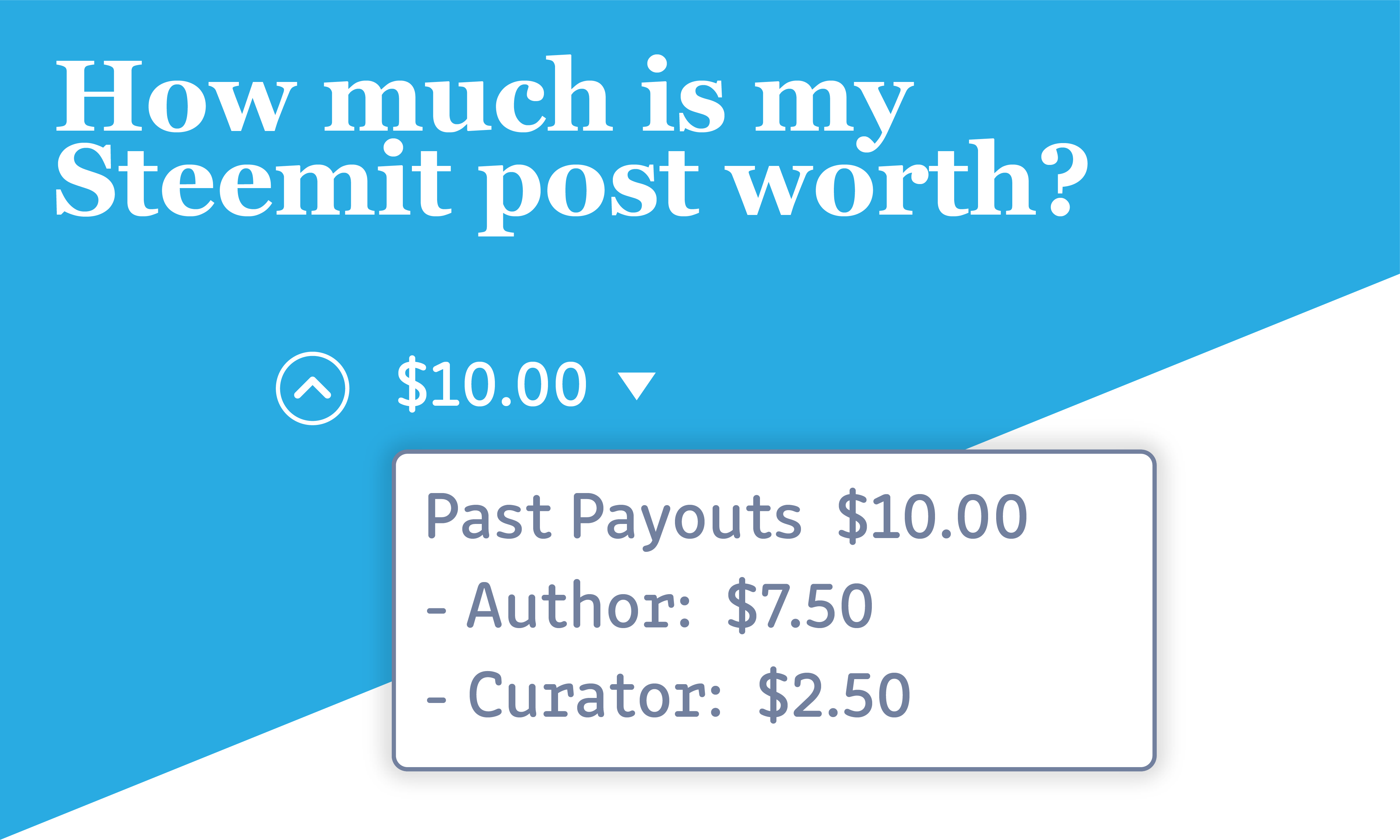 Breaking Down the Rewards
---
Let's talk about how much your post is worth! There are always a number of moving parts when it comes to calculating the true dollar value of a blog post. As we've gone over in our previous wallet post, there are actually 2 different cryptocurrencies on Steemit that you can through by creating content, commenting and upvoting.
So okay, how much is my post worth?
---
Each post and each comment is "paid out" after a 7 day window. When you receive a payout, you are actually receiving around 75% - 80% of the post amount. Why is this? Because the people who have upvoted your post receive rewards too! These supporters of yours are called "curators" and the remaining 20% - 25% is split among them in proportion to how much strength they put towards your post. If you're curious, you can learn more about curation rewards, by clicking here.
So in this example (below), it's finally been 7 days and you've received your post reward! Your blog post received $10.00 over the course of those 7 days. Follow along each step to learn how your earnings break down, and how to calculate the USD value of those rewards: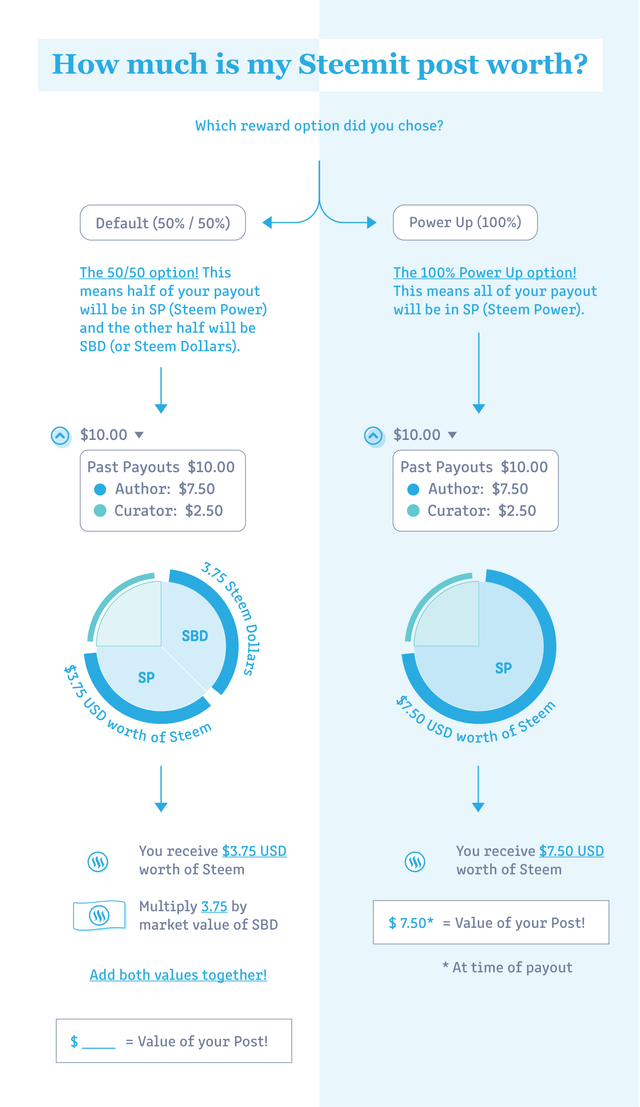 Look up the Market Value
---
By following the links below, you can discover the real-time market value of both Steem and SBD. The values of both cryptocurrencies change every second of every day. So the "real" value of your blog post is always moving, just as the markets do. (You might have already noticed that the value of your post fluctuates pretty often over a 7 day period.)
Understanding the Interface
---
The mechanics of post payouts are a lot to digest! So don't worry, there's a whole economy on display here, and that can be a lot to take in. Take your time with each step, and don't feel pressured to know every angle before blogging away.
Should Steemit Display Something Different?
---
The payout interface can be difficult to understand, especially for new users who still have to figure out how the wallet and the two different currencies work with one another. This is compounded with the fact that a post's 'worth' is demarcated by the USD symbol "$" rather than something native like Steem. Payout estimates do not take into account a scenario when 1 SBD is actually worth more than 1 USD. (1 SBD is currently worth $4.00 USD.) So what might be a solution? Should the interface display Steem plus SBD without any attempted conversion into USD?
What do you think fellow Steemians?
---
Thanks for reading! We hope you found this Steemit Payout guide useful. Take a look at our full outline of resources below. If you have any questions please don't hesitate to reach out in the comment section.
---
---
Help us spread the word. Follow our Twitter and YouTube Channel!
---