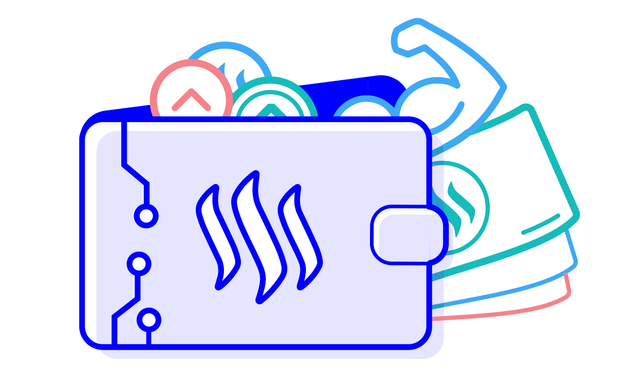 Toolkit posts are designed to help new Steemians get acquainted with the ins and outs of Steemit. If you have requests on components or systems related to Steemit that you would like to see explained, please let us know in the comments below. [The graphics and portions of text have been updated from our original wallet post.]
Steemit Wallet 101
---
For a new user, understanding the Steemit wallet can be a challenge! There are multiple categories where two different cryptocurrencies are held in your personal account. Today, we will break down the basics of the wallet, describing what each category means, and help you get comfortable navigating the local lingo.
"Wait, what's my wallet?" The wallet tab is your very own Steemit bank account. Here, you can keep track of how much STEEM and SBD you've earned, transfer it to other Steemit users, deposit or withdraw. Everything in your wallet - numbers, transactions, and other activity - is open for the public to see.
| Currency | Description |
| --- | --- |
| | STEEM - is the central currency on Steemit.com. It's a cryptocurrency or "token" very similar to Bitcoin. You can earn Steem by blogging, commenting and upvoting content on Steemit. This section of the wallet shows your "liquid" Steem meaning you can withdraw these tokens at any time. You can also move Steem to SP in a process called "Powering Up" (learn more about this below). |
| | STEEM Power - (or SP) is the same as Steem. SP though, indicates how much influence you wield in the Steemit community. The more SP you have, the more valuable your vote becomes. Unlike the liquid Steem in the first section, SP is locked in unless you click "Power Down" (learn more about this below). |
| | Steem Dollars - (or SBD) is a secondary currency on Steemit.com. Value-wise, SBD are designed (algorithmically) to never dip below approx. $1.00 USD (though it can go much higher). You can earn SBD by blogging and commenting on Steemit.com. Just like Steem, this section of your wallet is liquid, meaning you can withdraw these tokens at any time or you can convert your SBD to Steem through using the "Market" tab. |
---
| Term | Description |
| --- | --- |
| | Savings - this feature provides an extra layer of security for your assets. Here, you can safely hold both your liquid Steem and SBD. It's a lock-in measure like Steem Power (SP is actually even more secure!) Once you deposit liquid cryptocurrency into your "savings" it takes 3.5 days to remove it. (It's important to note that any of the Steem or SBD in the Savings section cannot contribute to your upvote strength.) |
| | Estimated Account Value - this number shows the cumulative and estimated total value of all your Steem + SBD = in United States Dollars. This number fluctuates all the time. Why? The value of Steem and SBD changes every day as people earn and trade it. If you're curious to learn exactly what 1 Steem token is worth right this moment, click here! |

| Term | Description |
| --- | --- |
| | Power Up - If you have liquid Steem, you can move those tokens directly into Steem Power using a feature called "Powering Up." Moving liquid Steem into vested Steem increases the strength of your upvote and simultaneously the amount of curation rewards you can earn. Ultimately, the more Steem Power you have, the bigger your vote! |
| | Power Down - you can turn Steem Power back into Steem using a feature called "Powering Down." As a security measure, the process of converting your SP into Steem occurs in 13 installments over the course of 13 weeks. Keep in mind, your voting strength decreases every week you Power Down. (Power downs can be stopped at any time.) |
| | Transfer - this action is pretty neat. Here, you can move liquid STEEM and SBD to any other Steemit user or a third party cryptocurrency exchange / wallet. Simply click the little carrot drop-down and select "Transfer". You'll then be prompted to enter in the amount you would like to transfer along with the account you are moving the cryptocurrency to. |
| | Market - here you can explore Steemit's very own cryptocurrency marketplace. You can use this feature to convert your SBD (Steem Dollars) into Steem or vice versa. This is a nice internal platform to follow trading and keep track of the markets in real time. |
---
Exploring More @sndbox Steemit Toolkits
---
Thanks for reading! We hope you found this Steemit Wallet walkthrough useful. Take a look at our full outline of resource / tutorial posts here. If you have any questions please don't hesitate to reach out in the comment section. Check out our other toolkit posts for helpful tips and ideas :
---
---
---
Help us spread the word. Follow our Twitter and YouTube Channel!
---