Looks like it doesn't matter if its a shit post when you chase curation rewards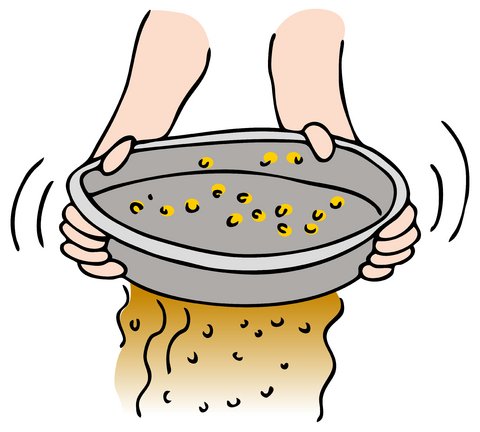 Like any user here, we all looking on trending page and often we see shit posts with hundreds of dollars there and we ask ourselves how its possible and i see 3 problems, one of them its not so important because its about people who dont read, doesnt have too much vote power and just throwing votes. 
First problem 
First one and important its becausing of bots, buying vote power with sbd/steem. We can't blame them on short term like 2-3 days until the owners realise was a shit post and put them on black list or take the vote back. 
Of course as a bot owner you want to have more and more money in your stash and you close eyes, at least make him to change his attitude or explain how to do better, dont put it on black list if its a good sheep for your incomes but try to keep them under control, dont mess the community. 
Second problem 
The 2nd problem and the major one is with the whales/dolphins with a vote power over 1-2USD who are chasing great rewards from curation, they start throwing dollars on that shit post because they know will be a great payday for them and doesnt care what they vote as long they earn money from that vote. 
(i dont want to explain how they know which post gonna make huge rewards curation because i dont want to teach everybody to do this shit. its way more easy just to follow one-two websites and give your votes than reading tons of content, i have seen some witness doing this shit and its not ok) 
I dont want to give names or examples of bad posts because we all see them and few takes actions against it.
This is the key to lose on long term and i explain why: 
1. you encourage bad content to be promoted and make people angry who work hard to create content but are not rewarded at all by their merits and in the end they will give up 
2.you help people who just started to leave this place without looking back 
(i am curious to see how many accounts exist with under 5-10 posts here and they never wrote something in past one month, 2 months, 5 months, 10 months and so on, this will prove my points better) 
How comes? Its simple somehow. I have read here life stories who can beat any movie scenario, educational themes who can be in any scientific publications with that specific theme, great great content but not promoted and not curated at all, why? Because you will get less money and you dont have time to read them all.
Make an exercise of imagination when one active user here try to convince a friend from real life to become active user what discuss they have. (Lets say Tommy and Jim on their nicknames)
Tommy: Hey Jim, i just found a great website for content creators, everybody can be rewarded based on their work.
Jim: Wow, nice ! Tell me more about it!
Tommy:  You can write anything its crossing your mind, from traveling to developing apps, from healty life to gaming and crypto. ANYTHING !!
Jim:  Incredible, how can i start?
Tommy: You create an account here and it takes up to 2 weeks to validate your account and you are payed in crypto.
Jim: Ok... When did you started? How many articles did you wrote?
Tommy: 3 weeks ago and i have around 10-12 articles.
Jim: How much did you earn from it?
Tommy: Around 40 cents, but i can earn more if i get more followers, i will create better content and so on.
Jim: Ok... i will take a look on it. How is your life now? What you do beside this?
And the discussion stops here, Jim probably will take a look and from 200 Jims we will have maximum 10 Jims on the website as active users who will give up some of them sooner or later due this problem of bad curation.
For people in France for example, UK, Germany, Spain, Luxembourg, Belgium, Switzerland, United States, Canada, Nordic Countries from Europe, Australia, when they hear about 40 usd, not 40 cents in 3 weeks they consider its a waste of time. Only if they are passionate about writing doesnt care about this aspect.
Jim will ask Tommy, why to write there if i have no friends to talk with or share my experiences with for few bucks per month? All my friends are on this and this and this website.
We all now how many places are where you can write specific themes, have tons of visitors, user friendly interface and for common user from commodity prefer social media to express themselves than the new and great projects.
What we need to do? Invest your power in projects who does very good curations, use https://steemauto.com/dash.php and give your voting power to people who loves to curate, reading, voting, commenting. Your power will be your power anytime, but this way you help community if you dont have time and the most important thing YOU HELPING YOU. Invest in anything could help this community, i create a post about creating contests but are no real interests.
If steemit gets promoted well, people will start talking more and more about it and your vote power who worth 1 usd now, can worth 10-20 usd or more in the future if this website its mass adopted.
Its your own interest as investor to help this community, on long term anything you do now, will be exponentialy rewarded.
Its a real life fact this, an unhappy customer, tell to minimum 10 friends about his bad experience, but a happy one says to minim 3 friends about his great experience and i didnt misstype the numbers, this is the reality.
More unhappy users, exponential less possible active users.
Fact: from first 50 posts on trending "all tags" only 12 of them are without voting bots.
This is a great project, i recommend you to read it and help it if can: https://steemit.com/steemvoter/@steemvoter/introducing-a-brand-new-steemvoter
Will be great guilds who will focus on curation, also in this 12 posts one team its involved in most of them and they have my gratitude and respect:  @utopian-io . ( vote for them as witness here Vote your witness and this is their witness thread
Do what you want to do, but live with your decisions. Good luck with them, but if you want steemit to compete with reddit, facebook and other social media apps/websites you should think twice if you dont want to help this community.