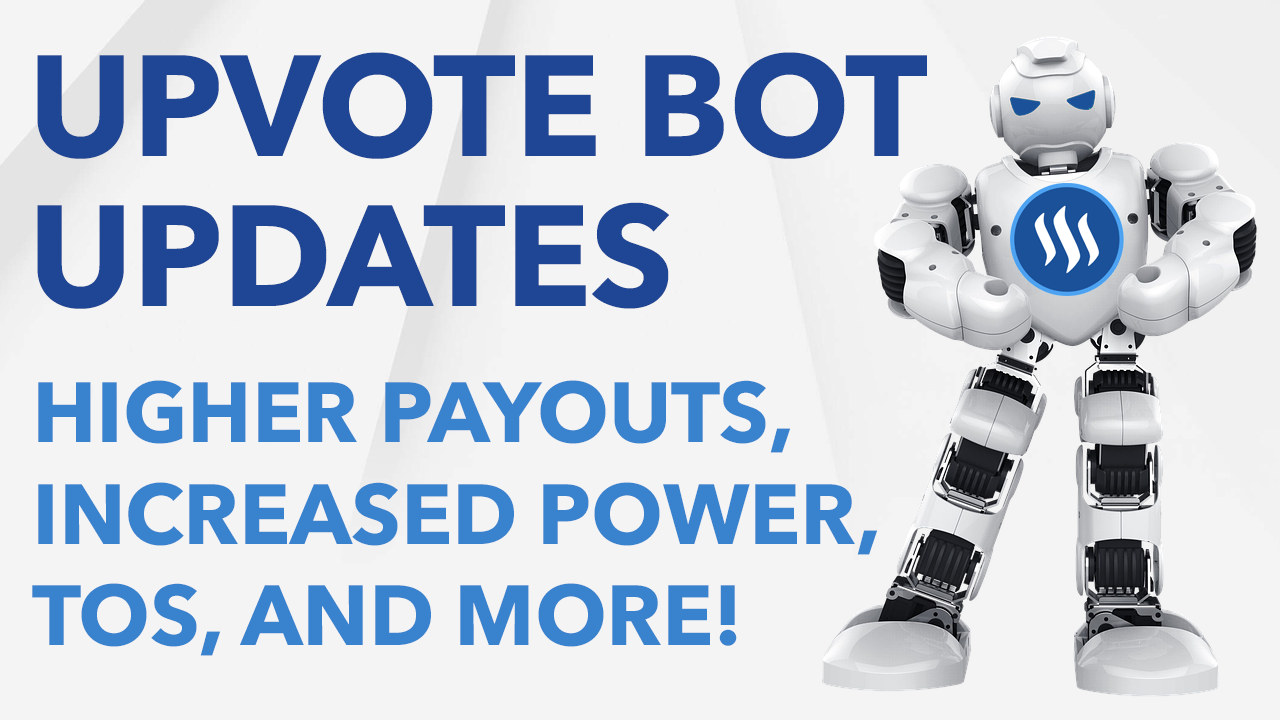 Upvote Bot Updates 4/11/18
Hi guys, I just want to give you a quick update regarding the @brandonfrye upvote bot service. You delegators (and future delegators) are going to absolutely love this! Today I've personally invested another $3,300 into the upvote bot and @minnowfund initiative to better prepare us for massive growth ahead. So let's get to the details...
---
Higher Delegation Payouts
Okay, you're probably most interested about this so I will announce it first. Although I've received much praise for the incredible returns people are getting from delegating to the bot, I knew that at some point I wanted to increase payouts even more... as long as it didn't negatively impact @minnowfund.
Today I'm happy to report that future payouts (starting tomorrow) will be increased from 80% to 85%!!
I want to make sure that I look after those who have invested in me, my upvote service, and the @minnowfund initiative. Without you guys, we wouldn't be able to help new users each and every week. Speaking of MinnowFund, it will still get it's 10% of all bids coming in. But I have decreased my personal payout from 10% to only 5%. This wasn't an easy decision because I had to calculate what impact this could have on my ability to continue financing the bot. I spent all last night and today running through the numbers, and I've come to the conclusion that these changes make sense and are sustainable.
How Can I Delegate And Earn Passively?
If you would like to support the @minnowfund, and earn 85% of the profits in daily SBD and Steem payouts, please consider delegating to the bot. Your support goes a long way here! Simply go to https://steembottracker.com/delegation.html and insert your username, click Load, add @brandonfrye as the Delegatee, and insert the amount of delegation.
Note: I recommend delegating a minimum of 50 SP.
---
Increased Steem Power Delegation
Also, just this week alone I have added another 12,290 SP of delegation to the bot, bringing us to a total of 33,520 SP. This is huge! The bot's upvote has increased by over 50%!! My out-of-pocket cost for this delegation was around $2,800 but should be easily recouped in the long run as the blocktrades delegation payouts are being paid back to me and being recycled into more delegation. It's a never-ending cycle lol. 🙃😀
---
MinnowFund SP Increase
While I was on a spending spree today, I decided I may as well go ahead and add some more SP to the @minnowfund. So I increased it's SP from 64 to 270 which will allow us to fund four minnows with 50 SP over the next few weeks. Yes, this means that I will be increasing the delegation to minnows to 50SP!
One thing I've noticed is that, until the bot has increased in value a little more, I'll personally need to fund this initiative to make up for what we're lacking in bid payouts. That's no problem though; I'll make sure that the initiative continues to be funded. And at some point it will become completely funded and maintained by the upvote bot service.
---
Upvote Bot Blacklist & TOS
As of Sunday 4/8/18 we now have a Terms of Service for the upvote bot and an active blacklist which I am adding new users to every single day. It's a time-consuming process of manually going through and checking out each individual post, but I'm doing it for the sake of making Steemit a better place for everybody. You can learn more about our TOS and Blacklist here.
---
Increased Minimum Bid Amount
It's been a while since I changed the minimum bid amount for the bot. I really don't like to mess with this much as people tend to become familiar with our bid prices. I really don't want to confuse them too much. But today I did increase the minimum bid from .10 SBD or Steem to .15 SBD or Steem. With a 50% increase in voting power it's only fair to increase the minimum bid by 50% as well.
EDIT: I decided to move this back to .10 SBD or Steem so that the bot would be available to more people.
---
Those are the updates for this week! If you have any questions about anything, please let me know in the comments below. But I'm looking forward to a bright future with everybody here on Steemit!!

Recent Posts