The Nightly Task Manager (11.26.2016)- Steemit Posts That Pay You!
Posting and paying everyone from the cell phone yesterday was lots of fun... I hope I didn't miss anyone, if I did hit me up in the comments along with the usual. Finally back home and on the desktop :) Remember, the 0.1 Steem Power reward is a MINIMUM, and may increase based on how well this post pays out.
Tonight's Paying Posts
@thegame - Up or Down Steem Distribution Game, Bitcoin BTC/USD Price Up or Down and Ethereum ETH/BTC Up or Down Steem Distribution Game. Guess if the selected coin will go up or down, only vote on one comment per post!
@safecrack - Crack the Safe #20, choose a 4 digit number over 0000 for a chance to win the big prize!
@bola - Sentence Unscrambler #72 has yet to be unscrambled, resteem reward also available.
@riosparada - STEEMIT WORLD LOTTERY # 18, follow the instructions carefully, large jackpot. Works off real lotto draw numbers for fairness.  Steemit Cyber-Monday Pot Redistribution!, everyone who replies with what they would like to buy on Cyber Monday, upvotes and resteems this post will get an equal share of the earnings. 11ish hours left as of this post.
@maarnio- Forex Contest November 26: USD/ZAR,  100% of Steem from this post will be distributed equally to the winners. The winners will be determined by the price action (which one happens first). As always pay attention to the rules!
@cryptohazard - Simple game: Guess the rewards, Win the STEEM, as the title says, guess the reward $ amount and win the steem from the post.
@taskmanager - @taskmanager has a contest! I'll pay for two to get into steemprentice!, nominate a deserving person to have their steemprentice guild membership paid for, both you and your nominee will have a chance to win.
Old News: Featured in a previous post but still valid, in case you missed it :)
 @englishtchrivy - STEEMIT Culinary Challenge # 4 : Unorthodox CHILLIed Dish, 1st prize - 30 SBD. Pay attention to the must do list! 
@jamtaylor -  📷 Steemit Photo Challenge - Top prize of 35 SBD, this weeks theme is the human body. Posts in this contests tend to do quite well on top of the chance to win! 

@chessmasters - Brought to you by the @steemsports team, same thing, only chess. Works just like steemsports bets, only vote on 1 comment!

@steemprentice - ANN: Steemprentice Account Group Investing, Sharing, Voting, Writing, like the crowdfundedwhale  project. 10 Steem minimum for participation. See the post for details. 

@steemsports - Almost everyone already bets on steemsports bets.... but some do so incorrectly. Cast only 1 vote in the comments section or you will not qualify.  

@papa-pepper - PAPA TURNS 70 - SO YOU GET A NEW CONTEST, multi-layered contests. Some have been won. Check out the post for details.  

@crowdfundedwhale - Send Steem, Steem Power or Steem Dollar donation to their account, after that the bot will upvote your posts. The project needs more repeat donations. They have updated the terms to a minimum 10 SP, 10 Steem or 1 Steem Dollar to join! 
Previous two payouts: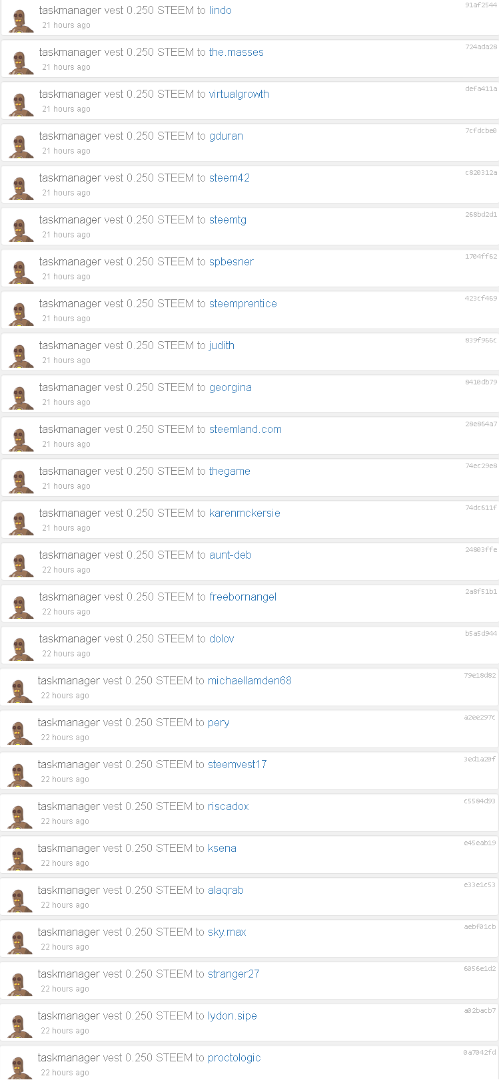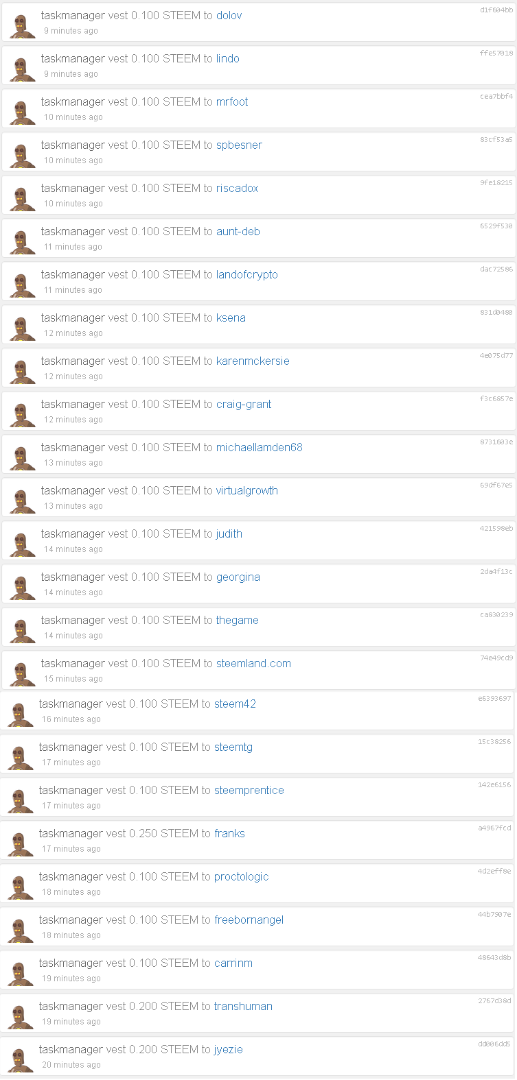 Special Task: Upvote and resteem this post, then comment "Task Complete" below for a reward of 0.1  Steem Power! Reward will be paid after post payout.  Remember you must have made a blog post within the last 5 days to qualify!