As many of you might know, one of our dearly beloved has parted. That's with a "p," and, no, there's no suffix "de" heading it off. I'm talking about Meister @Quillfire of ancient poetic traditions fame.
I say he's parted because he done went and invited his daughter to Steemit, so now the blockchain has, not one, but two savages. There's Paul, who kind of creepily calls himself Quill, as if he's got some ticklish feather us his ass (which, he probably does), and his illustrious but very Paul-like daughter Kathryn, who very affectionately goes by the pet name "Katie." So, if you want to know who parted Paul, Katie did!
Now, if you want to see what these pair of savages look like, I have the scoop right here.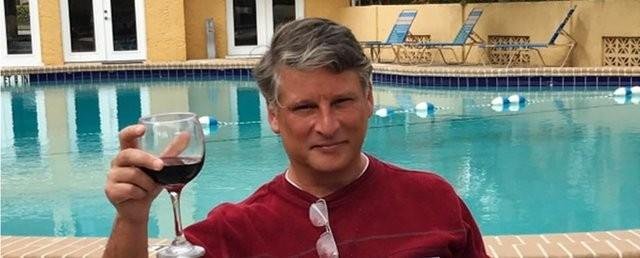 One Savage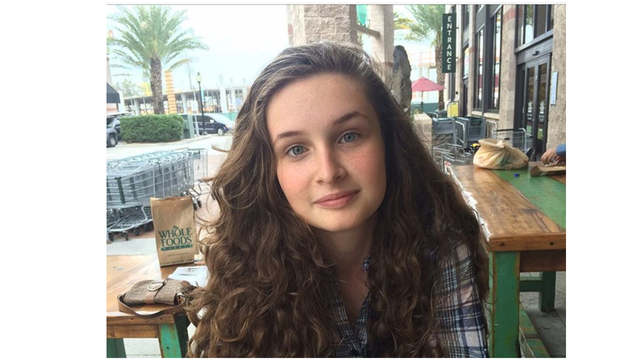 The other Savage
Can you tell the difference? I can't either. My guess is, and this is just a guess, that Paul is the one with what looks like a medicinal glass in his hand. I'm guessing that because Katie, at 17, is too young for such medications. But this is 2019, so who knows how Quills raise their children these days?
Quill celebrated his first year on Steemit in January (like that's a big deal). So he decided to host a toast or roast for his birthday. Kathryn decided to jump in and singe his fatherly feathers. And I'm quite glad she did because Quill has been ruffling a few of his own here lately, including Katie's. You see, it was her idea to host a roast. But he decided to go on a fishing expedition and turn that roast into a roast or toast. But I don't toast guys who toast themselves, so this'll be a roast. And I hope that turkey's ready.
Before I get to roasting, however, I have a couple of announcements to make.

Farmpunk Fiction Contest 2019-1
Announcement #1 is this: @gardengnomepubs has announced the first farmpunk fiction contest of 2019. The theme - roast @quillfire!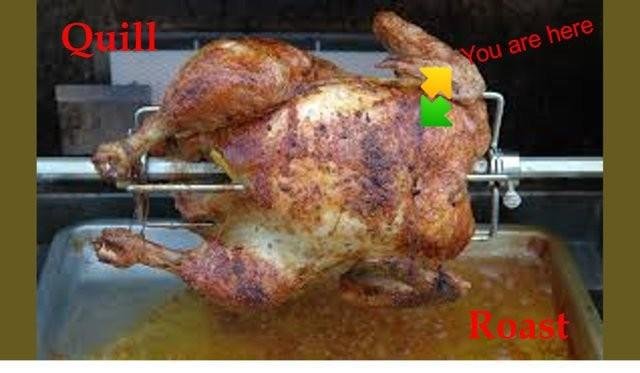 Quill said I could use this image of him still in the oven.
Seriously, in this farmpunk extravaganza, writers are asked to write a story where
@quillfire
is the protagonist (but I'm sure the garden gnomes wouldn't mind if he ended up being the antagonist -- he usually is anyway).
I'm totally looking forward to seeing what writers come up with. The grand prize is 5 Steem Basic Income. So if you've never tried your hand at farmpunk (Quill's favorite genre of literature), enter this contest and take all your frustrations out on Steemit's biggest punching bag.



Collaboration with this Pixabay artist and wannabe face model Paul Savage.

I've Been Sent to Narrative Jail
My true fans know I've been playing around on the new #blockchain social media site Narrative. Why not? After all, Quill isn't there shoving his nose up my butt, pretending my name is Yankee Doodle. You know the old tune ...
Yankee Doodle went to town
Riding on a pony
Stuck a feather in his cap
And called it macaroni
No, that's not a Quillfire original. It's actually an old classic. But you know Quill, he has to take credit for everything. So he's frequently trying to convince me I'm a cap and he's the feather (hence, the "Quill" business). I just can't convince hiim that stuff isn't cool in these days of blockchains and internet archives. What's a poet to do?
So anyways, enough digressing.
While playing around on Narrative a couple of weeks ago, I suggested a Niche that didn't go over so well in the community. It was rejected. My punishment was one week in Narrative jail. I couldn't make any more Niche suggestions for a whole week. But I blame it all on Paul Savage.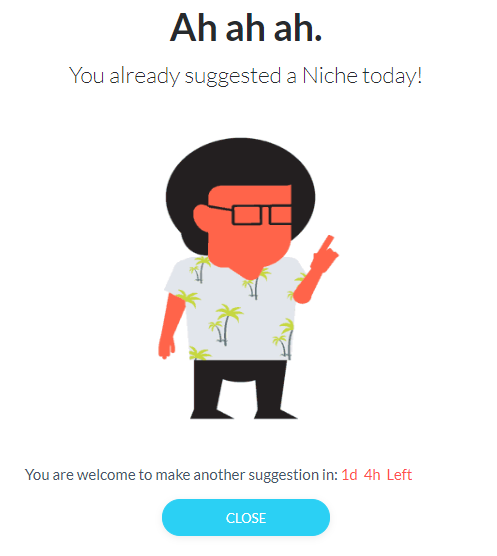 Yep, it's true. He distracted me with that darn feather up my arse and made me eat macaroni. See if I ever invite him to another neighborhood cook out. And to think, he was the guest of honor!
Update: I get out of jail tomorrow, no thanks to Quill.


Hey, Quill, You're Nobody's Huckleberry!
If you know anything about Quillfire, you know he fancies himself quite the poet. To hear him tell it, he's the Bard of the Blockchain. Yeah, whatever. He can't even spell blockchain.
Among the many delusions this man has running through his overblown head are (let's count 'em):
He was William Shakespeare in a past life
He taught Val Kilmer how to play Doc Holliday
He can pick up girls
His rhymes are original and snappy
Napoleon came to him for battle planning advice
He's a good teacher of 17-year-old girl nerds
He's good looking (and everyone knows he can't hold a candle to his mentor, whom he admiringly and starry-eyedly calls Block)
The list could go on, but who has the time? The truth is, we should all start referring to him as St. Quillmo's Fire.

Quill, you are no man in motion. But I'll let you have your day. Celebrate your Steemit birthday with style. Then get on with living. And drop any notion that you can compete with the likes of the great Blockurator.
As a final note, I want to end this roast with words from Quill's own pen. I swear he wrote this himself, to be sung to the tune of St. Elmo's Fire by John Parr.
Growin' up I couldn't see the writing on the wall
Passin' by, movin' straight ahead, Block knew it all
But maybe sometime you can feel my pain
I'll find myself all alone cause everything has changed

Play the game cause I can't win, Block's already won
He's the soldier who always does what must be done
You know, in no way he's nothing like me
I'm just a prisoner, but Block is so free

I need a new horizon underneath the blazing sky
I wanna be where Block is flying higher and higher
He's my man in motion
I wish I had a pair of wheels
Block broke the boy in me, but I can't break the man

I need a new horizon underneath the blazing sky
I wanna be where Block is flying higher and higher
He's my man in motion
I wish I had a pair of wheels
Take me where the future's lying St. Quillmo's fire

Block climbs the highest mountains, crosses the widest seas
He can feel St. Quillmo's fire burning in me, burning in me
Just once in his life a man has his time
And Block's time is now, He's comin' alive

He can hear the music playin', he can see the banners fly
Feel like a vet again. I need to get high

He's my man in motion
I wish I had a pair of wheels
Take me where the future's lying St. Quillmo's fire

I need a new horizon underneath the blazing sky
I wanna be where Block's flying higher and higher
He's my man in motion
I wish I had a pair of wheels
Block, take me where the future's lying St. Quillmo's fire

He can climb the highest mountain, cross the widest sea
He can feel St. Quillmo's fire burning in me, burning in me
Block can feel burning, uh uh inside of me

All I can say is, Quill quit worshipping me. You're nobody's huckleberry.

Dividers by @EdibleChthulhu.

Get your weird lit on:

The Biblical Legends Anthology Series

Limerents in the Bog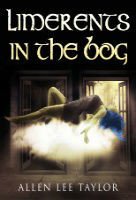 At Amazon

While you're here, check out the backside 5:

Review Me, Please


Created by @EdibleCthulhu