ChillQuill Lights Up The Quill Grill ... "QuillFire Roast or Toast" Contest (Daughter's Edition ... My 1st Steemit Post)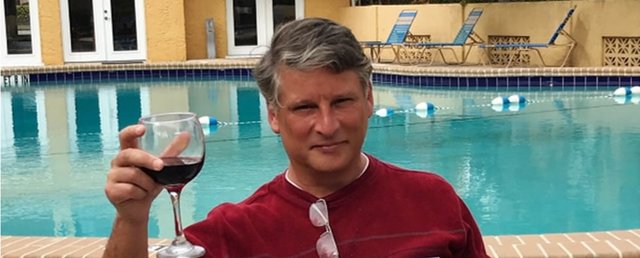 The Quill
Hello Steemit. My name is Katie Savage and I'm @quillfire's daughter. 
The "QuillFire Roast or Toast Post" contest you are participating in was my idea, or at least the first part was: The Roasting part. My Dad, true to form, is attempting to twist what was intended as an exercise in community flagellation, into an exercise of community congratulation. Luckily for you, I know his tricks.     
Anyone who knows my Dad is probably wondering, "Katie, what are YOU complaining about? You are the most spoiled 'Daddy's Girl' in history." It's true, my Dad is doting and I've never known a day that I wasn't placed upon a pedestal.  
But let me assure you, life on the pedestal is not without its challenges.  
'The Quill' has an endless supply of Quillisms that he's coined throughout the years and one of them is, "An Absence of Heaven, is not evidence for the Existence of Hell." Well, the same could be said in reverse. 
Imagine, for example, being Quill's daughter and wanting to date a boy. What standards do you think your would-be-fella would have to meet in order to "pass muster?"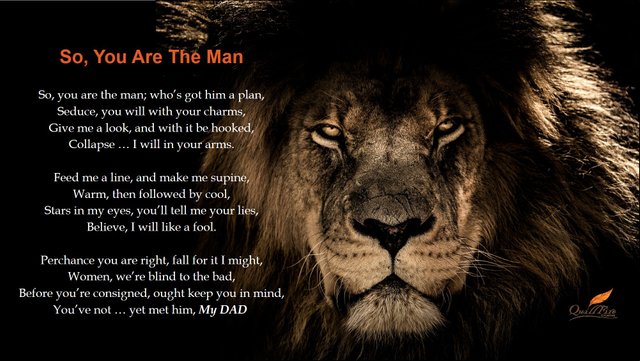 This is what Daddy sent to Kaleb when Kaleb started expressing interest.
My boyfriend, Kaleb, is a 'Straight A' student in nothing but Advanced Classes. He's also on the Offensive Line of the football team, has a great sense of humor and treats me with love and respect.  
"But can he play chess?" 
To Daddy, chess is a Rite of Passage because chess is the Game of Generals … and 'good generalship' is a criterion about which there can be no compromise. After all, if your boyfriend doesn't know how to invade Normandy, how could he ever be a good husband and father? And so, before taking Kaleb home to meet Daddy, he first had to undergo a crash course in chess and pass an exam on the Battles of Gaugamela, Cannae, Austerlitz and, of course, about which there was certain to be trick questions: Leuctra, the birth place of maneuver warfare.  
"So, you want to date my daughter?"
Few not-yet-eighteen-year-old girls know more about military history than I do. Indeed, it is likely I could teach the course at West Point. And guess what else? I can punch. And not just punch like a boy, I can punch like a Navy Seal. Indeed, I know a half-dozen ways to cripple a man in less than three seconds. And Daddy makes me practice. On Kaleb. And what young lady's education would be complete without knowing a dozen French Foreign Legion Marching songs?        
To my chagrin, everyone says, "Kaleb is just like your Dad." And, now that he's run the gauntlet and been adjudicated, "worthy," the two have become great buds. All's well that ends well, right? Well, now I have two highly creative guys whose idea of "funny" is grossing me out. What one doesn't think of, the other does. And they compare notes. 
You may also have noticed that Daddy is not just the kindred spirit of Alexander the Great, Hannibal and Napoleon, he's also the soulmate of Aristotle and Archimedes. I swear, you'd think the three were childhood friends: Just three misunderstood thinkers, sitting around in their togas ruminating about the meaning of pi.  
And then … there's Shakespeare. Oh, the Bromance. Just "Will and Quill" with their feathers … and endless bottles of ink. 
Imagine you're in Elementary School and your teacher gives you some homework: Write a poem. Everyone's only 10-years-old so the teacher probably isn't expecting you to know the difference between an iamb and a trochee. But if you're The Quill's daughter, there will be no, "I have a cat named Boots," poems. It's straight to the big leagues: A 'Savagerean Sonnet' (Shakespeare had a sonnet form named after him, so…), replete with an explanation for the teacher about the effects of poetry's pattern-inducing-dopamine-secretions upon the Right Anterior Superior Temporal Gyrus.  
You think I'm kidding, don't you?     
The Quill has an interest in politics. Unfortunately for him, the US Constitution prohibits Canadians from becoming the US President. And so, he devised a Plan B. I, an American citizen, will become President and then appoint him Secretary of Defense … and Poet Laureate … thereby fulfilling his life-long desire to conquer a continent while composing of an Ode to Himself.   
You may or may not know that my Dad has a "favorite statistic:" On average, men speak 7,000 words per day; women 20,000. He finds this quite amusing. While I have no doubt that the statistic is true, it would be a daring woman indeed who would attempt to best Dad at verbosity.  
You know those filibusters where a Senator can keep a vote from occurring for as long as he's able to keep talking? Dad could paralyze Congress for a year. Those famous filibusters you read about, where Senators spend hours reading from a novel, or reciting all the names in a telephone book: Amateurs. Dad riffs for the better part of the day about cooking a can of beans … because eating beans is just not the same unless you understand, scientifically, why they make you fart.  
Beans, beans the musical fruit,
The more you eat, the more you toot,
The more you toot, the better you feel,
So eat beans, beans for every meal.
"But Pumpkin ... why? Have you ever wondered why beans make you toot? Well, let me explain ..."

It's strange though, isn't it?  
Even though the whole purpose of this Contest was to Roast 'The Quill,' it actually turns out to be pretty difficult to do – it makes you feel as guilty as sin. True, "Nobody's like The Quill," and that makes for some pretty great roasting material. But, as you light up the grill, you begin to realize … "Nobody, is like The Quill" … and that's what makes him such an incredible friend … and such an astonishing father.  
ChillQuill