I'm taking a little break from my travel posts because it's time for something super yummy!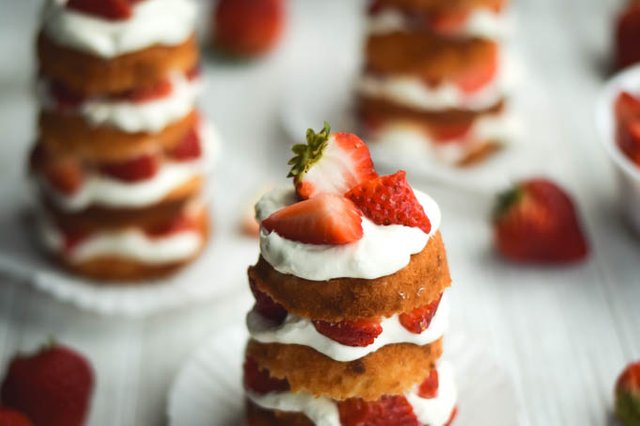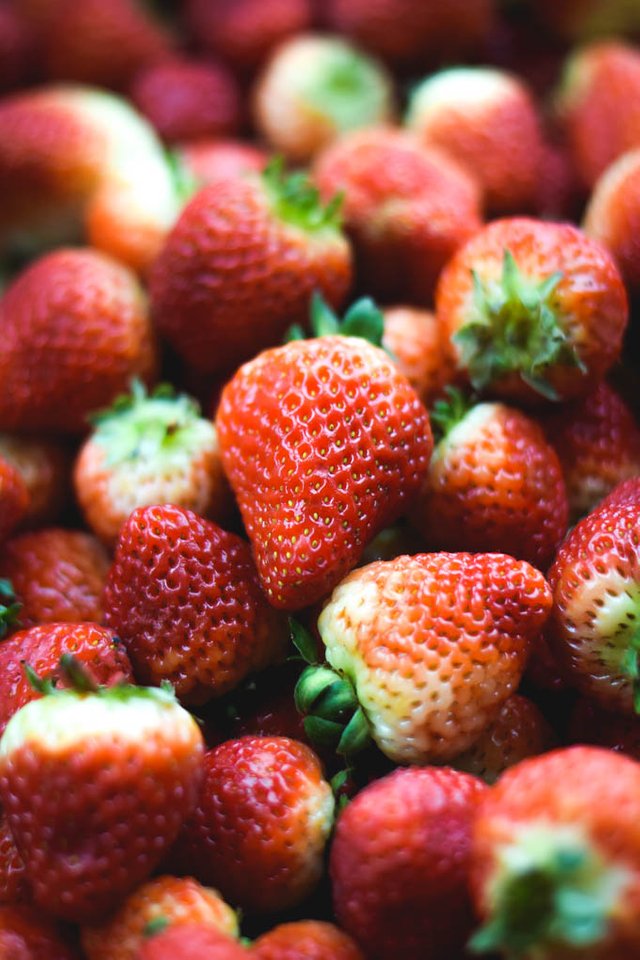 By the way, happy Memorial Day to all my friends from the States! I'm so excited to kick off the summer and I'm so ready to get back into the kitchen on a more regular basis after so much traveling.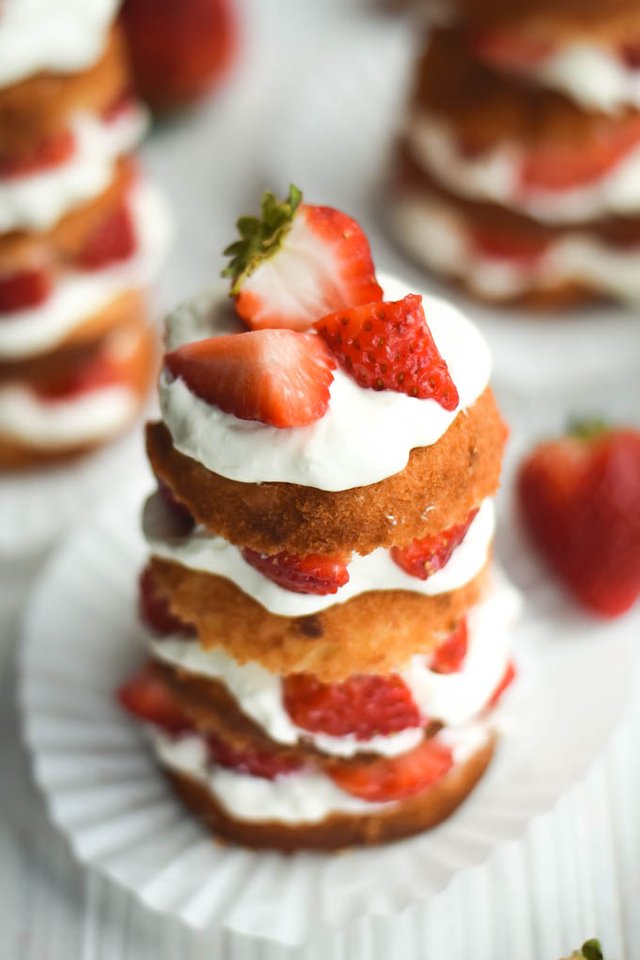 As soon as I got home, I immediately started brainstorming what to make. That's when I remembered how much everyone loves strawberry shortcake and it seemed exactly right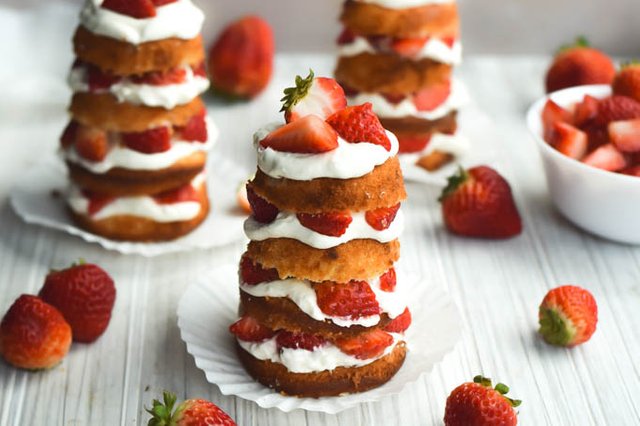 Here's the thing though, I've always kind of felt sorry for this classic summertime sweet and I knew I wanted to approach it from a more feeling angle. I mean "short" cake? really? Come on guys, talk about a complex-causing title. What happened here to all that social correctness everyone seems to be throwing around? Doesn't strawberry shortcake deserve a little of respect for being so incredible? I think so, and that's what inspired my tall cakes.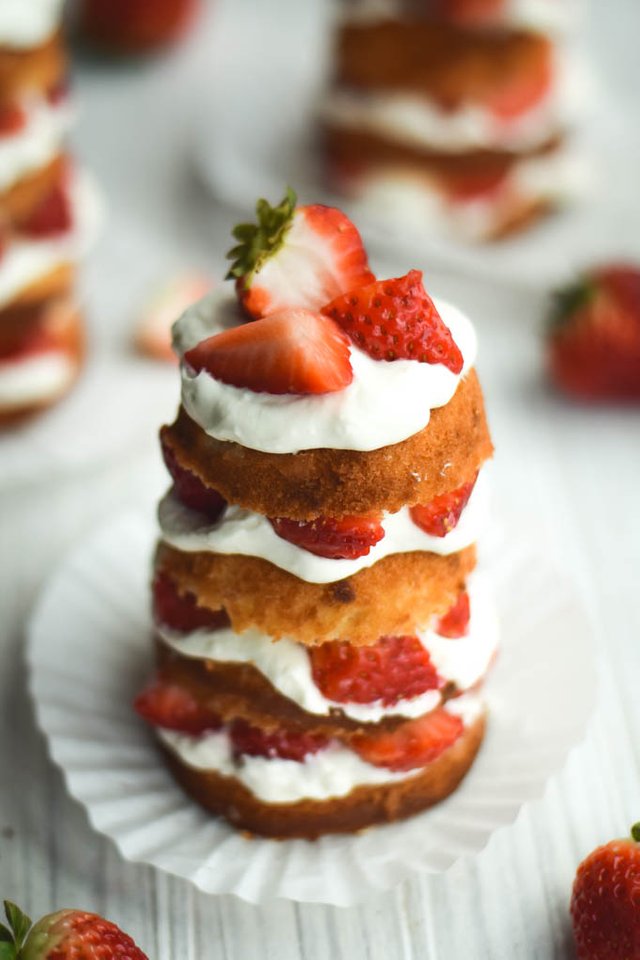 Okay, and I've never been clear on the whole shortcake thing anyway. Some people consider an actual European style, biscuit-like shortcake the only way to go, while others use basic vanilla cake or angelfood in its place and call it shortcake. I'm gonna go with saying to each their own, and really, because these aren't short-cakes no rules can apply anyway.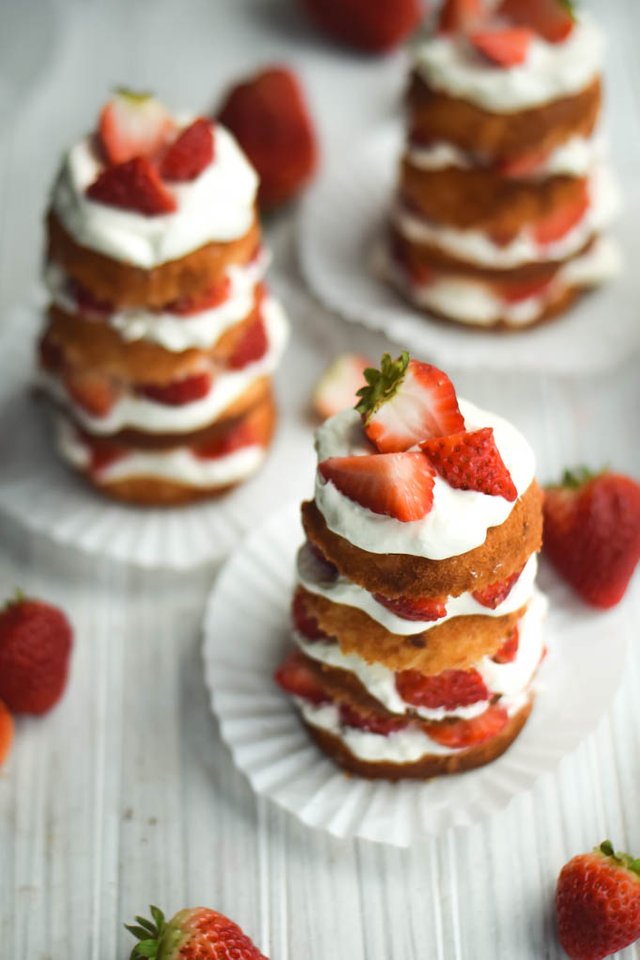 But wait, there's more! I have to gush a little over of how much you'll adore these! So adding a little altitude requires a little more support than your typical whipped cream so I came up with a slightly thicker version with its only negative point being that it's made it impossible for me to ever consider going back to plain whipped cream. It's a delightfully fluffy layer that's somewhere between a basic whipped cream and cream cheese frosting so it'll have you wanting to just grab a spoon and dive in.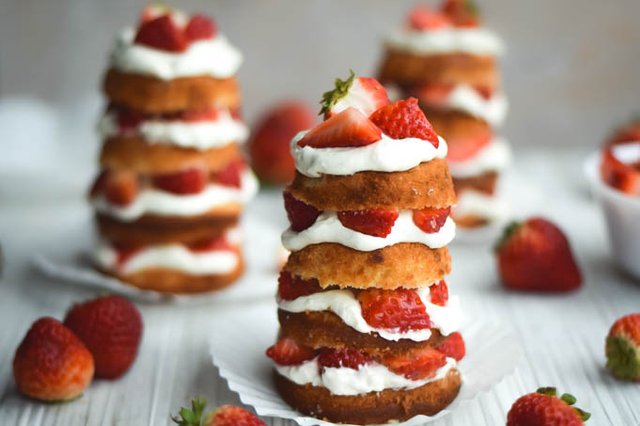 For the cakes I used my absolute favorite white cake recipe that I can't imaging being improved. In fact, it may be my favorite cake recipe period. It's got it all, balanced sweetness, fluffy texture, and yet enough structure to support all these berries and cream. I already shared the recipe a while ago but for this version I adjusted the ratios so that it could be baked in a smaller batch. You use giant muffin pans to make these and then simply divide each muffin in half and stack four halves together per each cake.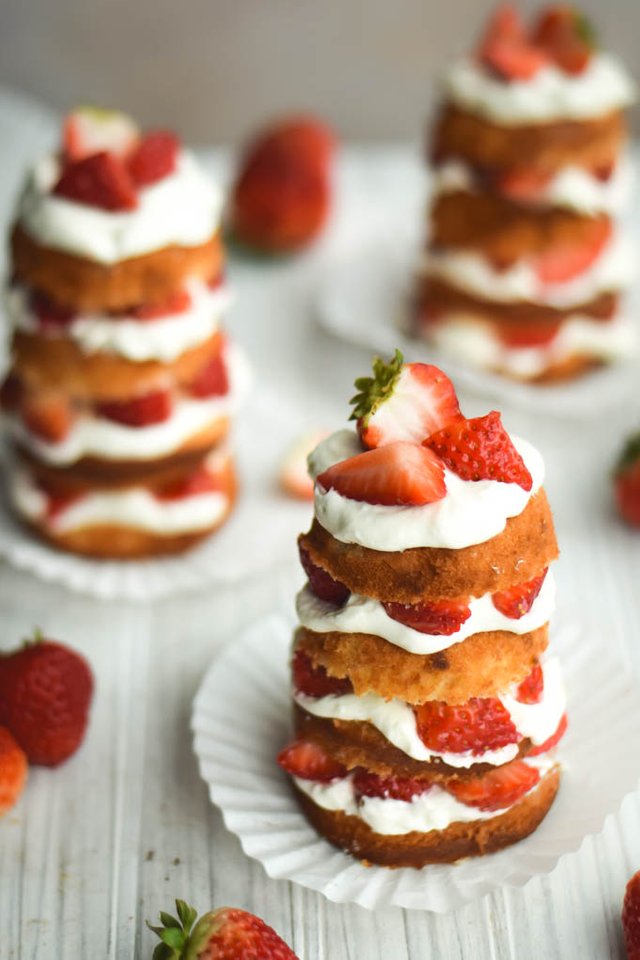 If you're feeling in the mood for a little more risk you could try stacking them even higher just for kicks but I found that four was the tallest they could realistically stay up without making a huge (yet incredibly delicious!) mess. However, I think four is enough to merit them being dubbed ridiculously tall and I'll bet your friends an family will get as much fun out of these as mine did.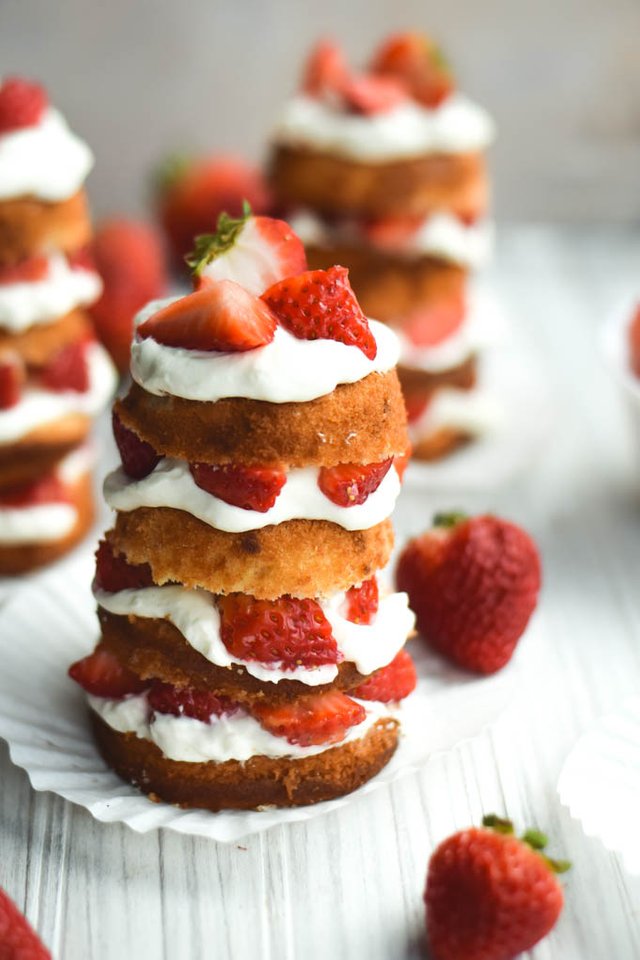 If I do say so myself, this is probably the only strawberry tall/short cake recipe you'll ever need, YUM!
<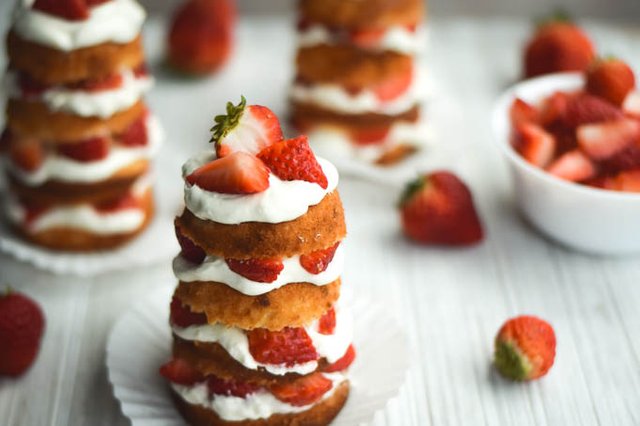 /center>
Strawberry (Ridiculously) Tall Mini Cakes

Prep Time: 30 minutes
Cook Time: 30 minutes
Total Time: 1 hour
Yield: 12 servings (6 tall cakes)
Ingredients
Cake:
3 egg whites
2/3 cup milk
1/3 cup oil
1/3 cup (1 stick) butter
1 1/4 cups sugar
2 teaspoons baking powder
3/4 teaspoon salt
2 teaspoons vanilla extract
2 cups flour
Cream:
6 ounces cream cheese, softened
1 teaspoon vanilla extract
1/2 cup sugar
1/4 teaspoon salt
1 1/2 cups heavy whipping cream
3 cups fresh strawberries, washed, trimmed and diced
Instructions
Preheat oven to 350 degrees F (180 C) and grease 2 6-cavity extra large muffin tins (this size). Pour egg whites into bowl of stand mixer and beat until they form stiff peaks then set aside for a moment. In separate bowl, cream butter and sugar. Add all other ingredients and mix until smooth then gently fold in egg whites to batter. Divide batter into pans as evenly as possible (about 1/3 cup batter per cup). Bake for 18 - 25 minutes until toothpick inserted in center comes out clean. Remove from oven and cool completely then loosen cakes from pan and place them in an airtight container in the fridge to get cold.
Cream:
Whip the cream in the bowl of a stand mixer fitted with whisk attachment until it forms stiff peaks. Scrape cream into a separate bowl and set aside. Add the cream cheese, vanilla, salt, and sugar to the mixing bowl and mix until completely smooth. Beat for 2 to 3 minutes until light and fluffy then fold in whipped cream and place mixture in fridge for at least 30 minutes to chill.
Assemble:
Trim the tops off of cakes if necessary to make them level then slice them in half horizontally in the middle (like a sandwich bun). The top halves of the muffins will be slightly large than the bottoms so make 6 stacks, 2 cupcakes in each, with the 2 larger halves on the bottom and the smaller halves on top.
Starting with the bottom layers, spread a spoonful of the cream mixture on each layer and top with a layer of strawberries followed by the next layer. Repeat until you have 6 extra tall mini cakes that are perfect for sharing.....or not sharing!
Notes
These are great for making ahead but it's best to wait until serving time to assemble. If preferred, you can bake the cake batter in 2, 8-inch rounds and make one big cake instead of small ones. Also, if you would rather,you can bake the cake in a large rectangle pan and cut into squares then layer everything in a trifle dish.

ALL CONTENT IS MINE AND ORIGINAL! All of these food photos were taken with my Nikon D750 and my favorite Lens, the Nikon AF-S FX NIKKOR 50mm f/1.8G. You can find out more in my INTRO POST.
And, by the way, to all the minnows out there, my intro post did a huge $0.21. The key to success on Steemit is to be consistent and persistent. Click on the link below for some great tutorials on how you can also succeed on the steem blockchain: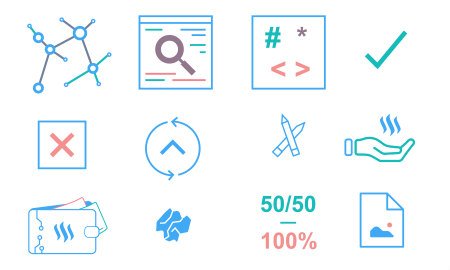 Also, a huge shoutout to @rigaronib for designing my logo!
Oh, and did you catchall the other travel posts from my Canada and New York?
NEW YORK
Do you want to learn more about me? Click here to see a recent @wadepaterson interview with me - 20 questions with @gringalicious