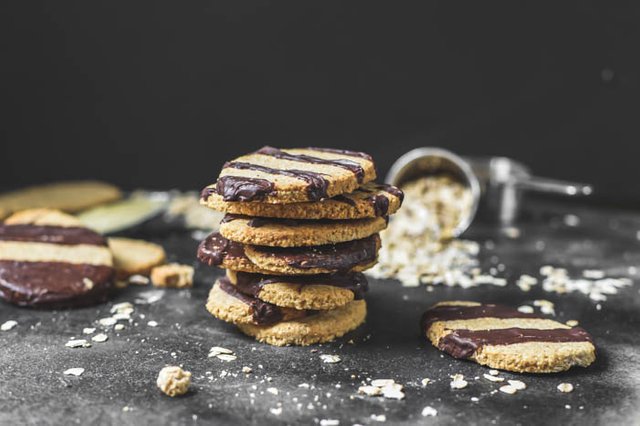 Easter is approaching fast isn't it? No worries, I got ya covered with this semi-healthy recipe.
My sis was telling me about these particular cookies that she'd gotten from a local bakery while I was away traveling. Apparently they were memorable because she still has been asking me to recreate them. The way she described them was that they're just your basic shortbread cookie, but with that bakery vanilla flavor and a chocolate dip that makes them so good.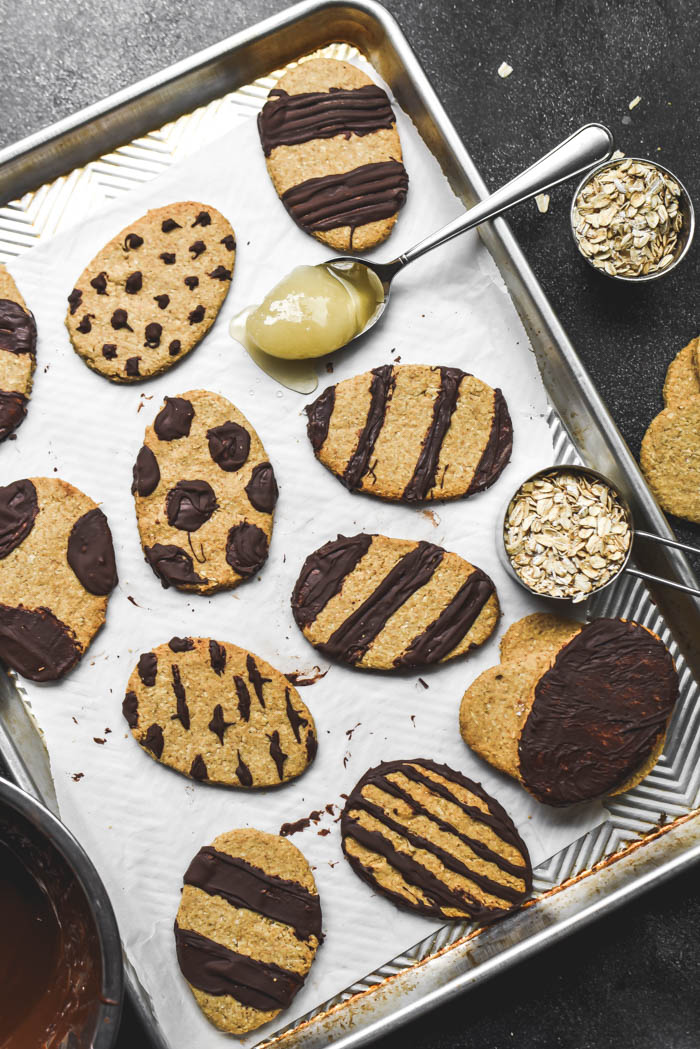 While I'm definitely going to make her some just like that, I was inspired by her talking about it to try making a little bit of a healthier version. You know, because sweets have a time and place, but it's good to throw in a little more balance sometimes too. These cookies are made with minimal ingredients and they are so fast and easy.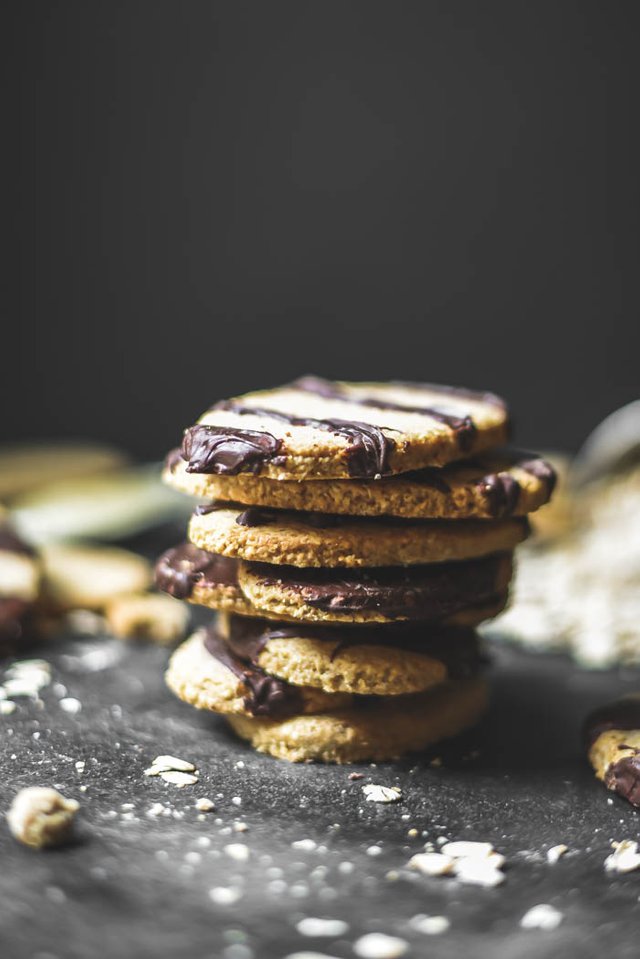 I happened to be out of oat flour when I wanted to make these so I simply processed some rolled oats into my own flour and even with the extra step I think these took me under an from start to finish. Now if you want to get fancy with the chocolate dipping/decorating then you might need a little longer, but the point is that they're simple.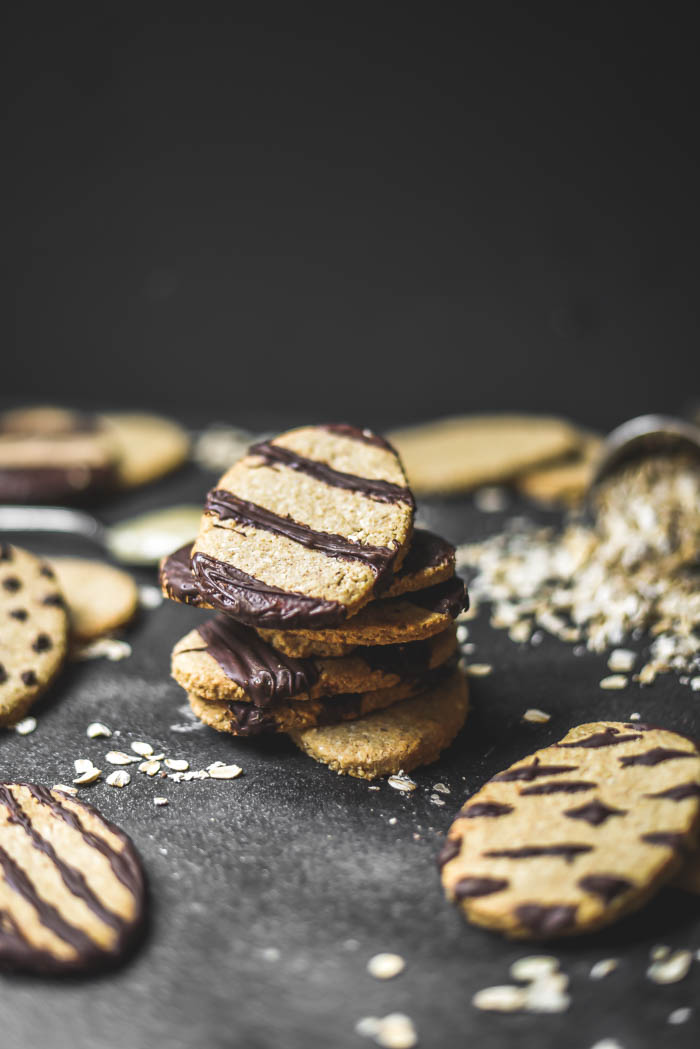 My first few test batches were good, but I needed to do a little tweaking because I think I was being a too ambitious about keeping the ingredients low and they were lacking the texture I was going for. The flavor for even my least favorite batch was so good though. I don't know how such a basic combination can turn into magic in the oven, but it does. The way I'd describe these final cookies is somewhere between a graham cracker and a chewy granola bar. Crunchy on the outside, but soft on the inside and totally dip-able!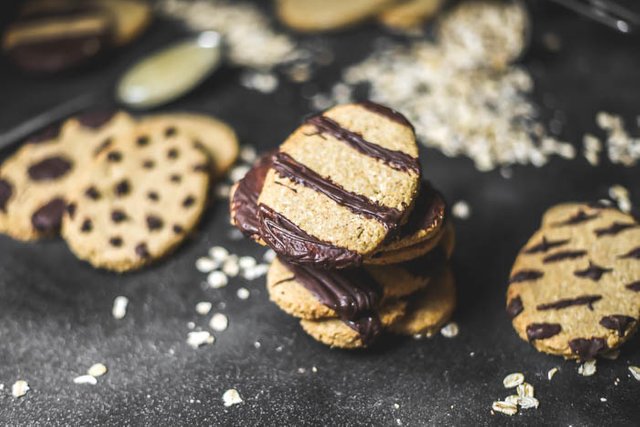 You can do any shape you want, by the way. I picked up a little Easter egg cutter the other day because I thought it would be fun for this month.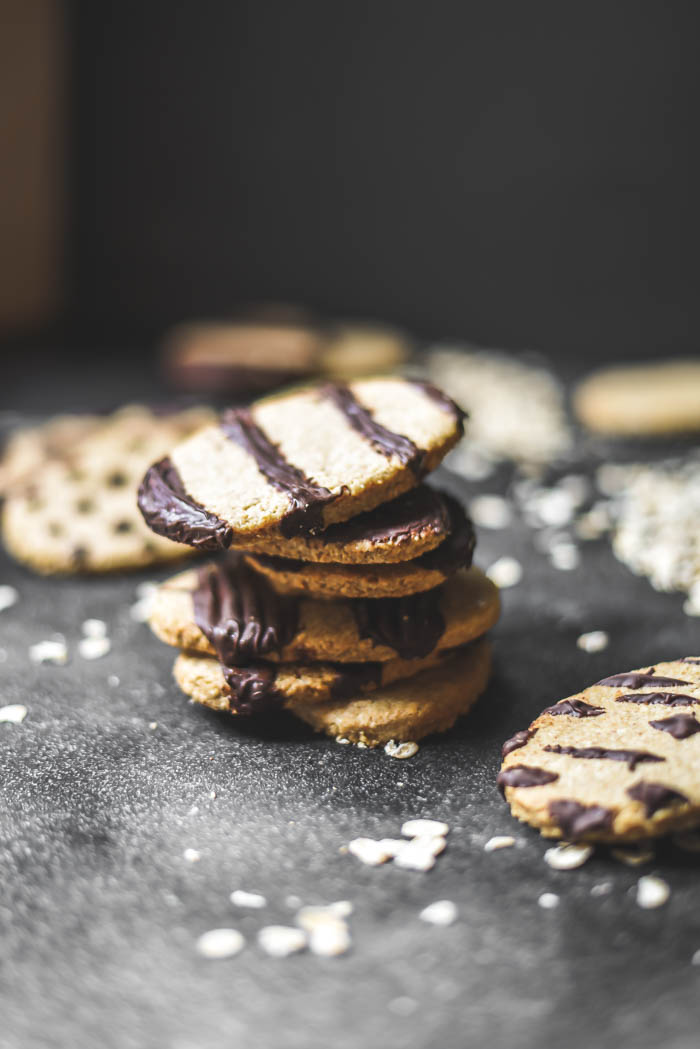 So I'm out guys, but I really hope you get the chance to try these and love them.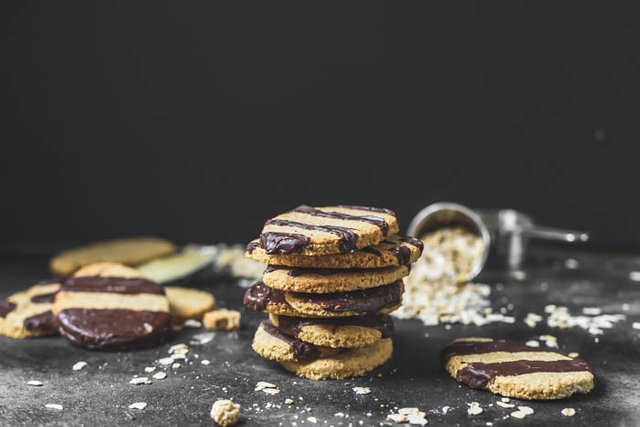 Chocolate Oats & Honey Cut-Out Cookies (GF+Vegan)
Ingredients
1/2 cup coconut oil, melted
3/4 cup raw (turbinado) sugar
1/2 cup honey
2 tablespoons arrowroot powder (or cornstarch)
2 teaspoons vanilla extract
1 teaspoon salt
3/4 teaspoon baking powder
4 cups oat flour
2 teaspoons coconut oil
2/3 cup (about 120g) semi-sweet dark chocolate, roughly chopped
Instructions
Preheat oven to 350 degrees F (190 C) and line a few cookie sheets with parchment or silicone mats. Cream coconut oil and sugar in a large bowl, then scrape sides and beat in honey, arrowroot, vanilla, baking powder, and salt. Add oat flour a cup at a time and beat until dough is well mixed.
Divide dough into halves and roll out each portion, one at time, on a lightly floured surface in a layer about 1/4 inch thick. Use cookie cutters to cut desired shapes or just a sharp knife to cut squares. Place cookies side by side (no need for much spacing because these don't spread very much) and bake for 7 to 9 minutes until edges are lightly golden. Remove and cool completely before frosting.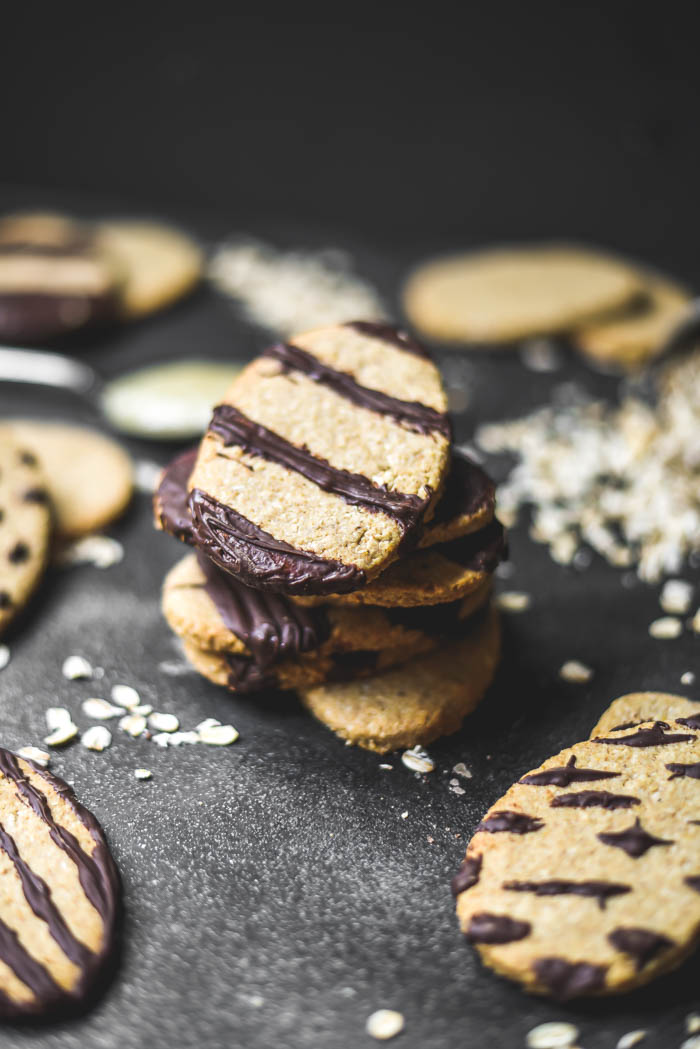 For more great food ideas, please do not forget to look at my other recent food posts
ALL CONTENT IS MINE AND ORIGINAL! All of these food photos were taken with my Nikon D750 and my favorite Lens, the Nikon AF-S FX NIKKOR 50mm f/1.8G. You can find out more in my INTRO POST.
And, by the way, to all the minnows out there, my intro post did a huge $0.21. The key to success on Steemit is to be consistent and persistent. Click on the link below for some great tutorials on how you can also succeed on the steem blockchain: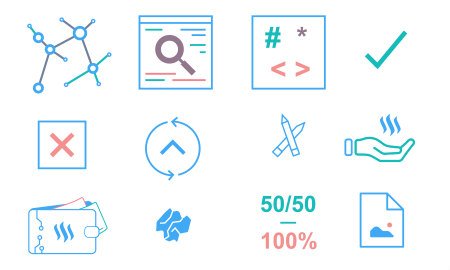 Also, a huge shoutout to @rigaronib for designing my logo!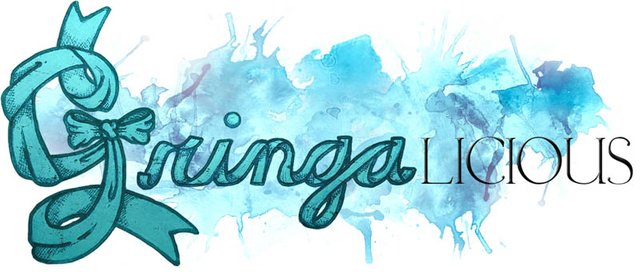 Do you want to learn more about me? Click here to see a recent @wadepaterson interview with me - 20 questions with @gringalicious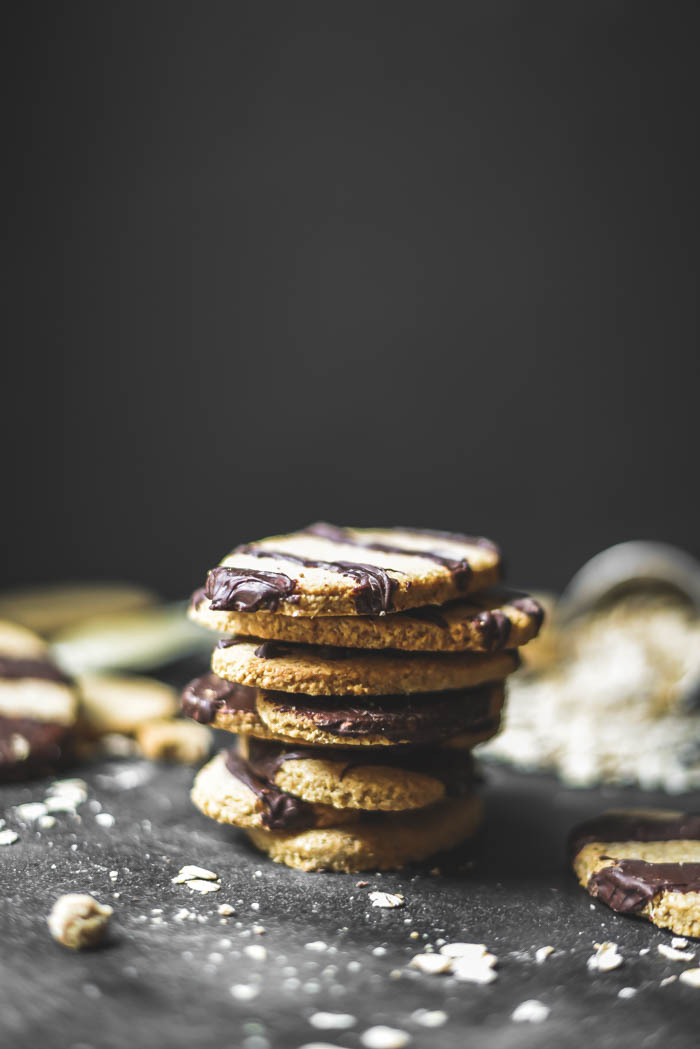 My Current Stats: 63,138 Steem Power | 12,673 Followers | 28,885 Posts | Reputation 74.697