Carrot Cake Donuts - FOOD PHOTO SHOOT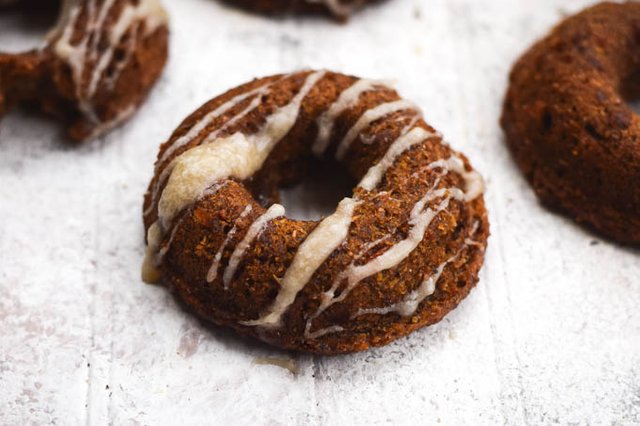 I'm going to cut to the chase today and get to the good stuff, you know, because putting doughnuts off is just not an option. In fact, it's almost cruel. Oh, and the best news ever is that these yummies are healthy doughnuts!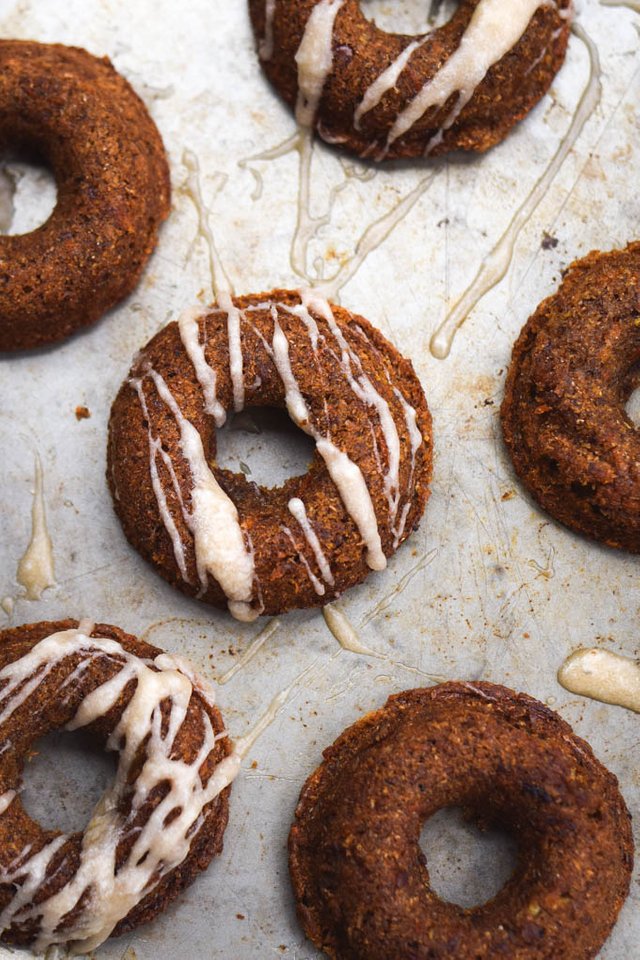 Like I always say……what better way to have your carrot cake and eat it too than in the form of a doughnut??? Well, maybe I don't always say that but I it fits at the moment so let's go with it.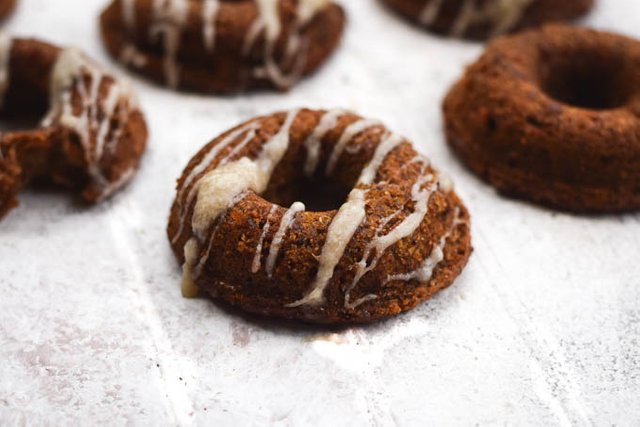 So in case you missed this little detail, this recipe is vegan. Oh and there is no refined flour and very little refined sugar if you want to do the glaze, which the glaze is optional, and I understand if you don't want to add the extra sugar.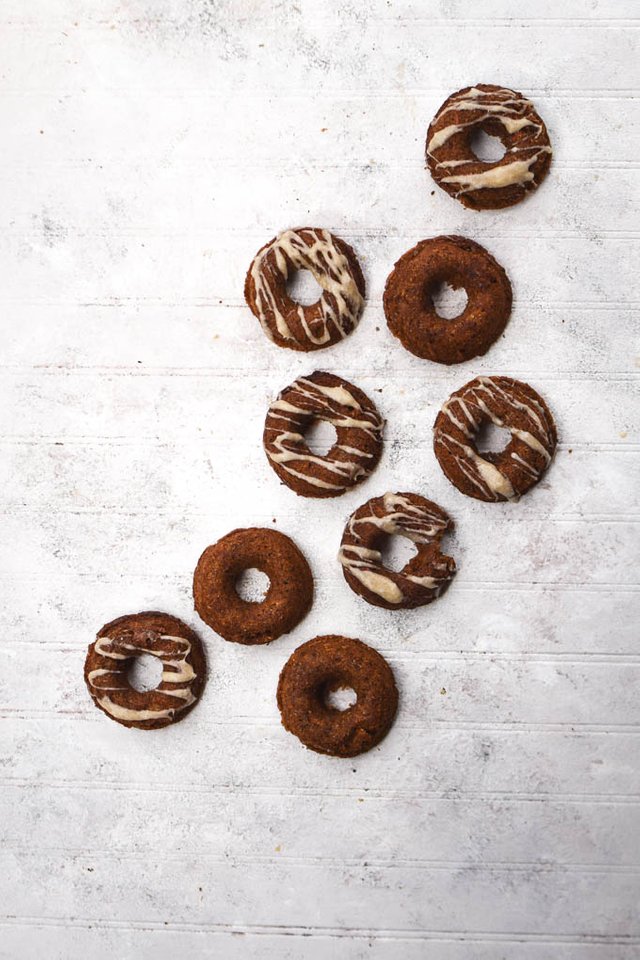 But it's also seriously delicious and I mean, you don't have to add a ton of it. Just a little drizzle gives the perfect finishing touch to make these sweet enough for an indulgent breakfast, snack, or just an anytime treat you can feel good about.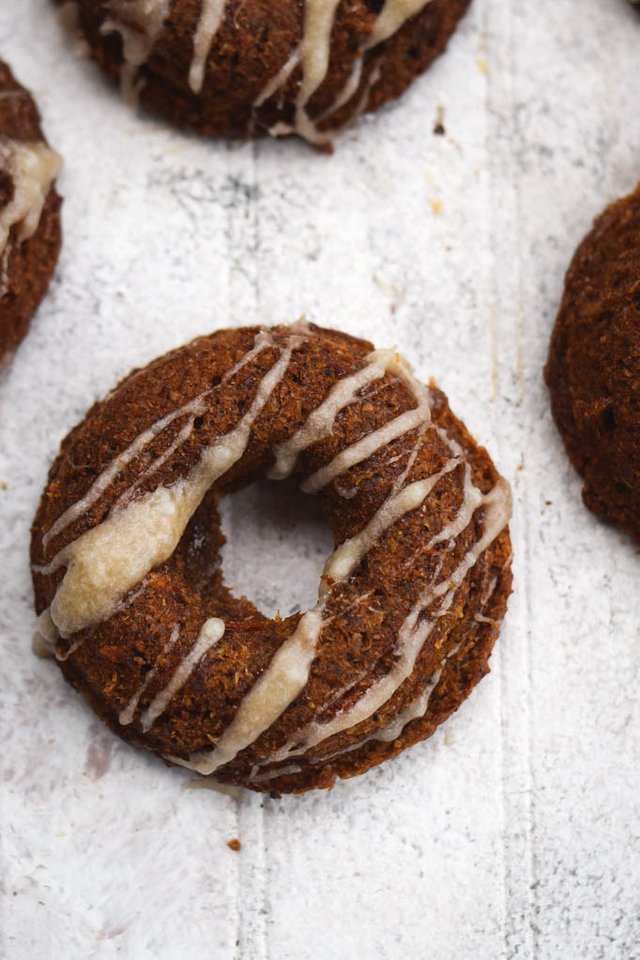 Carrot Cake Baked Doughnuts with Maple Coconut Icing (Vegan)
Prep Time: 10 minutes
Cook Time: 35 minutes
Total Time: 45 minutes
Yield: 12 doughnuts
Ingredients
1 (5.5oz) can full-fat coconut milk (about 1 2/3 cup)
1 cup raw (turbinado) sugar (or regular if you prefer)
2 tablespoons flaxseed meal + 2 tablespoons water
1 1/2 teaspoon vanilla extract
1/2 teaspoon salt
1 teaspoon baking soda
1 teaspoon cinnamon
1/2 teaspoon ginger
1/4 teaspoon nutmeg
1/4 teaspoon cloves
1 cup canned pineapple (minced), plus 1/2 cup of juice from can
1/2 cup walnuts, chopped
3/4 cup unsweetened dessicated coconut shreds
1 1/2 cups shredded carrots
1 2/3 cup whole wheat pastry flour

Icing: (Optional)
2 tablespoons coconut oil
2 tablespoon pure maple syrup
1 teaspoon vanilla extract
1/8 teaspoon sea salt
1/4 cup powdered sugar
Instructions
Doughnuts:
Preheat oven to 350 degrees F (180 C) and grease 2 6-count doughnut pans very well with oil. Whisk together the coconut milk, sugar, and flax seed meal in a large mixing bowl until smooth. Add the vanilla, salt, soda, and spices and mix well.
Pour in the pineapple and additional juice, then fold in the walnuts, coconut shreds, and grated carrots. Mix in the flour last until you have a very thick batter.
Divide the batter between all 12 slots in the doughnut pans (note that each slot will be piled pretty high but that's okay. Place pans in the oven and bake for 15 to 20 minutes until the tops start to brown, then remove one pan at a time and use a spoon to spread the batter in the center and clear the holes in the center of each doughnut. Repeat for the other pan then return to oven and continue baking them until the edges are very dark and the doughnuts have somewhat shrunken in size. Now remove the pans from the oven and allow to cool completely before removing the doughnuts. To loosen them once cooled, use a small spoon to gently loosen all the edges then invert the pan over a tray or cutting board to shake them loose.
Icing:
For the optional icing, warm the cocnut oil for a few seconds in a small saucepan ir microwave safe bowl until just soft enough to stir. Add the maple syup, vanilla, salt, and powdered sugar and mix until smooth. Drizzle over cooled doughnuts as desired.

ALL CONTENT IS MINE AND ORIGINAL! All of these food photos were taken with my Nikon D750 and my favorite Lens, the Nikon AF-S FX NIKKOR 50mm f/1.8G. You can find out more in my INTRO POST.
And, by the way, to all the minnows out there, my intro post did a huge $0.21. The key to success on Steemit is to be consistent and persistent. Click on the link below for some great tutorials on how you can also succeed on the steem blockchain: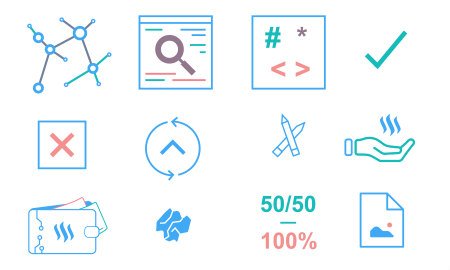 Also, a huge shoutout to @rigaronib for designing my logo!
Oh, and did you catchall the other travel posts from my Canada and New York?
NEW YORK
Do you want to learn more about me? Click here to see a recent @wadepaterson interview with me - 20 questions with @gringalicious