EOS is Correcting After a MASSIVE Rise. Correction Target $6.62 before $48.15

SUMMARY
Here is EOS after a MASSIVE run up as had been called by @haejin. Now, nothing goes up forever without healthy corrections. Think of it as a two step forward and one step back process. It is a requisite in the process of growth. Elliott Waves move in ebs and flows according to sentiment and currently, EOS has put in five impulse waves (white 1,2,3,4,5) and is in process of correcting, along with Bitcoin, towards $6.62 or a bit lower. This correction always has the right to take on another pattern or morph into another type of count. New incoming price data will be used to assess the subwaves of the a,b,c pathway.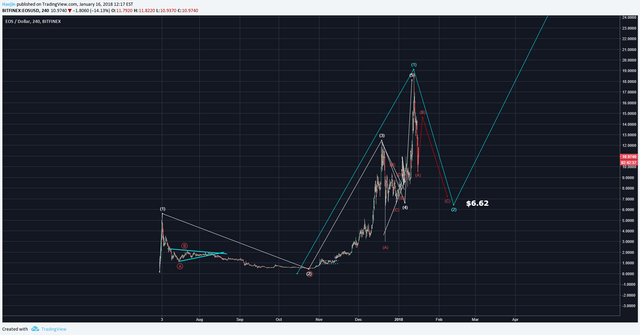 Here is a higher degree of trend outlook for EOS. Differentiating the forest from the trees would be helpful because if the bule wave 1 is complete, then the correction will place the blue wave 2. After wave 2 is wave 3 which most often moves most violently in whichever direction required....in this case, it would be expected to be up. However, the healthy correction needs first be completed.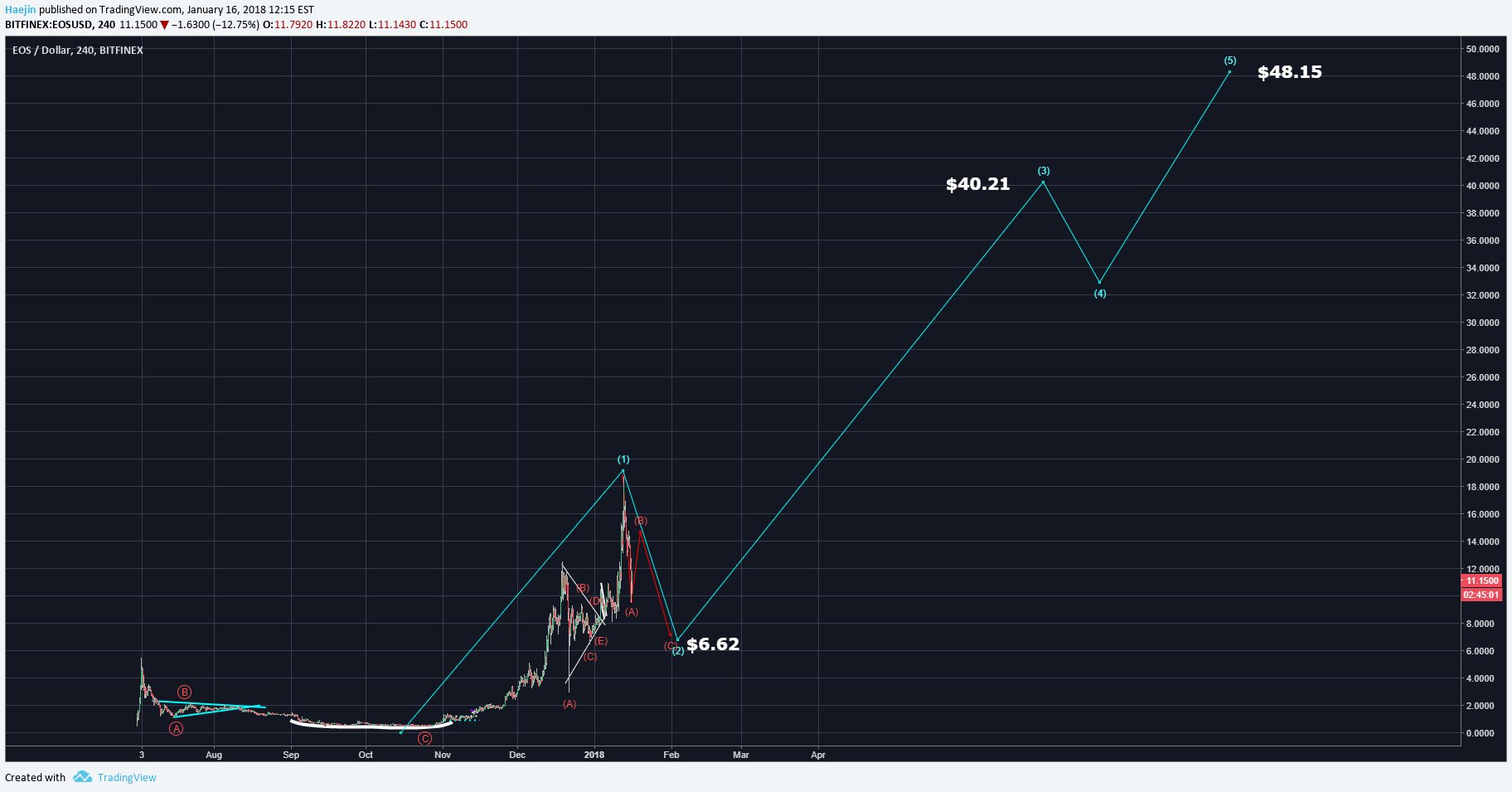 Legal Disclaimer: This is only my opinion, make of it what you wish. What does this mean? It means it's not advice nor recommendation to either buy or sell anything! It's only meant for use as informative or entertainment purposes.
Please consider reviewing these Tutorials on:
Elliott Wave Counting Tutorial #1
Elliott Wave Counting Tutorial #2
Elliott Wave Counting Tutorial #3
Laddering and Buy/Sell Setups.
Laddering Example with EOS
Tutorial on the use of Fibonacci & Elliott Waves
These Technical Analysis Books: Elliott Wave Priniciple & Technical Analysis of Stock Trends are highly recommended
@haejin's Trading Nuggets
Essay: Is Technical Analysis a Quantum Event?
Follow me on Twitter for Real Time Alerts!!
Follow me on StockTwits for UpDates!!
--
--


If this blog post has entertained or helped you to profit, please follow, upvote, resteem and/or consider buying me a beer:
BTS Wallet - haejin1970
BTC Wallet - 1HMFpq4tC7a2acpjD45hCT4WqPNHXcqpof
ETH Wallet - 0x1Ab87962dD59BBfFe33819772C950F0B38554030
LTC Wallet - LecCNCzkt4vjVq2i3bgYiebmr9GbYo6FQf