SUMMARY
Note: For anyone who missed the BitcoinLive Information Webinar, here is the replay link: https://www.youtube.com/watch?v=32l40SNYOp4
As of June 4th, ALL Crypto Analysis will be posted on the BitcoinLive channel and Steemit will be dedicated for Equity, Commodity and Options Analysis. To Signup for the BitcoinLive limited Founding Membership slots, use this link: https://get.bitcoin.live/haejin/
__
As can be clearly seen in the Cryptosphere, there is a common sentiment modality as reflected in the common price movements across the markets. This leads to a high similarity index in price behavior, patterns and Elliott Waves. Such is no different in the equities. Many are showing that at a cycle degree of trend which spans years to even tens of years; there is a wave 4 approaching. This can be seen in not only the technology sector but also the consumers. A minor recession could be on the horizon. This would be more so if the short term rates go higher than the long term. In other words, the yield curve would invert meaning that risk averse prompts investors to demand higher rates for shorter term.
Costco (COST) seems to be readying to initiate its cycle degree blue wave 4 correction. Per the weekly chart below, waves 1,2 and 3 appear complete. Wave 4 could usher in a hiccup in growth for payroll, consumption and borrowing. As consumer demand drops, wave 4 will be executed. None of these have happened yet. So, this is yet another case of news or events shall arrive to justify the forecast. During an equity correction, could sentiment towards Crypto be that its seen as a safe haven store of value? Why not!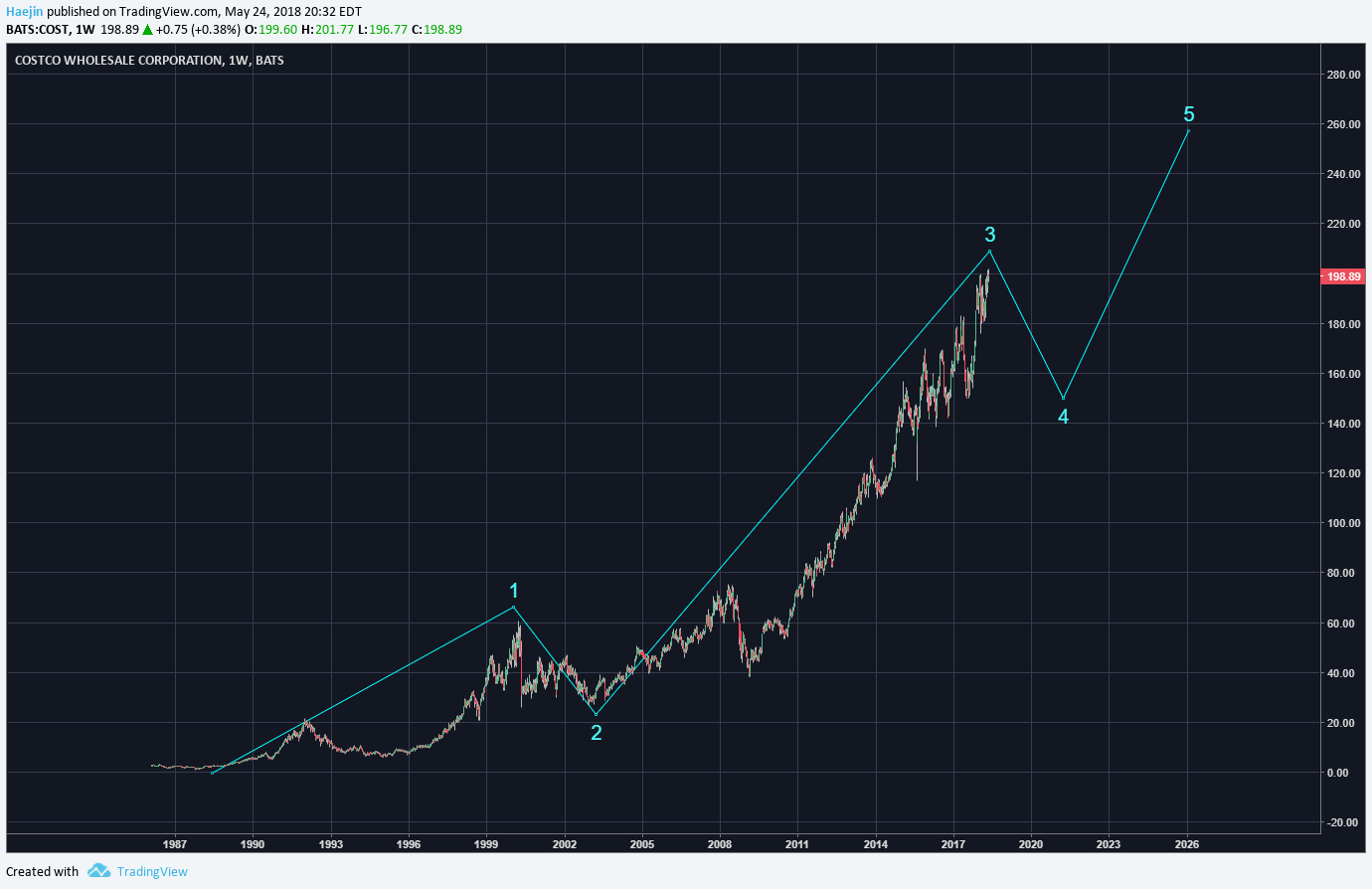 The subwaves jive quite well with the higher degree of trends. I believe white Wave is complete and if not, very close to doing so. Wave 4 is labeled as an ABC but it could take one or a few of 34 possible corrective combinations. The MACD is still overbought and is likely to begin declining with the correction.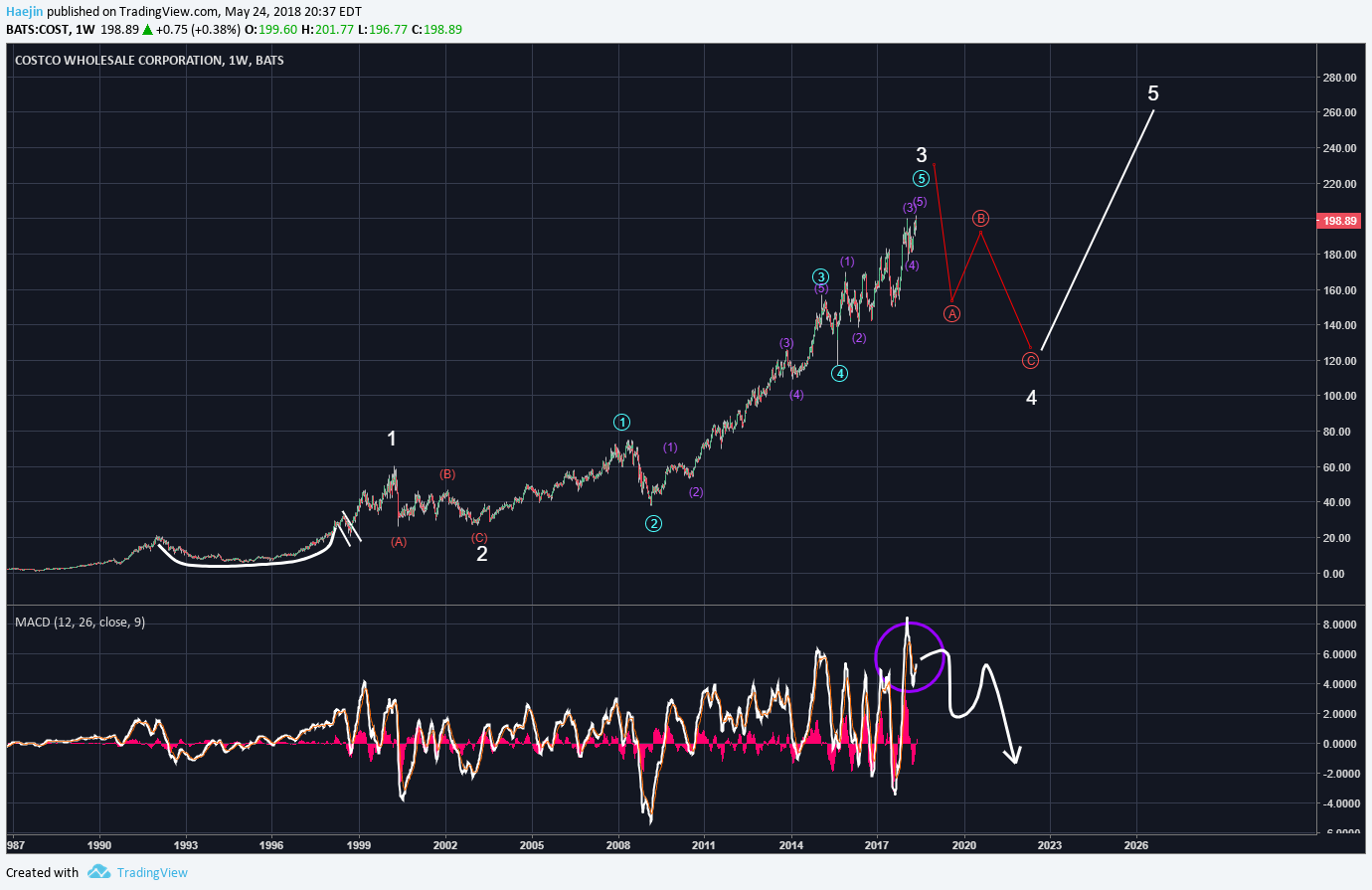 Legal Disclaimer: I am not a financial advisor nor is any content in this article presented as financial advice. The information provided in this blog post and any other posts that I make and any accompanying material is for informational purposes only. It should not be considered financial or investment advice of any kind. One should consult with a financial or investment professional to determine what may be best for your individual needs. Plain English: This is only my opinion, make of it what you wish. What does this mean? It means it's not advice nor recommendation to either buy or sell anything! It's only meant for use as informative or entertainment purposes.
Please consider reviewing these Tutorials on:
Elliott Wave Counting Tutorial #1
Elliott Wave Counting Tutorial #2
Elliott Wave Counting Tutorial #3
Laddering and Buy/Sell Setups.
Laddering Example with EOS
Tutorial on the use of Fibonacci & Elliott Waves
@haejin's Trading Nuggets
Essay: Is Technical Analysis a Quantum Event?
Follow me on Twitter for Real Time Alerts!!
Follow me on StockTwits for UpDates!!
--
--