Waves Review. December 2018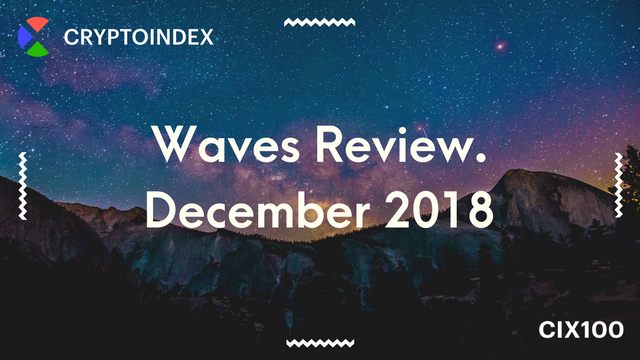 Cryptoindex is a tool for exposure to the cryptomarket and serves as a smart benchmark for all cryptocurrencies. The AI-based Cryptoindex algorithm is continuously analyzing more than 2000 coins applying over 200 factors, processing more than 1 million signals per second to provide a highly sophisticated index of the top 100 coins.
You can find our previous reviews here:
0x Protocol [ZRX] Review. November 2018.
Maker. Review - October 2018
Dogecoin Rewiew
Tether. Review
VeChain. Review
Why Cryptoindex is unique?
Zcash.Review
Tezos. Review - September 2018
Monero. Overview
Binance Coin. Review
IOTA. Review. August - 2018
NEM.Overview
Ethereum Classic.Review
TRON overview.
Cardano - review. Future plans.
Ripple - review. Further Perspectives
Litecoin. June'18 overview
The Dow Jones index. From where did it come to us?
Bitcoin Cash. June 2018 overview
Are cryptocurrency indices a new crypto market trend?
EOS. End of May'18 overview
Ethereum. May 2018 overview
Here on our Cryptoindex blog, we will be posting 100 articles about each of the top performing coins selected by our powerful AI algorithm#CIX100coinreview.
Today's review: Waves
What is Waves?
Waves is a platform developed in 2016, the main purpose of which was to create an ecosystem for business. Using this platform, anyone, "in a couple of clicks" is able to create his own project and run the fundraising procedure (ICO). In addition, with the help of Waves, any platform member will get an opportunity to send, store and exchange cryptocurrencies. The blockchain technology allows Waves to be a decentralized, anonymous and independent platform and with low commissions.
Using the Waves platform is possible through a client for a computer or a Chrome browser extension. The Waves project is a platform for the exchange of tokens with the support of the technology of "colored coins". "Colored coins" are the assets that can create any of the participants in the system. For example, it can be a participation in a co-financing project or an analogue of an enterprise's stock. The user can also create his own game token, event ticket, or even an analogue of fiat currency. Waves is characterized by a developed scripting language, which already creates common points of contact with Ethereum.
For developers using Waves, the platform provides high network bandwidth, as well as low transaction fees and low latency.
Waves allows traders to safely store their assets with their local client. At the same time, they can safely and quickly trade their assets using a decentralized exchange that is built into the platform.
Organizations can issue their own token markers to help start their business, whether through voting, loyalty programs, crowdfunding or something else.
Another important part of Waves is its own decentralized exchange (DEX), which allows users to trade their tokens, including WAVES, BTC and many other assets released on the Waves platform, completely without proof and without the need to transfer their funds to a centralized exchange.
The concept of Waves allows users to create tokens and determine their value. This innovation is especially important for the development of ideas on the basis of crowdfunding. In addition, when making payments, when the prepayment is made in one currency, and the addressee's account is opened to another, thanks to the innovation of Waves, the problems with commissions are much simpler.
And one more interesting direction for many platforms is the exchange of cryptocurrency for fiat money with low fees. "Easy Client" is a plugin for Chrome browser. The developers promise that right from the browser it will be possible to launch their co-financing project for the project, as well as use decentralized markets. The assets created by users will be available for trading on the project's own exchange.
Waves development team put together by Russian businessman Alexander Ivanov, was joined by several people from Ethereum who brought with them some ideas for improvement. Now, Waves has the opportunity to create tokens 2 times faster than the "big brother" Ethereum.
To date, Waves has attracted several major startups and enterprises. One of the best success stories for Waves is Tokenomica, a venture organization. There are also Upcoin, an initiative of political participation, and ZrCoin, a green business manufacturing technology.
Other key members of Waves economy include MobileGo (a marketing drive for a mobile gaming platform), EncryptoTel (a provider of VoIP and telecommunications services) and Incent (blockchain loyalty scheme).
At the time this article was published, Waves makes up 0.206% of the total of CryptoIndex portfolio.
You can always check the current CIX100 composition on our MVP platform: http://cryptoindex.ai/
Stay updated on our channels:
Follow CRYPTOINDEX on Telegram
Follow CRYPTOINDEX on Medium
Follow CRYPTOINDEX on Twitter
Follow CRYPTOINDEX on Facebook
Follow CRYPTOINDEX on Linkedin
Follow CRYPTOINDEX on Reddit