Ethereum Classic.Review
Ethereum Classic.Review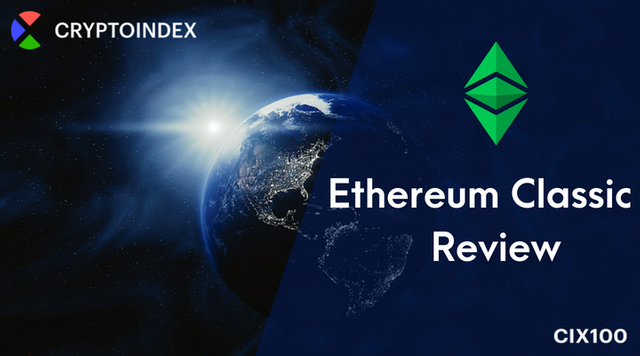 Cryptoindex is a tool for exposure to the cryptomarket and will serve as a great potential smart benchmark for all cryptocurrencies. The AI-based Cryptoindex algorithm is continuously analyzing more than 1000 coins applying over 170 factors, processing more than 1 million signals per second to provide a highly sophisticated index of the top 100 coins.
You can find our previous reviews here:
TRON overview.
Ripple - review. Further Perspectives
Litecoin. June'18 overview
The Dow Jones index. From where did it come to us?
Bitcoin Cash. June 2018 overview
Are cryptocurrency indices a new crypto market trend?
EOS. End of May'18 overview
Ethereum. May 2018 overview
Here on our Cryptoindex blog, we will be posting 100 articles about each of the top performing coins selected by our powerful AI algorithm #CIX100coinreview.
Today's review: Ethereum Classic.
How was it?
The main network Ethereum was launched by Vitalik Buterin in 2015, as the Hard fork from Ethereum Classic on the block 1 900 000. Many users confuse this fact and believe that Ethereum Classic originated from Ethereum, but it did not.
Ethereum is a decentralized system.. Whilst Ethereum Classic has a similar function as ETH, including the creation and launch of smart contracts and decentralized application; However, it has some very different features, including the average block creation time, its size and reward to the miners.
Currently, there are three teams working on the Ethereum Classic network:
ETC Dev team of 6 people led by Igor Artamonovym develops Geth Classic.
Ethereum Commonwealth team is working to create a Raiden network, ERC223, SWARM. The team is headed by the anonymous developer Dexaran from the Ehtereum Classic community.
IOHK Grothendieck team - works on a client written in Scala. IOHK is headed by CEO Charles Hoskinson, co-founder of Ethereum and Ethereum Foundation.
Problems with DAO
The DAO is a decentralized autonomous organization. At the time of its appearance, the DAO positioned itself as an organization devoid of any staff or directors. Being a cloud platform, the share of which can be obtained by investing personal funds (in the form of ETH) and buying DAO-tokens on them, grants the right to participate in management of the invested collective funds.
The fund gained momentum and attracted the attention not only of investors and hackers. The result did not take long to wait and on Friday, June 17, there was a break-in. More than $ 50 million was stolen.
Following this, a huge community gathered around Ethereum and split into two camps the heated discussions commenced. Some suggested making a hard-core network, others opposed. Conservatives insisted that at one of their conferences Vitalik Buterin argued that the code - It is a law, which is unacceptable.
If we compare the two coins, then both advantages and disadvantages are apparent, but ETH still remains the dominant currency, as it has a larger market capitalization.
There are also significant differences between the two platforms:
Processing of network blocks- This process takes about 25 seconds for the ethereum and 14 seconds for the ethereum classic.
The volume of blocks- The ETH blocks are closed after reaching a daily number of transactions of 500 thousand. This is fraught with similar problems, as, for bitcoin, it can lead to an increase in the commission. The Ehtereum classic is not yet overloaded, but the situation may change if the flow of transactions increases.
Ethereum can make a hard fork in anytime- Ethereum Classic - can not.
Compatibility- While both networks are compatible, so written in one of them, smart contracts can run in the other. In addition, Ethereum seeks to open its platform through eWASM, pushing the issue of security contracts to second place. ETC puts more emphasis on smart contracts with higher security.
Features of the development- The initiator of most decisions in the ETH is the Ethereum Foundation. In ETC, the bulk of the solutions are the result of the work from three teams, sadly the lack of cohesion and feedback from the community it creates in a less desirable result.
Project Prospects
Unfortunately, most users still prefer Ethereum. Ethereum Classic has left a questionable reputation for DAO, which has been reflected in the number of users., No major project has been placed on the platform, which means that it will not make the TOP-5 at this rate.
The project has a fully functioning platform, several development teams, a fairly large community, including investors and active traders. ETC, on the one hand, is one step behind, and on the other hand, a step ahead, because as for testing the platform for them will be the forged Ethereum Vitalika Buterina, and Ethereum Classic will take from there only the best and already tested for them. Unlike its fork, Ethereum Classic has a more favorable pricing scheme meaning the cost of transactions is substantially lower than his fork. At the time of this writing, it is more than $ 1.5 billion.
At the time of writing, Ethereum Classic[ETC] is 0.671% of the total of CryptoIndex portfolio.
You can always check the current CIX100 composition at our MVP platform: http://cryptoindex.ai/
Stay updated on our channels:
Follow CRYPTOINDEX on Telegram
Follow CRYPTOINDEX on Medium
Follow CRYPTOINDEX on Twitter
Follow CRYPTOINDEX on Facebook
Follow CRYPTOINDEX on Linkedin
Follow CRYPTOINDEX on Reddit