Dogecoin Rewiew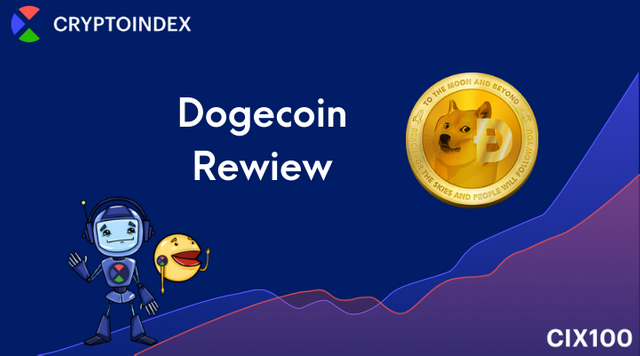 Cryptoindex is a tool for exposure to the cryptomarket and serves as a smart benchmark for all cryptocurrencies. The AI-based Cryptoindex algorithm is continuously analyzing more than 1000 coins applying over 170 factors, processing more than 1 million signals per second to provide a highly sophisticated index of the top 100 coins.
You can find our previous reviews here:
Dash. Review - August 2018.
Binance Coin. Review
IOTA. Review. August - 2018
NEM.Overview
Ethereum Classic.Review
TRON overview.
Cardano - review. Future plans.
Ripple - review. Further Perspectives
Litecoin. June'18 overview
The Dow Jones index. From where did it come to us?
Bitcoin Cash. June 2018 overview
Are cryptocurrency indices a new crypto market trend?
EOS. End of May'18 overview
Ethereum. May 2018 overview
Here on our Cryptoindex blog, we will be posting 100 articles about each of the top performing coins selected by our powerful AI algorithm#CIX100coinreview.
Today's review: Dogecoin
Dogecoin (DOGE) is a digital cryptocurrency, with the same algorithm and technical parts as Litecoin with some modifications. Dogecoin was created in 2014. The cryptocurrency is based on the Scrypt algorithm. This approach allowed developers to protect the system from mining with the help of ASIC equipment. Since 2014, interest in Dogecoin has grown substantially. ASIC working with the algorithm Script has appeared. For miners using CPUs or video cards, the mining process became complicated. The project does not solve global issues or problems, as it was originally created as an alternative coin.
The popularity of Dogecoin is explained by large investments in advertising and a symbolic image depicting the famous dog. The users themselves call it "comic's", and the Shiba Inu dog from the Doge meme is the mascot. One of the most popular applications of Dogecoin is rewarding Internet users for interesting and high-quality content that they create or share amongst the community.
The main feature of Dogecoin is that the initial issuance volume was very large - in June 2015, there were s 100 billion Dogecoins. Now there are 5.256 billion coins in circulation. The creator of the coin deems it an online currency, and there are no other technologies or ideas behind this coin. There is, however, a vast and vibrant community that everyone can join, for example, you are able to sponsor a Jamaican bobsled team or a good housing construction project in Kenya. The coin is completely anonymous, decentralized and secure, it does not have problems with scaling, which Bitcoin has become famous for.
A Large number of crypto exchanges and various services use DOGE which adds to its credibility.
Dogecoin differs from Litecoin by several parameters.
Dogecoin's blocking time is 1 minute, as opposed to 2.5 minutes Litecoin.
The time for reassigning the difficulty is once per block
When Dogecoin was first introduced, the reset was once every four hours, and the reward was a random number between 0 and the maximum determined by the block schedule. In the system, random numbers of coins are distributed, and the rewards are calculated using the pseudo-random Mersenne Twister number generator.
There are two main ways to use Dogecoin:
Payment in social networks.
If you are a user of popular social media platforms such as Twitter and Reddit, you can always try other users (using the various bots hints available there) for publishing informational, educational, funny messages. Tips are often low, rarely go for $ 0.20 and are a good way to reward people for taking the time to get good content. Tips not only reward those in the community but also spread the idea and philosophy of Dogecoin. If the user does not have a Dogecoin wallet setting, some specialized bots send tips through a personal message about how to obtain it.

Products & Services
Many merchants who provide their products and services online already accept bitcoin, and they often also accept DOGE.
As for cryptocurrency exchanges, where you can buy Dogecoin, everything is simple. DOGE coins are supported by most popular crypto exchanges, including HitBTC, Poloniex, FEX, Upbit, Bittrex, and others.
A lot of people thought that a cryptocurrency created by a joke on a meme would not be able to gain enough popularity and would be forgotten as soon as a meme lost its relevance. But, several years have passed, and not only have more services been created but exchanges accept DOGE. Mainly this currency keeps afloat thanks to very low commission charges per transaction.
You can always check the current CIX100 composition on our MVP platform: http://cryptoindex.ai/
Stay updated on our channels:
Follow CRYPTOINDEX on Telegram
Follow CRYPTOINDEX on Medium
Follow CRYPTOINDEX on Twitter
Follow CRYPTOINDEX on Facebook
Follow CRYPTOINDEX on Linkedin
Follow CRYPTOINDEX on Reddit