0x Protocol [ZRX] Review. November 2018.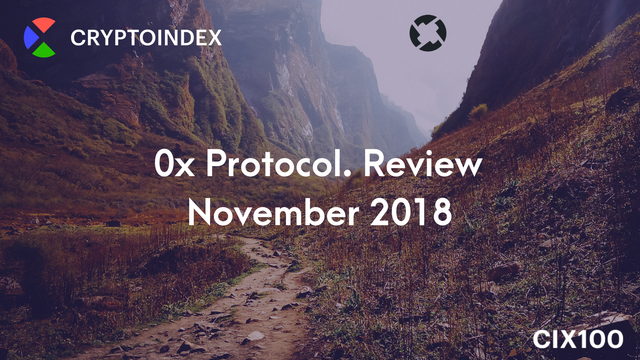 Cryptoindex is a tool for exposure to the cryptomarket and serves as a smart benchmark for all cryptocurrencies. The AI-based Cryptoindex algorithm is continuously analyzing more than 2000 coins applying over 200 factors, processing more than 1 million signals per second to provide a highly sophisticated index of the top 100 coins.
You can find our previous reviews here:
Maker. Review - October 2018
Dogecoin Rewiew
Tether. Review
VeChain. Review
Why Cryptoindex is unique?
Zcash.Review
Tezos. Review - September 2018
Monero. Overview
Binance Coin. Review
IOTA. Review. August - 2018
NEM.Overview
Ethereum Classic.Review
TRON overview.
Cardano - review. Future plans.
Ripple - review. Further Perspectives
Litecoin. June'18 overview
The Dow Jones index. From where did it come to us?
Bitcoin Cash. June 2018 overview
Are cryptocurrency indices a new crypto market trend?
EOS. End of May'18 overview
Ethereum. May 2018 overview
Here on our Cryptoindex blog, we will be posting 100 articles about each of the top performing coins selected by our powerful AI algorithm#CIX100coinreview.
Today's review: 0x Protocol
Protocol for Trading Tokens?
0x is a protocol that facilitates the exchange of ERC20 tokens. Anyone can use 0x to work with decentralized exchanges. The protocol allows you to broadcast ERC20 tokens between users in a safe and fast mode using smart Ethereum contracts. Ultimately, all assets, including fiat, commodities, stocks, can potentially be represented as a token. The 0x was created by Will Warren and Amir Bandeali, two crypto-enthusiasts. They drew attention to the high rates of development of the Ethereum blockchain and the prospects it offers.
Thanks to the ability to tokenize any asset, after a while, they felt everything would be converted to digital form. Consequently, the market would need a simple and clear common standard for the exchange of assets. This method should be the 0x protocol that allows you to perform fast and inexpensive exchange operations within the network of the ethereum.
The 0x protocol is based on Ethereum, it has an open source code that other developers can use. The new protocol is quite different from centralized sites. It allows developers to create their own DEX (decentralized exchanges). The platform does not require registration from the user, because it is a protocol, not a software. Where registration is not required, there are no opportunities for hacking.
The system has 1 billion tokens, half of them are in the public domain, the remaining tokens are distributed between developers, founders, and early investors. Any person or organization can use ZRX tokens. These tokens are broadcast in the fastest and most secure way in the system via Ethereum smart contracts.
Platform 0x was developed to solve problems and provide users with a convenient functional tool. Advantages of the project are:
Lower risk levels, than other typical for centralized platforms. It makes it possible to talk about more efficient integration of blockchain and cryptocurrencies into everyday life. Higher levels of safety and more comfortable conditions are guaranteed because there is no risk of hacker attacks and platform hacking.

Thanks to the network effect, the value of the token ZRX is maintained. With an increase in the number of operations and an increase in the activity of using the ZRX protocol, it will grow in value.

The protocol supports work and provides interaction with other projects (Melonport, Ethfinex, Augur, District0x), cooperation with the Bitfinex site is maintained;

A large number of project partners and the attraction of venture capital firms to it, interest in the token will grow. That says about profitable investments in the ZRX.
It is impossible to ignore some issues that cause concern:
There is a possibility that the work of the 0x project will fall under the restrictions of the SEC norms;

The protocol features are limited to work exclusively with ERC20 standard coins. - Consequently, if a more successful smart contract project appeared on the market, interest in the ZRX would be lost.
Currently, there is a process of converting traditional assets into digital form. One way is tokenization. Given the current trend, we can say that the 0x project appeared on the market in a timely manner and seeks to occupy a sought-after niche. Using the protocol allows you to simplify and reduce commission costs in the exchange of tokens. We can say that the project has prospects if the team continues to work on its development and popularization.
At the time this article was published, 0x Protocol makes up 0.09% of the total of CryptoIndex portfolio.
In this month Zorax made a bad prediction on this coin.
What do you think about this coin?
The best comment - question below this review will get 500 BC tokens(~$50) from our media partner block-chain.com on his wallet.
You can always check the current CIX100 composition on our MVP platform: http://cryptoindex.ai/
Stay updated on our channels:
Follow CRYPTOINDEX on Telegram
Follow CRYPTOINDEX on Medium
Follow CRYPTOINDEX on Twitter
Follow CRYPTOINDEX on Facebook
Follow CRYPTOINDEX on Linkedin
Follow CRYPTOINDEX on Reddit