Are cryptocurrency indices a new crypto market trend?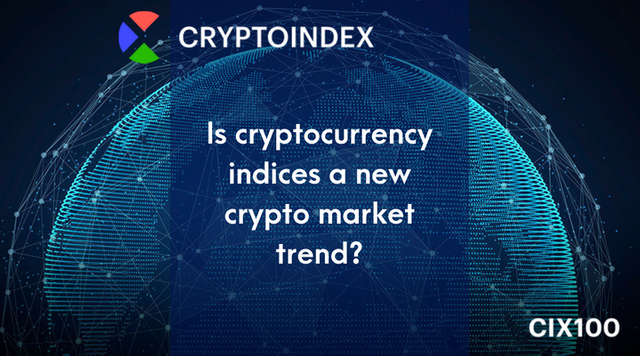 The formation of the index is the next step in allowing the old-world finance markets to start viewing the new world currencies as a serious and viable investment opportunity. By creating an index that is very much in the exciting and vibrant space of сryptoсurrencies, while adopting a methodology that takes into account the needs and requirements of heavily regulated asset managers, banks, hedge funds and professional investors, the ability for a much wider investor base is created.
To date investing in crypto's required a single currency purchase or, if a wider spread of risk was sought, a number of currencies. However, as the currencies all exist on numerous exchanges and markets, all with different payment systems and methods, the ability to get in and out of positions was difficult, time-consuming and potentially costly as timing was slow and markets move. Many investors curious to dip a toe into the new asset class were scared off by this complexity and more importantly were reluctant to expose themselves in a limited way.
The other option available is to take up investments in a single or number of companies operating in the Crypto space. Again, a time-consuming and risky way to gain a simple exposure to the asset class. It additionally adds a second layer of risk-based around the performance and management of the company itself.
The creation of a well thought out index taking into account the regulatory and compliance needs of the sophisticated investor changes the game. Contracts created and listed based on the index will provide a simple, well understood and tried method for the financial community to take out a view on cryptocurrencies as a whole. Multiple listings on both existing financial exchanges such as Eurex, or CME will allow the investor base to use current Fiat currencies to clear through existing clearinghouses using current risk, compliance, middle and back-office systems. In doing so, the Index can be integrated into the trading and investment community in a relatively short space of time.
However, the Index based contracts can also be listed on new Crypto exchanges using cryptocurrencies for the margin and clearing calculations. In providing both options the investor base has a wide choice, and some can transition from one to the other over time. By this development, a bridge is created between the old and new finance worlds without the long difficult and costly need for changing the existing investment community's current systems and methods.
Given the huge weight of regulation that has landed in the financial community since the financial crisis, getting an index like this right is key to its success.
More information about CryptoIndex on our website