Cardano - review. Future plans.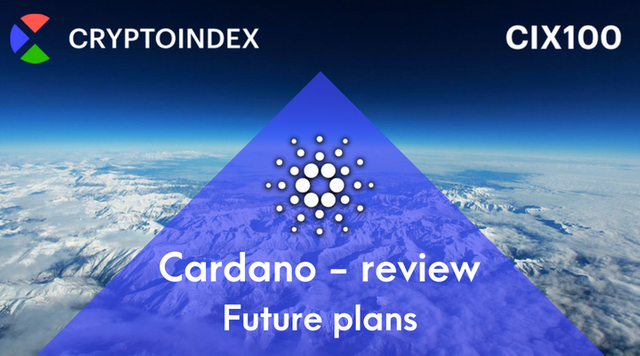 Cryptoindex is a tool for exposure to the cryptomarket and serves as a smart benchmark for all cryptocurrencies. The AI-based Cryptoindex algorithm is continuously analyzing more than 1000 coins on 80 factors, receiving more than 1 million signals per second to incorporate the top 100 cryptocurrencies and tokens with the highest potential.
You can find our previous reviews here:
Ripple - review. Further Perspectives
Litecoin. June'18 overview
The Dow Jones index. From where did it come to us?
Bitcoin Cash. June 2018 overview
Are cryptocurrency indices a new crypto market trend?
EOS. End of May'18 overview
Ethereum. May 2018 overview
Here on Cryptoindex blog, we would like to tell you more about each coin selected by our powerful Cryptoindex AI-based algorithm. We'll be posting one article about one coin from the portfolio with #cix100coinreview hashtag.
Today we would like to review Cardano and their further plans.
So what is Cardano? And why does this coin take the TOP-10? Let's look at this project.
Cardano was released on September 29, 2017, under the 'Byron' bootstrap phase with the official launch in Japan. Cardano has been developed by the company for the development of the input-output module Hong Kong (IOHK). Charles Hoskinson, former co-founder of BitShares, Ethereum, and Ethereum Classic, is currently focused on aiming all of the company's resources at launching smart contracts, decentralized applications, sidechains and multi-party computing.
The platform is setting a course towards creating a new decentralized economy and democratization of finance in emerging markets. The technology will allow the creation of decentralized applications and make smart contracts that are simultaneously inexpensive, safe and scalable.
How does this technology differ from others?
Blockchain technology will soon be used globally. Prior to its sucсess, it had several critical issues, such as the absence of regulatory oversight, the experimental development of software with unproven security, poor management reducing the ability to plan long term.
But the Cardano project is very different: Like a Ripple it considers the need for regulatory oversight, preserving the privacy and protection of consumers through an innovative software architecture.
The protocol itself contains a multilevel, block-based block-block that is flexible, scalable and developed using the most rigorous academic and commercial software standards in the industry. Cardano will use a system of democratic governance that will allow the project to evolve over time and to sustainably fund itself through a system of vision of applicants.
Unique technology
Transactions involving ADA are publicly registered through the blockchain, allowing you to see the date and time of the transaction, the amount sent and the sender's common address. The real version according to the developers will be launched very soon one version of Cardano 'Testnet' is already active.
Layers
Cryptocurrency ADA works on its own level, called Cardano Settlement Layer (CSL). CSL is the level of accounting and support for operations with cryptocurrency wallets. The second layer, called the Cardano Computation Layer (CCL), will support smart contracts and decentralized applications. This multi-level architecture allows you to simplify updates.
How is Cardano's control organized?
Cardano is a project consists of three institutions that have separate roles, all of which contribute to the development of the project:
The Cardano Foundation is responsible for the "standardization, protection and promotion" of Cardano technology.
2.IOHK is a world-class blockchain engineering company responsible for the Cardano blockchain construction.
3.Emurgo is responsible for the development of commercial applications created on the Cardano ecosystem.
The original ideas about Cardano were initiated by a group of cryptocurrency enthusiasts, investors, and entrepreneurs from Asia at the end of 2014. The HK input project (IOHK) was involved in the development and implementation of Cardano. In addition, the Cardano Foundation, which is based in Switzerland and, was established to assist in supervising the development of Cardano, its ecosystem, activities, and protection on behalf of the users of the protocol. Another organization, Emurgo, based on the Isle of Man, was established to provide commercial activities on behalf of the ecosystem and the community. These three organizations are completely separated in ownership and leadership.
What is ADA? And what is its peculiarity?
ADA is a cryptocurrency in the Cardano system itself and it is used to receive and send money. The developers believe that digital money, such as ADA, shows how future money will be. This allows you to quickly transmit quickly value with guaranteed security through cryptography.
To use ADA users should use the Daedalus wallet, which is a hierarchical deterministic, multi-platform, secure wallet designed specifically for this cryptocurrency. The wallet is easy to install and it allows you to view everything and perform a transaction search on demand.
You use it to view specific information about the status of the blockchain. It also contains encrypted cost passwords and private keys for added security and the ability to export to a paper certificate for cold storage. The purchase of ADA can be done through unencrypted or encrypted redemption certificates, and users can set the level of the guarantee of the transaction.
The Cardano team is also working on adding support for Ethereum Classic, Bitcoin and creating a mobile wallet for iOS and Android. They are also working on an application repository that includes support for almost all crypto and community-based applications, as well as creating bids that will allow ADA owners to generate blocks and thereby earn more than before.
How to buy ADA?
Currently, you can buy or sell ADA cryptocurrencies through several exchanges, the number of which is constantly growing. Cryptocurrency will also be available at some ATMs in Japan. Those who have an ADA will also be able to choose a Cardano debit card that allows you to use it like any other currency. The funds are automatically converted into your local currency for unimpeded use. The debit card will be connected to the application so you can track transactions and ADA balance. Currently, ADA can be purchased from Binance or Bittrex.
Conclusion
The project Cardano has all the prospects to become one of the most reliable blockchain platforms. The solutions that the company offers are far superior to its competitors, such as Ripple and Stellar. The company has a good team, competent management, and excellent technological solutions. All these qualities can help to achieve the company worldwide recognition, even despite such a high competition in the crypto world.
At the time of writing, Cardano is 1.63% of the total of CryptoIndex portfolio.
You can always check the current CIX100 composition at our MVP platform: http://cryptoindex.ai/
Stay updated on our channels:
Follow CRYPTOINDEX on Telegram
Follow CRYPTOINDEX onMedium
Follow CRYPTOINDEX onTwitter
Follow CRYPTOINDEX on Facebook
Follow CRYPTOINDEX on Linkedin
Follow CRYPTOINDEX on Reddit