Minnowbooster Announces Adjustment to Profitability Scale
Today Minnowboosters is announcing a change to our profitability formula in an effort to be able to push out more Boosts to our loyal customers.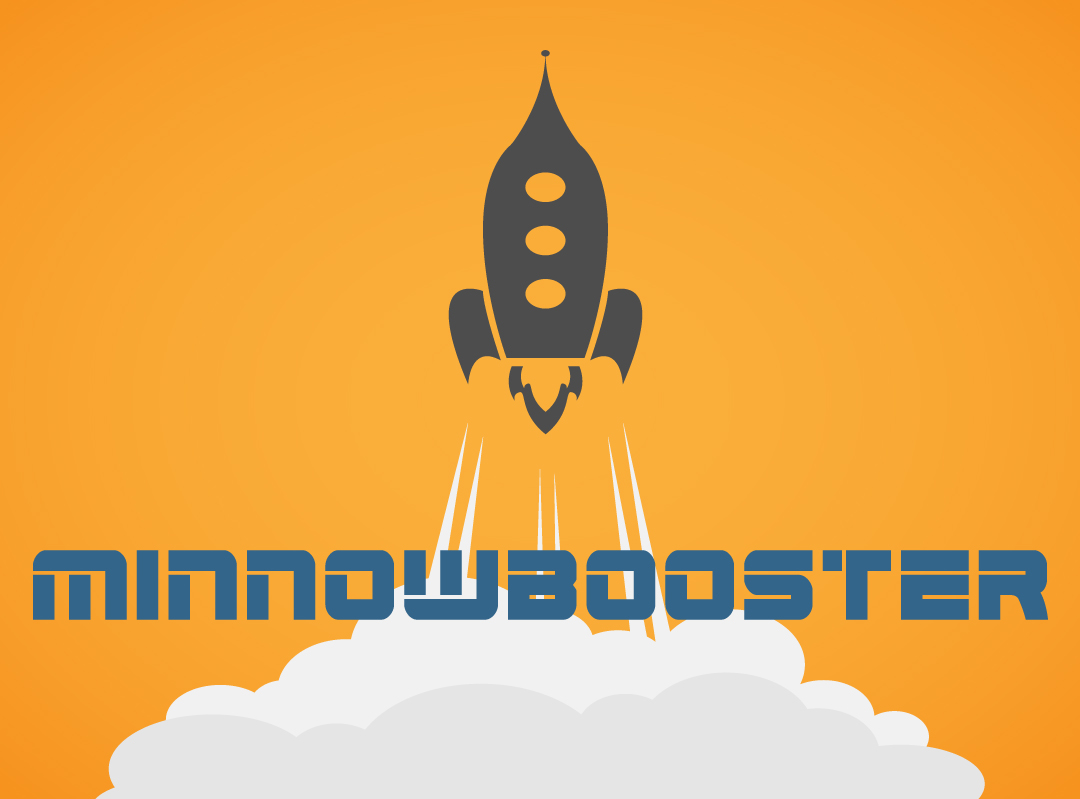 As you know, Minnowbooster has been working on a 3x profitability model. Meaning that if you were to submit a post for a boost when Minnowbooster was at 100% voting power, you would get a return of 3x what you put in to boost the post.
In Reality, Minnowbooster is closer to our minimum VP of 57%, which returns 171%.
With so many people calling on Minnowbooster to visit their posts, in an effort to keep our Voting Power Effective, we have decided that we need to make a slight adjustment to the Voting Power per post, and will be decreasing our Profitability Metric from 3x to 2.5x at 100% power.
This change, combined with the minimum Voting Power of 57% will see a minimum return of 142.5% as opposed to the 171% you were seeing with the 3x model. If you assume maximum curation reduction of 25% your end result profitability drops from 128.25% to 106.875%.
In announcing this decision @reggaemuffin stated:
What this means is we can vote more and our raise limits. Users will soon start seeing Minnowbooster as a promotional tool to get into "hot" and "trending" to boost visibility; not as a money multiplier. This is a huge step in reducing spam and abuse on Steem!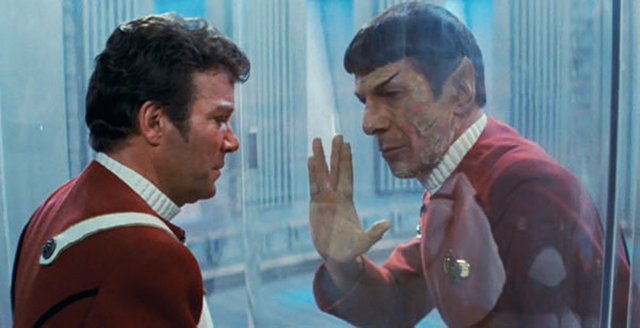 THE NEEDS OF THE MANY OUTWEIGH THE NEEDS OF THE FEW... OR THE ONE.
With this change, along with the new "Sell your Vote" feature, allowing us to conserve Voting Power, our hope is to get Minnowbooster off of that 57% minimum Voting Power and start getting closer to the higher Voting Power profitability we would prefer to operate at. At the same time, being able to service more overall posts, while simultaneously positioning ourselves as a post promotion service.
As Spock said "The needs of the many, outweigh the needs of the few."
This change is effective immediately, so you will already be seeing the new metrics in place. We appreciate everyone for your support as we fine tune our products in order to provide the best possible experience for our users.
---
Updated Terms of Service
Minnowbooster takes Boost Abuse very seriously. Abusers be warned, a new policy is being put in place and if you continue to upvote content that violates our TOS, we will be removing your upvote and declining a refund payout.
What constitutes abuse of @minnowbooster?
Using multiple accounts to post duplicate content and purchasing MB upvotes for all of them.
Same goes for using multiple accounts to post low quality content just to farm Minnowbooster for profits
Upvoting posts with MB that are written in a copy / paste style.
Using a MB vote for very short or repetitive content.

Length is subjective, but 150 words is a good safe guideline, however original art, photography, video and animations will be exempt from the 150 word guideline.
Think about the content you are upvoting and decide based on the criteria we have laid out.
What is @minnowbooster's new policy in dealing with abuse?
Users who violate our TOS regarding upvotes will face the following consequences:
1.) Your post will be unvoted by Minnowbooster
2.) You will not receive a refund for the original upvote.
---
What can MINNOWBOOSTER do for you?!
| What? | Currency | Advantages |
| --- | --- | --- |
| Buy upvote | SBD | Earn an instant return |
| Lease SP from market | STEEM | Increase your vote strength and curation rewards |
| Delegate SP to market | STEEM POWER | Earn daily STEEM dividends |
| Invest STEEM in MinnowBooster | STEEM | Earn daily SBD dividends |
| Delegate SP to MinnowBooster | STEEM POWER | Earn daily SBD dividends |
| Sell your vote to MinnowBooster | VOTING POWER | Earn SBD share of sells |
---
CURRENT PARAMETERS:
| Parameter | Value | Remarks |
| --- | --- | --- |
| Minimum Upvote | 0.01 SBD | Minimum SBD you can send |
| Upvote comments? | No | |
| Profit at 100% VP | 2.5 times | Check VP at steemnow.com |
| Daily Limit | 5.0 SBD | Maximum you can send in 24h |
| Weekly Limit | 15.0 SBD | 7 day maximum |
| Minimum SP Lease | 1 STEEM | |
| 1-3 Week Lease | 1 STEEM/75 SP | Price per week/Lease size |
| 4-24 week Lease | 1 STEEM/150 SP | Price per week/Lease size |
---
Provide us with feedback
We are happy to hear your feedback about where we can improve.
---
Join our Discord chat
Get support and connect with us and other Minnowbooster fans!

We are always looking to improve @minnowbooster and try to keep you up-to-date whenever something changes. If you have any suggestions about what we should change or add to @minnowbooster, then please write us a comment :)
---
Missed the BuildTeam announcement? Here's all the juicy details.
---
Video Tutorials
---

---
And last but not least, here's our cute little footer made by the most epic @ryivhnn! Yes, there are cute little minnows floating around!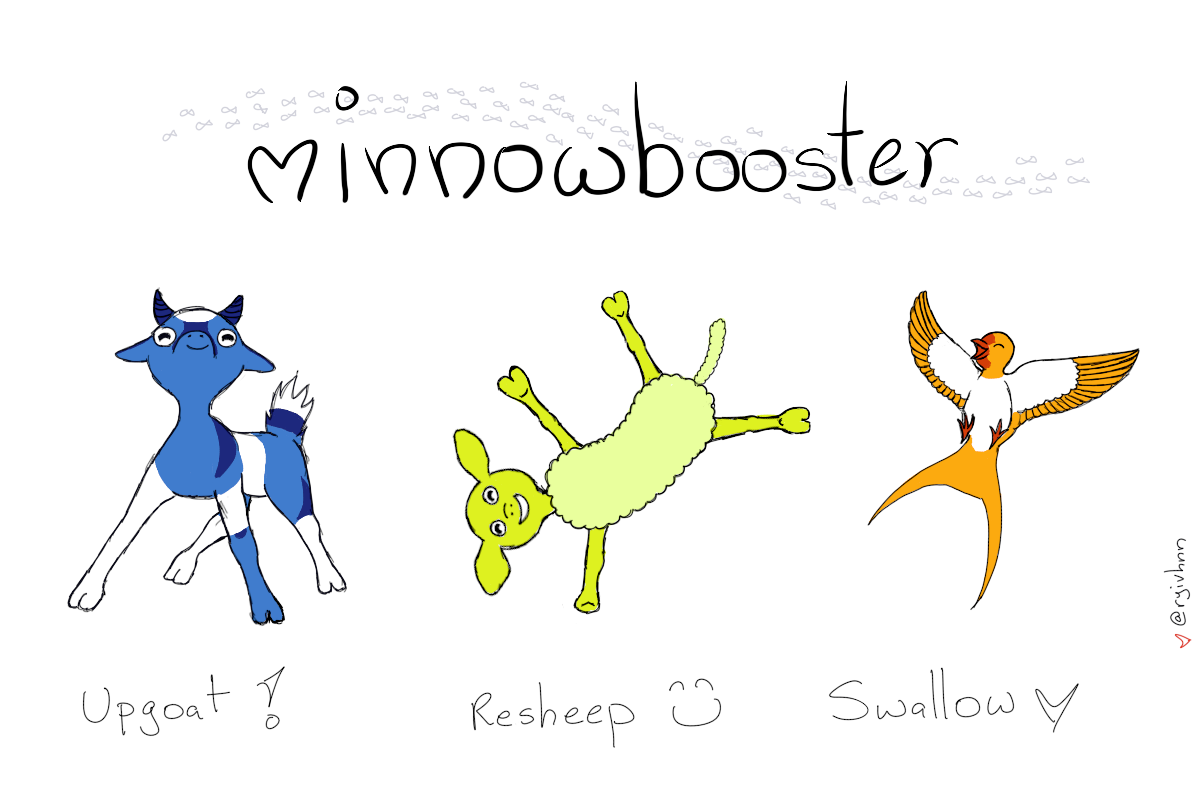 ---
Minnowbooster is a @buildteam project by @thecryptodrive (witness) @cryptomancer and @reggaemuffin (witness)
---
---
This is a @steemvoter subscription payment post. Thank you to Steemvoter customers for allowing us to use your Steem accounts to upvote this post by virtue of your free subscription to the Steemvoter.com bot service. @steemvoter is proudly a @buildteam subsidiary and sister project to @steemsports and @minnowbooster.