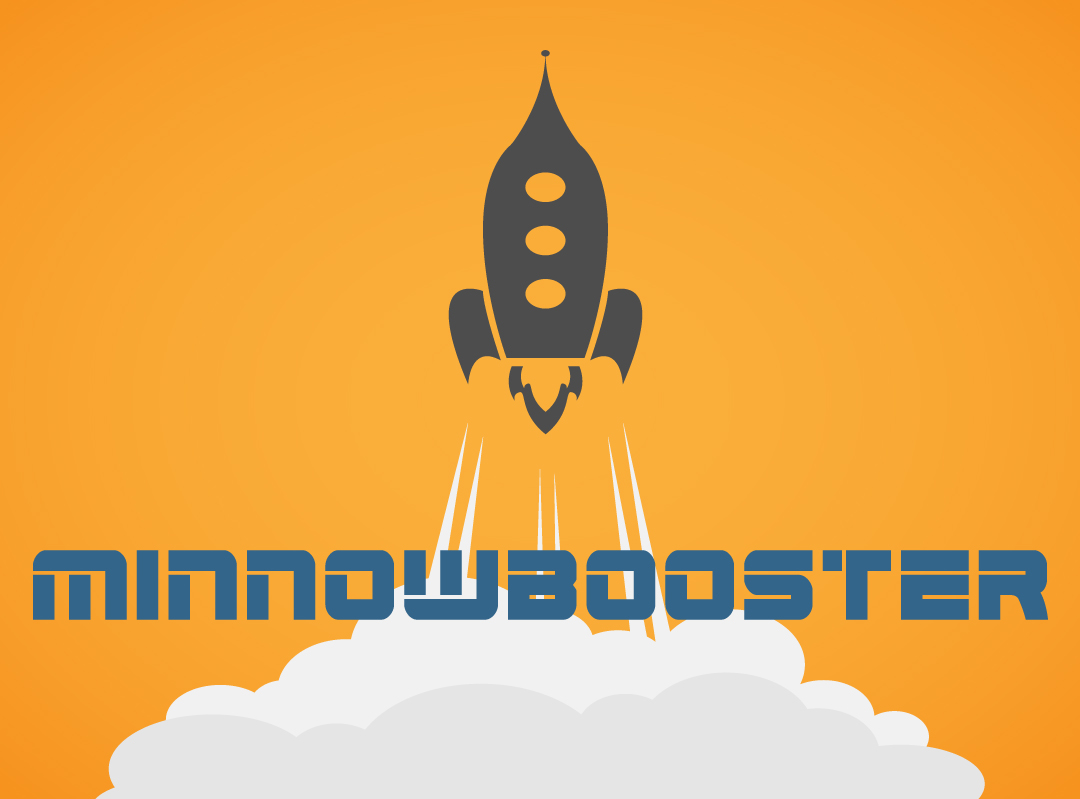 Hey guys, @techblogger here with some exciting developments brought to you by @minnowbooster. Our service just keeps getting more versatile, with the team adding new features constantly.
Today I want to tell you about an important new feature recently added to @minnowbooster: the ability to automatically claim your Steem, Steem Power and SBD rewards!
We've all been there, going through our feed, looking at all the new stuff out there, tossing out an upvote here and there, and we forget to check our Steem wallet for our latest payouts. Everyone is guilty of giving lower upvotes than we could have just because we failed to claim our rewards before voting.
Now Minnowbooster can automatically do this for you, so you can go on upvoting, while being completely confident that you are giving the strongest upvote possible.
To enable this function, let's head over to Minnowbooster and get logged in. Once you are logged in, go up to the "My Account" Button, and select "Edit Info".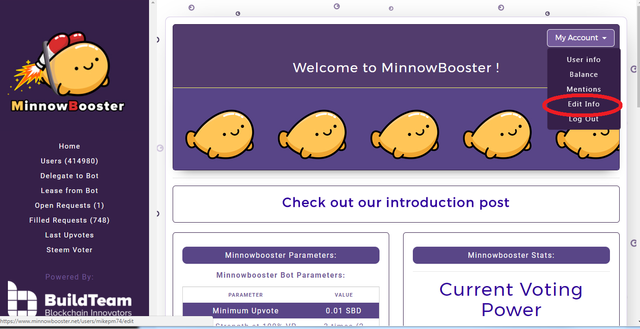 ---
This will take you into a page where you can set up a few different options. If you are not already familiar with Mentionator, make sure you check that out, and of course, you can also enable selling your vote here as well. But the button we are focusing on is the "Enable automatic claiming of rewards" button, circled below.
---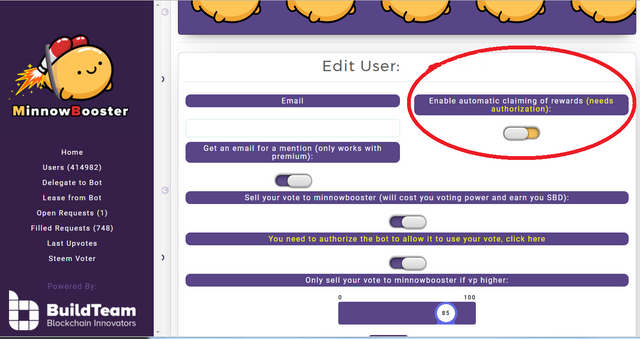 Just enable this function, authorize it with your active key using the secure Steemconnect service and click the "update" button to save your settings, then just wait for the next auto-claim cycle to kick in. The cycle currently operates about once every 10 minutes and once activated, the service goes in and collects your rewards for you, so you never miss a payout. We are considering tweaking the time period to a few times per day so users don't receive a lot of wallet notifications from frequent auto-claims.
I happened to have some rewards sitting in my account when I turned the service on, and sure enough, a few minutes after turning it on, those rewards had been claimed and reflected in my balances. I didn't have to push a button.
Best of all, this is not a premium feature, so anyone can use it free of charge.
There's nothing to lose here. Just go, get on the service, and never worry about forgetting to collect a payout again. What good is it doing to have those rewards collecting dust waiting to be claimed?
Auto-Claim is just the next in a long line of valuable services offered by Minnowbooster! Check it out today!
---
Check out the VIdeo Tutorial:
</center<
---
What can MINNOWBOOSTER do for you?!
| What? | Currency | Advantages |
| --- | --- | --- |
| Buy upvote | SBD | Earn an instant return |
| Lease SP from market | STEEM | Increase your vote strength and curation rewards |
| Delegate SP to market | STEEM POWER | Earn daily STEEM dividends |
| Invest STEEM in MinnowBooster | STEEM | Earn daily SBD dividends |
| Delegate SP to MinnowBooster | STEEM POWER | Earn daily SBD dividends |
| Sell your vote to MinnowBooster | VOTING POWER | Earn SBD share of sells |
---
CURRENT PARAMETERS:
| Parameter | Value | Remarks |
| --- | --- | --- |
| Minimum Upvote | 0.01 SBD | Minimum SBD you can send |
| Upvote comments? | No | |
| Profit at 100% VP | 3 times | Check VP at steemnow.com |
| Daily Limit | 10.0 SBD | Maximum you can send in 24h |
| Weekly Limit | 25.0 SBD | 7 day maximum |
| Minimum SP Lease | 1 STEEM | |
| 1-3 Week Lease | 1 STEEM/75 SP | Price per week/Lease size |
| 4-24 week Lease | 1 STEEM/150 SP | Price per week/Lease size |
---
Provide us with feedback
We are happy to hear your feedback about where we can improve.
---
Join our Discord chat
Get support and connect with us and other Minnowbooster fans!

We are always looking to improve @minnowbooster and try to keep you up-to-date whenever something changes. If you have any suggestions about what we should change or add to @minnowbooster, then please write us a comment :)
---
Missed the BuildTeam announcement? Here's all the juicy details.
---
Tutorials
---

---
And last but not least, here's our cute little footer made by the most epic @ryivhnn! Yes, there are cute little minnows floating around!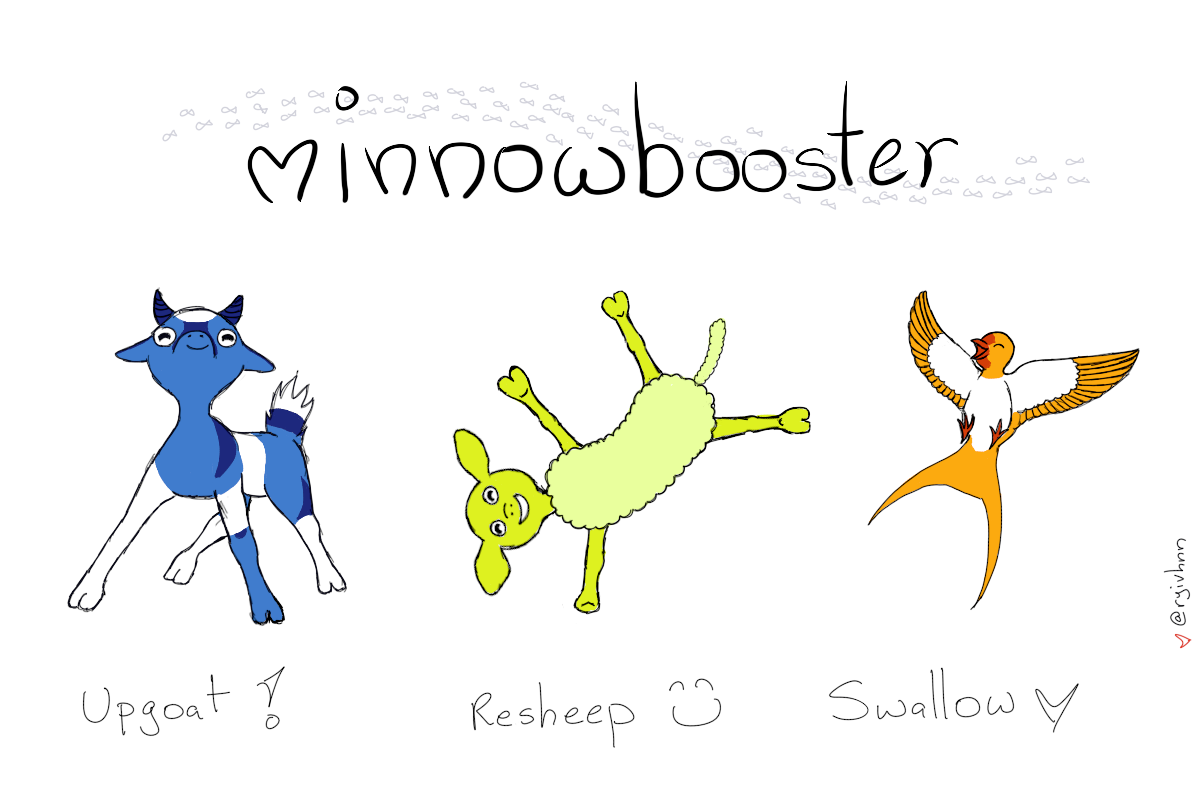 ---
Minnowbooster is a @buildteam project by @thecryptodrive (witness) @cryptomancer and @reggaemuffin (witness)
---
---
This is a @steemvoter subscription payment post. Thank you to Steemvoter customers for allowing us to use your Steem accounts to upvote this post by virtue of your free subscription to the Steemvoter.com bot service. @steemvoter is proudly a @buildteam subsidiary and sister project to @steemsports and @minnowbooster.