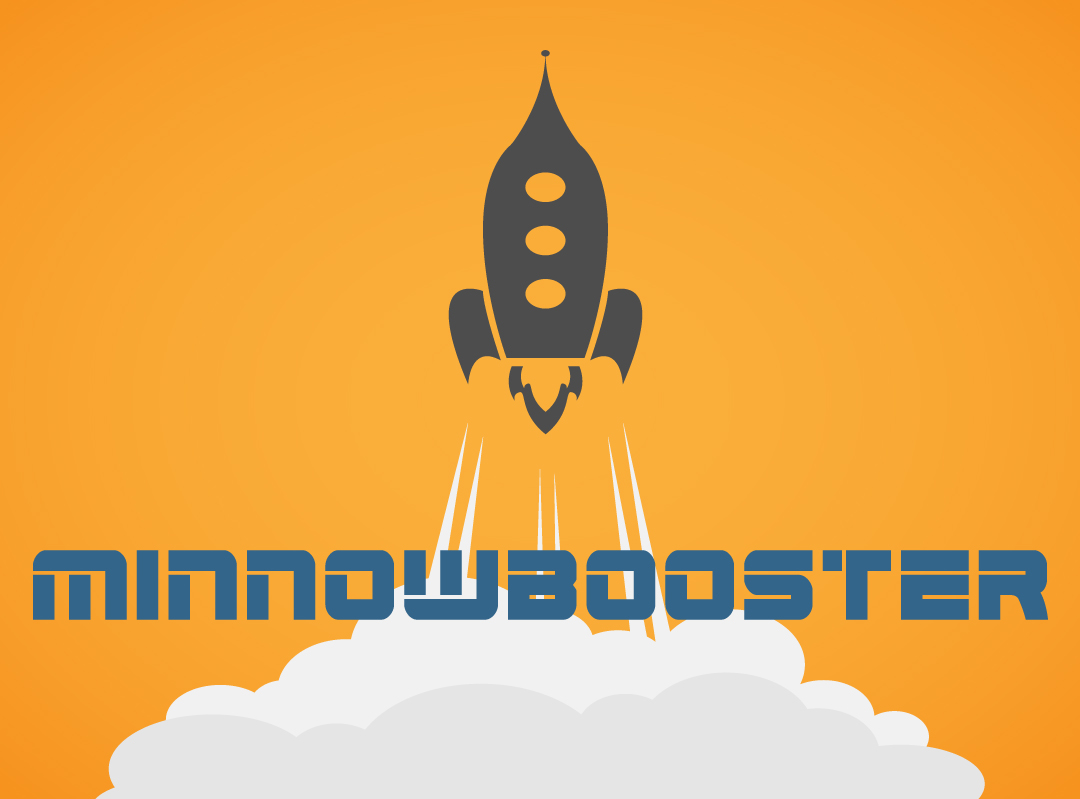 Hey there, @raycoms here to give you an introduction of our brand new Browser Extension.
Have you ever asked yourself how you can notice if any of your fans upvoted, mentioned, followed, commented or even resteemed you?
There is now a better way, rather than refreshing your Steemit page over and over again!
We are proud to present our brand new Minnowbooster Browser Extension - which will notifiy you about all your important profile events.
And do you want to know what the best thing is? It is Free!
| Feature | Details |
| --- | --- |
| Supported Browsers | Firefox & Chrome |
| Notification Types | Follow, Upvote, Resteem, Mention, Comment |
| Supported Sounds | Ding & Dong |
Download
Getting Started
Once you've installed the extension, you will find this little guy in your browser toolbar:

If your profile events get triggered, a sound will be played (which you can configure) and a blue little number appears, which represents the number of events.
Then you'll be able to open the plugin by clicking on it, which will show you a more detailed list of events.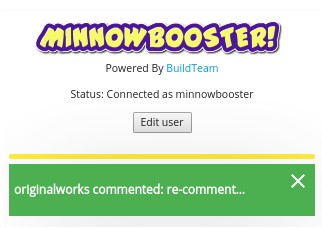 You can now get to the specific event by clicking on it or if you want to delete it - through a click on the white 'x'.
Mentions by the same user or resteems of the same post get accumulated into the same tab. Clicking on it will redirect you to the Minnowboster homepage.
Privacy
We don't access or store any of your private keys.
Our plugin code is completely open-source, therefore, we're completely transparent about what kind of browser functions our plugin accesses.
Our plugin does not require any permissions regarding your browser data.
The data you'll be receiving will come as a one way stream from Minnowbooster.
The plugin won't send any data to Minnowbooster.
Additionally, we're not storing any data of you outside of your browser.
We have no access to any of your user related data.
Feedback
If the extension is not working as expected or if you found a bug or missing more features - then please report it at:
https://github.com/BuildTeamDev/BuildTeamNotifier
Last but not least: if you're using another browser, then please comment below and we'll see if we can port the extension to the browser.
---
What can MINNOWBOOSTER do for you?!
| What? | Currency | Advantages |
| --- | --- | --- |
| Buy upvote | SBD | Earn an instant return |
| Lease SP from market | STEEM | Increase your vote strength and curation rewards |
| Delegate SP to market | STEEM POWER | Earn daily STEEM dividends |
| Invest STEEM in MinnowBooster | STEEM | Earn daily SBD dividends |
| Delegate SP to MinnowBooster | STEEM POWER | Earn daily SBD dividends |
| Sell your vote to MinnowBooster | VOTING POWER | Earn SBD share of sells |
---
CURRENT PARAMETERS:
| Parameter | Value | Remarks |
| --- | --- | --- |
| Minimum Upvote | 0.01 SBD | Minimum SBD you can send |
| Upvote comments? | NO | |
| Profit at 100% VP | 3 times | Check VP at steemnow.com |
| Daily Limit | 10.0 SBD | Maximum you can send in 24h |
| Weekly Limit | 25.0 SBD | 7 day maximum |
| Minimum SP Lease | 1 STEEM | |
| 1-3 Week Lease | 1 STEEM/75 SP | Price per week/Lease size |
| 4-24 week Lease | 1 STEEM/150 SP | Price per week/Lease size |
---
Provide us with feedback
We are happy to hear your feedback about where we can improve.
---
Join our Discord chat
Get support and connect with us and other Minnowbooster fans!

We are always looking to improve @minnowbooster and try to keep you up-to-date whenever something changes. If you have any suggestions about what we should change or add to @minnowbooster, then please write us a comment :)
---
Don't have a Bitshares account? Create one here.
---
Missed the BuildTeam announcement? Here's all the juicy details.
---
Previous Video Tutorials
---

---
And last but not least, here's our cute little footer made by the most epic @ryivhnn! Yes, there are cute little minnows floating around!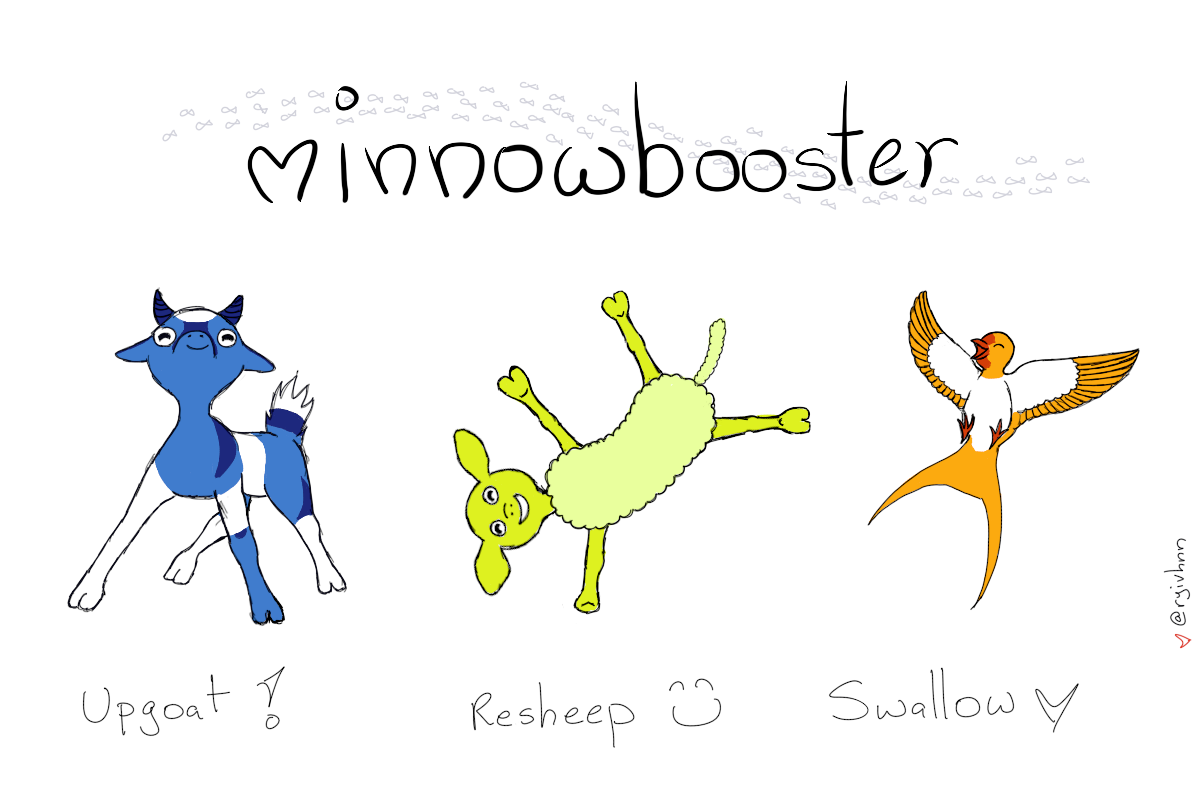 ---
Minnowbooster is a @buildteam project by @thecryptodrive (witness) @cryptomancer and @reggaemuffin (witness)
---
---
This is a @steemvoter subscription payment post. Thank you to Steemvoter customers for allowing us to use your Steem accounts to upvote this post by virtue of your free subscription to the Steemvoter.com bot service. @steemvoter is proudly a @buildteam subsidiary and sister project to @steemsports and @minnowbooster.