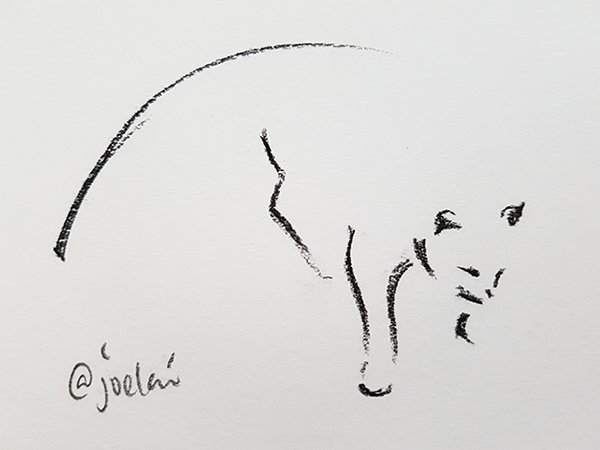 The idea of this contest is to portray an art using the simplest way with only a few lines and curves.
The object I chose today is a cat and I try to make it sexy, what do you think? Haha...
The art material I used is - A4 Sketching Paper, A Charcoal Pencil.
The are no technic with this drawing, as long as you are able to sketch out the outline of object's shape, there you have it.
This is my first time joining this contest which I saw in @angelina6688 post. You can check out the details of the #MiniContest by @gulugu and what it's all about here.
---
无意中在 @angelina6688 那里发现了这个,如此简单有趣的比赛。这一次比赛的要求是要大家用最简单的线条和曲线来作画。今天选择的对象是画小猫咪,我想把它性感化,你们觉得成功了吗?哈哈。
这次的绘画工具是 - A4 素描纸,一支炭笔。这里没有特别的绘画技巧,你只需要能够将物体的轮廓外形,勾画出就行了。
这是我第一次参与 @gulugu 举办的这项比赛,有兴趣参加 #MiniContest 的朋友们可到这里了解比赛的规则及要求。

Thank you for stopping by, this is a place where I can share the things I enjoy in life, art, gardening, nature, foods. This is why my divider above are filled with all the different kind of icons that I love doing. I hope you enjoy my post so far, leave me a comment if you like.
谢谢您的到访,这里是个我可以分享关于我所喜爱的生活,包括艺术,园艺,大自然,食物等等的地方。 这就是为什么我上面的页脚全都是我喜欢做的不同类型的图标。 我希望您喜欢我的帖子,如果您喜欢,不妨留下您的评语。
Here are some previous posts on my drawings, click it if you are curious enough.
以下是我之前画的一些素描帖子,如果您好奇的话,不妨点击看看。
第五届"齐白石杯"绘画大赛★主题:军事装备 — 边车摩托车。
炭笔素描 - 眼睛里的故事。Charcoal Sketch - Story of the Eye.
This is What Happens When You are a Perfectionist aka Stubborn. I 固执的成果。
Practising on the Eye again! I 又是时候练习画眼睛了!
Doodle Contest Week #1 | Flowers & Plants by @coloringiship
Speed Drawing Contest Entry - Portrait
Charcoal Sketching - random subject, enjoy!
#1 Random Sketches - Birds
Art and Me I 艺术与我