Veggie-Pineapple Juice Recipe!
Would you like to see what vegetables and fruits I used for my juice this morning because you might want to try the same and it's really good?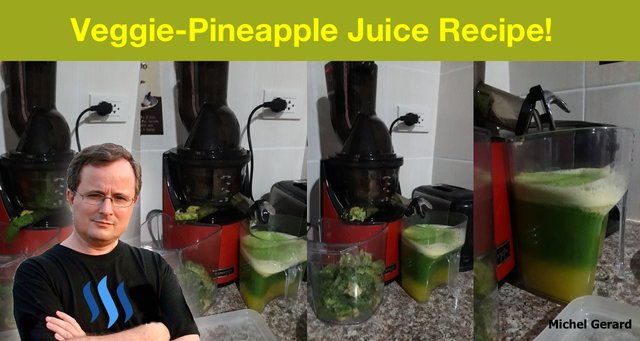 I haven't made a post about juicing for a while so I thought it would be time to do it today.
You may want to read my post to see how it all started: I Invested in a Kuvings Cold Press Juicer!
I have been juicing for more than three months now, having a fresh daily veggie-fruit juice for lunch. I can now say that it is the best thing I have done for my health this year and my weight loss efforts are largely rewarded without compromising too much on the food I like to eat.
You may want to read my Fitness May Report here: Fitness Challenge - May Report
This morning, I had the most pleasant surprise seeing 74.3 kg on the scale. Since the first of June, my weight has been going down as I restarted juicing after a vacation in Japan.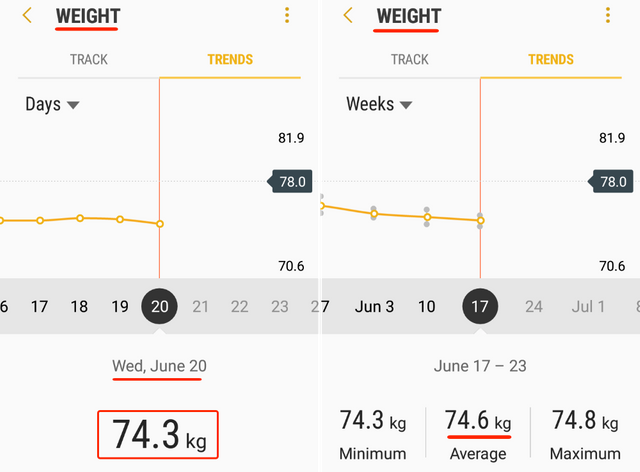 I am showing you this because juicing permitted me to go from 82 kilograms to 74 kilograms in seven months and this might motivate you to try it out.
All photos are mine and taken with my Samsung phone.
Veggie-Pineapple Juice Recipe!
I am going to show you all the ingredients that I used this morning to make this delicious juice with green veggies and a pineapple.
Today's Juice Recipe
I used these ingredients exactly as you can see in the photo below:
Leafy greens

1 cucumber

2 limes

1 pineapple

a small piece of ginger
These are all the greens.
The leafy greens are cut in small pieces so they don't jam the juicer.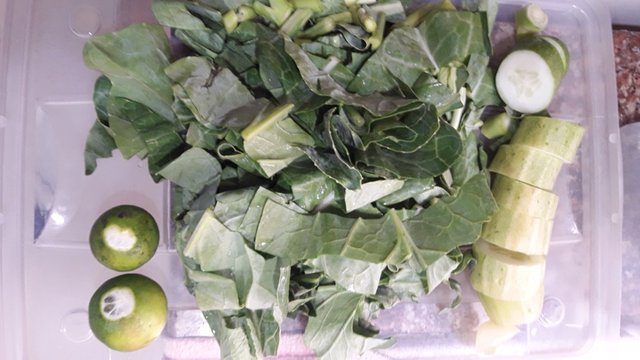 The pineapple before and after meeting the knife.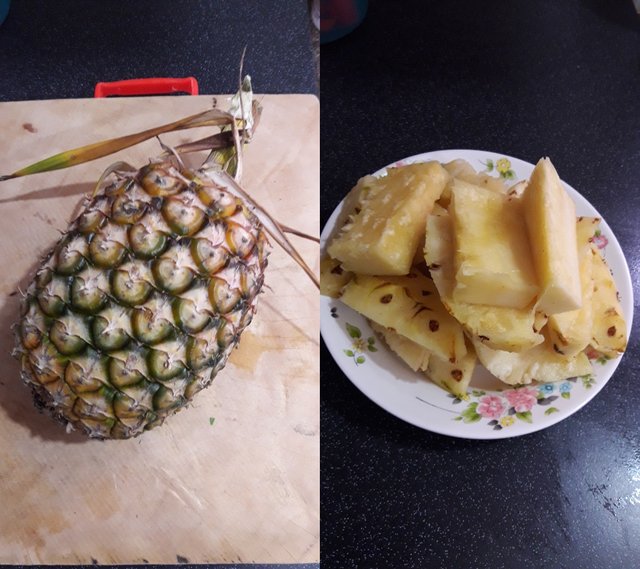 A small piece of ginger (at the right).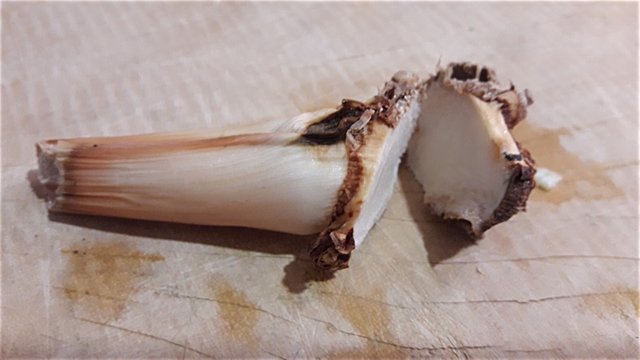 The pineapple is very good for taking over the bitter taste of the greens and making it sweeter. The ginger makes it a little bit spicy and interesting.
Ready to start!
This is my juicing space in the kitchen.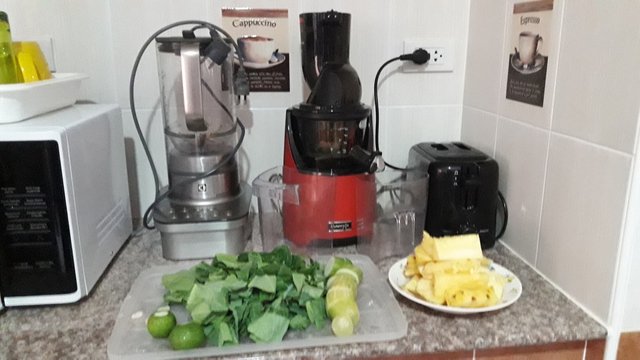 If you are not used to drink green juices, add a pineapple as this will make it very bearable.
I started with the pineapple, then the greens and finally pineapple again.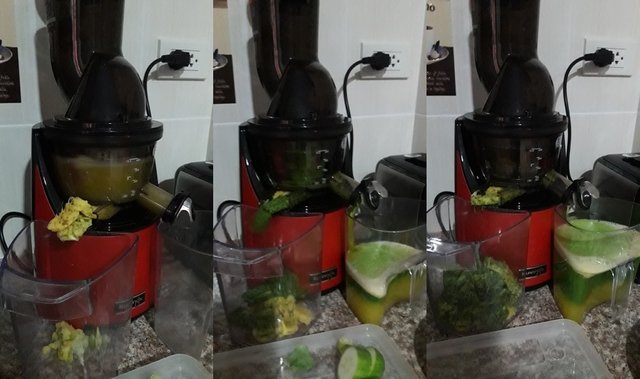 When you juice, it is best to alternate the produce in the juicer, soft and hard.
Isn't that beautiful?
The foam is also excellent and for those who like to drink beer, then this will be familiar.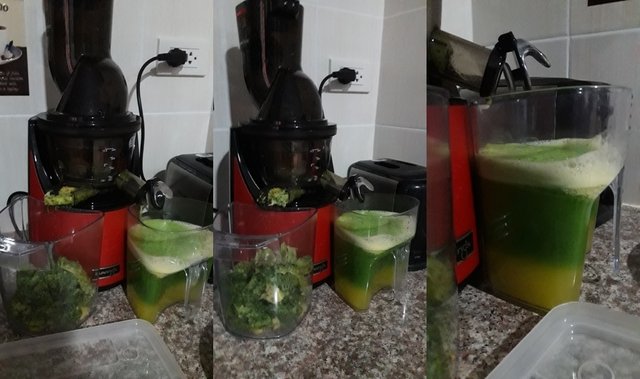 I had enough juice for nearly two bottles this morning and they were emptied very quickly by my wife and I.
You may want to read my six previous posts about juicing.
Thank you for reading, I hope that I have encouraged you to try this simple veggie-pineapple recipe.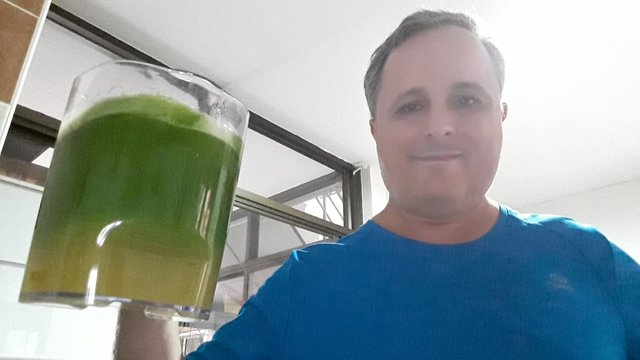 Each day I try to remember that daily veggie and fruit juices are good for health, that they taste good, and that they help me to lose weight.
All photos are mine and taken with my Samsung phone.
Would you upvote this post and follow me for more because this will encourage me to write more juice recipe posts like this one?
Would you please help @jerrybanfield become a top 10 Witness because he is in my opinion the witness who gives the most back to the community? Vote for jerrybanfield as a witness or set jerrybanfield as a proxy to handle all witness votes at https://steemit.com/~witnesses. Read the 5 reasons why I'm voting for Jerry Banfield as a witness and how to vote in my post. You may be interested to read: What is a Steem Witness, How to Vote and Why?
Michel Gerard