Steem Cameroon - Steemit Engagement Challenge - Season 8 (Week 4) || An Apple A Day Keeps The Doctor Away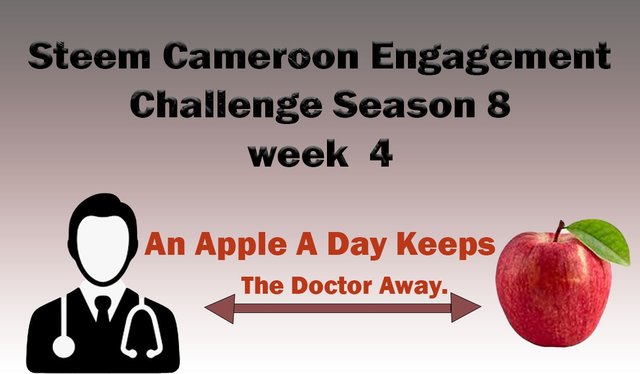 Amazing how time flies, it's already the fourth week of the engagement challenge and it's important that we remain in good health. We all have minor activities or practices that we do in order to keep sickness far away from us on a daily basis. Some may have eating habits, exercise habits, and even resting habits.
In this week's challenge, we will be considering the topic "AN APPLE A DAY KEEPS THE DOCTOR AWAY". Whatever the job you do or practice, the maintenance of a healthy habit is very important for the output of the results you offer. Just like eating an apple every day will make you avoid going constantly to the hospital for treatments and drugs.

An Apple A Day Keeps The Doctor Away.

What do you understand by this statement?

What are some practices/habits you do to make sure you're healthy? (State and give the importance in your own words)

How did you discover these activities? Did you discover the activities/habits by yourself or someone told recommended them to you?

What are the health benefits of the habit(s)?

Do you think everyone could engage in these habits? Explain

What health tips would you give steemians?

RULES

Publish your entry post in the Steem Cameroon Community
Your title should be Steemit Engagement Challenge S8-W4 | An Apple a Day Keeps the Doctor Away
The minimum length of your post must be 400 words.
Plagiarism of any sort will be detected and you will be disqualified.
AI-Generated content of any sort will be detected and you will be disqualified.
Use only original images or copyright-free images and properly cite them. (You can visit this post to know more).
Your entry must be #steemexclusive
You must belong to a club status (either #club5050, #club75, or #club100) to participate in this contest.
Include #steemcameroon-s8w4, #steemexclusive, #engagementchallenge your club status tag (#club5050, #club75, or #club100), and country tag within your first 5 tags.
This contest is open to all, and all languages are acceptable.
Invite 3 friends to participate - Follow @steem-cameroon, and subscribe to the Steem Cameroon Community.
Follow us on Twitter. (https://twitter.com/steem_cameroon) Optional
You must leave your entry link in the comment section of this post, and do not forget to upvote and resteem this post.
This contest will start at 00:00 (UTC) Monday 20/03/2023, and end at 23:59 (UTC) Sunday 26/03/2023

Note
Although this is not a rule, we would appreciate it if you support Steem's growth by supporting the burnsteem25 project.
Remember that the purpose of this engagement challenge is to promote daily engagement. As such, you are expected to interact daily with other participants' entries and engage with quality comments. We shall carefully check the engagement levels to select our winners. You are obligated to make out time and respond to comments that support your entry.
Quality comments will be supported using the @steem-cameroon curating account.

Rewards Pool

10 STEEM POWER allocated for the three winners of each week.
Lucky authors will be selected and will receive booming support based on the rules and originality of the post respectively.
Note, that some authors will be visited by SC01/SC02.
This is not guaranteed.
Wish you the best.

CC:
@steemcurator01
@saxopedia
@fombae
@chant
@majerius
@fonjougiresse

Thank you,
Steem Cameroon Team
Steem Cameroon Discord Server
Steem Cameroon Telegram Channel