"Steemit Engagement Challenge S11-W1 - Activist Diary Game"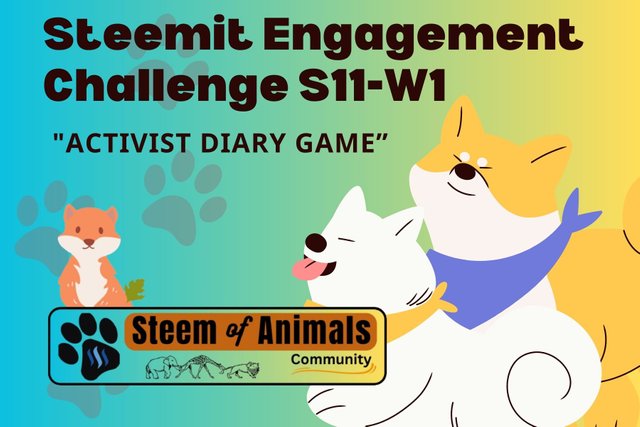 Welcome to the Steem of Animals community. Communities where you can talk have a lot to do with animals.
Previously we would like to thank the steemit team for entrusting and giving us the opportunity to engage in the steemit engagement challenge which is a great initiative to increase user engagement on this proud platform.
Steem Engagement Challenge is an event that attracts the attention of steemians and is proven to be able to increase community development. We are proud and excited to be kicking off our Season 11 Week 1 Engagement Challenge. We'll be taking advantage of this week's premiere to campaign for one of a kind publications that we have released in this community. It was about "Activist Diary Game" which is part of Diary Game Session 3 content. In accordance with the unique characteristics of our community, we also have our own uniqueness when it comes to the theme of The Diary game.
As a guide, here are our release publications:
• Announcement : Release 1, Content publishing criteria in Steem of Animals community - "Activist diary - Diary Game Session 3"
What should you do in this contest?
We want you to post about your daily activities. Write your posts with the correct and perfect format of The Diary Game content and highlight your activities with pets or animals around you.
These guidelines affect the quality of your The Diary Game content.
Posts contain activities the day before so that they can complement all the activities you have done from morning to evening. It's not only about the time you spend with your animals, but about all your activities.
Here we want you to highlight your activities with your animals with the following guidelines.
About how do you manage time for your animals by playing, caring for, herding and so on.

Do you have a lot of time for them? Or you just set aside a certain amount of time for them.
Mandatory Regulations Followed
Must be posted in the Steem of Animals community.
Write in the relevant language.
Write at least 300 words
Use a minimum of 4 photos and a maximum of 8 photos according to the intended theme (mandatory).
Use the post title "Steemit Engagement Challenge S11-W1 - Activist Diary Game" (Day, Date)
Use the tags #steemofanimals-s11w1 #activistdiary #thediarygame #yourcountry among your first 5 tags.
Posts must be #steemexclusive. Any form of fraud, Plagiarism, Recycling, Use of artificial intelligence and farmer accounts will be automatically disqualified from contest participants.
Upvote and reesteem this post so more people know about it.
Mention at least 3 other active users.
Paste your contest post link in this post for easy search.
To remember!, Use the hashtag #burnsteem25 only if you have allocated 25% of the reward to @null account.
Put your achievement link as one of the conditions for our verification process as a user entitled to get the Activist label in our community.
Contest Period :
From Monday, July 24, 2023, 00:00 UTC, to Sunday, July 30, 2023, 23:59 UTC
Assessment of all entries will be carried out by our Team via Verification comments according to the following pattern,
| club status | of clubs 5050 ,75, 100 |
| --- | --- |
| Verified user | YES or NOT |
| Plagiarism free | YES or NOT |
| Bot-free | YES or NOT |
| Tag #steemexclusive | YES or NOT |
| Support #burnsteem25 | YES or NOT |
| CSI voting | last 7d |
| Score | 00/10 |
| Verification date | Date. Month and Year |
Club Status Determination : https://steemworld.org/transfer-search
| Note | Development Notes from the Verifier. |
| --- | --- |
---
All admins and Moderators STEEM of ANIMALS
---
15 Steem which will be sent in the form of SP as a prize to each winner in the following categories:
| Best 1 | best 2 | best 3 |
| --- | --- | --- |
| 6 Steem | 5 Steem | 4 Steem |
| | | |
We do not guarantee that every participant will be supported by steemcurator01 or steemcurator02
The jury's decision cannot be contested
Much appreciation from us if participants want to support community development by delegation or by sharing at least 10% of the income to the official community account @steem.ofanimals.

Open opportunities for all steemians to support community development. Whatever the value of your delegation is very valuable for community growth.
Visit our discord Server : https://discord.gg/K8uKm9W3
July 23, 2023
Greetings
The Steem of Animals Community Team