Communities of the Month Support Program - Application by Steemit Pakistan For November ' 2021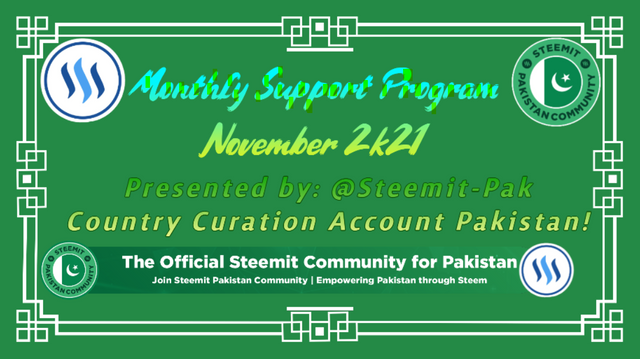 Dear @steemitblog,
Thank you for giving us another opportunity to apply for the monthly support program. This monthly selection keeps us motivated and competitive. The previous results gave us the motivation do more and with the inclusion of #club5050, it gave an extreme exposure to loyal steemit users. Steemit Pakistan community also utilized your support being one among the top5 communities in the best possible way and achieved a lot. We would like to thank you for this and would love to retain our position among the top Communities. It would be a hard fight but we are up for it. Here is our application.

---
Community Purpose
---
As the name suggests - Steemit Pakistan, this is a country community specifically created for all the Pakistani Steemians. The purpose was to unite all Pakistanis, new and old under one platform. Newcomers find it very overwhelming and can't decide where to begin but Steemit Pakistan finesse them by providing a nursery like environment where each newbie gets special attention and guided by the community team. When a Pakistani newbie arrives at Steemit, country representatives verify them and refer them to this community and from there the community team makes sure that user is well-equipped with all the knowledge to begin a successful Steemit journey.
For All active Pakistani members. We love and appreciate quality content that is original. You'll have our full support. This community is being designed to support all the active Pakistani steemians and then for the entire steemit family. We would love and appreciate all type of content creators to come and join us and post within our community.
- Formal Community Description
Thereby, we provide a platform to all Pakistanis to share their content in Steemit Pakistan.
People should join this community because we not only provide a space to Pakistanis but we are also very welcoming to friends from other communities. We run multiple contests and keep the members engaged in constructive activities.
Apart from the diary game series, we commenced dynamics three days a week.
monday-crypto
tuesday-review
wed-education
These themes are keeping the publications more organized and gives members a head off for the next days' topic. We have also been able to identify some seriously talented members in each category.
Steemit Pakistan is the only country community for Pakistanis on Steemit. All Pakistanis also accept it as the only country community.
---

Community Team
---
We have a team of five members who are completely devoted and committed to the growth and betterment of this community. They work selflessly day and night at front and mostly behind the scenes. Those hardworking people are: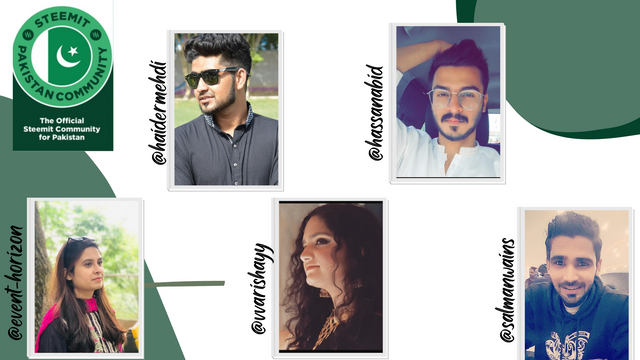 Haidermehdi initiates community projects and important announcements.
Hassanabid deals with all the rewards distributions and shares community progress reports.
Event-horizon manages contests, assists in community projects and guide members.
Vvarishayy manages delegation rewards and guide members.
Salmanwains manages contests and guide members.
All the team members also choose daily best picks and curate from official curation account on their assigned day.
All the team members are fluent in English and Urdu and can deal with other languages through Google Translator.
As it is a Country community so all the team is Pakistani as well.
Team members are not rewarded from community funds but there is always surprise package for them from the Community Admin. As for this month, we will be gifting them with atleast 150 steem for their monthly contribution.

There is one admin but the community keys have been shared among all the team members. Keys are safely stored so there's no chance of losing them.
---

@steemit-pak is the official curation account for Steemit Pakistan.
Following are the current SP details:
| Effective SP | Own SP | Delegated SP | Increase in Own Sp |
| --- | --- | --- | --- |
| 54,713 | 21,242(14k previously) | 33,471 | 50% |
---
| Effective SP now | Effective SP last month | Increase |
| --- | --- | --- |
| 54,713 | 40,000 | 35% |

Having 50K + steem power and making an increase of 35% steem power in a month is a big achievement. Also for steemit-pak's individual growth, moving from 14k own to 21k own sp took huge powerups and shows an aggregate increase of 50% of its own steem power in 30 days.
For this month, we just kept the contest rewards in the wallet and rest all of the steem was powered up in the steemit-pak daily powerup series.
For the continuous growth of Curations account, we kept our focus on two major things.
Beneficiaries
Delegations
The reason behind huge increment in the delegation amount is that we have devised a plan to support the delegators with booming votes. Here's the detailed plan which has helped a lot in getting delegations. Delegations are one thing but we are pleased to see the power-up trend in the community. Members have limited the withdrawals and focus on growing their accounts and delegating to the community to make it strong.
Making Lives Better With Steem || Set Beneficiaries to @steemit-pak Account || Let's Help Each Other Grow!
We always kept our delegators as a priority for this month too and we used google spreadsheets to make sure that we are properly keeping track of our Delegators!

All the Steemit Pakistan team members have access to the curation account and curate on their assigned day.
Steemit-pak Voting
---
Only contest rewards and delegations rewards are being from the community funds. Rest of the rewards are powered up.
VOTING CSI, tried our best to support #club5050


---
Plagiarism and Abuse
---
The STEEMIT PAKISTAN COMMUNITY stands tall against Plagiarism. It is the basic rule of our community which is intolerable. Plagiarism comes in many forms! It is said by @haidermehdi that Plagiarism is a Liquid which can take the shape of its container! You just can not limit its forms. People do word spinning, pictures, stealing of content, stealing ideas, stealing the syntax, stealing the designs, stealing of approach and much much more! So this just can not be left alone in a community who is willing to reach to the Steemy Moon.
As stated, plagiarism is a curse which no one wants to adopt, but there are always some spammers who try to destroy the image of a platform or a community that is reaching for the stars. We check the posts on different plagiarism tools, we keep track of the new accounts through the help of our greeters(Haidermehdi, Vvarishayy and Hassanabid). We make sure that all our users complete atleast Achievement 3 From the Newcomers Community so that they know about Content Etiquettes!
When we catch a spammer, we straight forward put a label on them. We have got 3 warnings for the user. After first warning, the user gets the Label of Under Observation. The second warning gives them a 100% downvote from Country Curation account and the community team. And after the third warning which is the final one, the user gets muted from the Community!
We have a team of 5 members who keep checking the quality of the content in the Community. We also got the pleasure to work with @endplagiarism04 as our Partner in the Community! The Team consists of @haidermehdi, @event-horizon, @vvarishayy and @salmanwains and @hassanabid.
There is a proper check on each and everything which is related to plagiarism. We make sure that the pictures used in the Community are copyright free. Our moderator event-horizon has made several guides to help people with copyright free images.
---
Engagement and Commenting
---
We organize weekly engagement contests. While rewarding members we make sure that the member is not a good author but also interacts with others.
The moderators also try to visit atleast ten posts every day and make appreciative or guidance comments. They are then required to make daily reports of this activity.
Our Steemit Promotion Campaign, which was led by @event-horizon was the most successful contest in terms of promotional contests and we could reach out to a lot of people.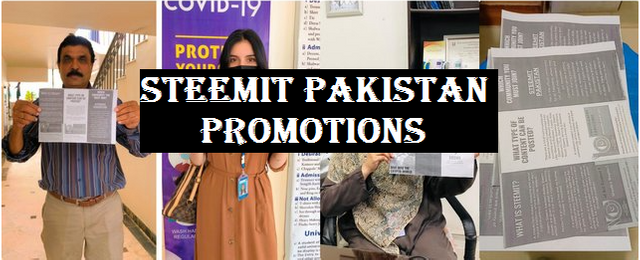 ---
Plans and Updates:
---
Steemit Pakistan is a community growing exponentially thus now we are focusing to set our plans for the future. Our Major Plans for this month are as under:
Take @steemit-pak to 100k Steem Power by the end of this month.
Make sure to give full support to newcomers and #club5050 users.
#club5050 users to be given priority and powerups to be promoted.
Steem Promotions will be made compulsory for the Members Of Steemit Pakistan and they would be asked to spread the Word Steem onto different social Media Applications and to all the places where they visit.
Members of Steemit Pakistan Team will be making daily reports to ensure encouragement to the users and engagement in the community.
Best picks will only comprise of users that are verified #club5050 members.
To increase powerup amount done by users, Giving up On Beneficiaries for the sake of #CLUB5050.
#club5050 as a major initiative for the whole Steemit Pakistan Community.
Promotions
---
The STEEMIT PAKISTAN Community is doing its promotions on all of the 5 Major Social Platforms and we can proudly say that we have gained some great users through social recruitments!
This is how we roll on Social Media :
Steemit Pakistan team members are delivering their best efforts in promotions. They all are doing whatever they can in their capacity. Following are the examples of their promotional work:
We have also been sharing our posts and other activities on different social media Applications.
---
For future promotions, we are seeking famous local Youtubers and Instagram Influencers for Steemit Promotions. We are also planning collaborations with them which will not only promote Steemit but also help attract potential brands and businesses. @Event-Horizon has already been doing this task with pride and she has also brought some youtubers and influencers on Steemit.
---
The Steemit Pakistan Assets are also helping us in promoting steemit in Pakistan. Our users go out in Shirts, gifts the mugs, distribute brochures and do online promotion of steem in their country, area, class, university and Family.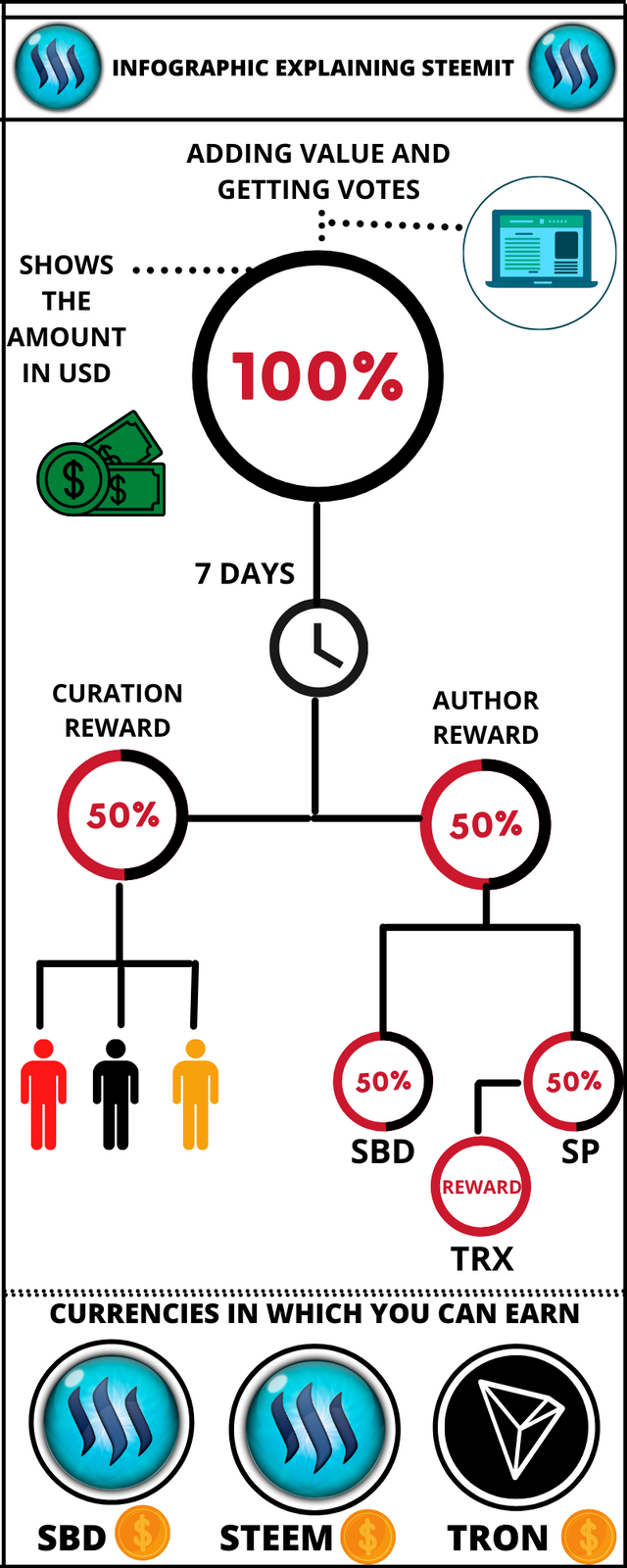 ---
---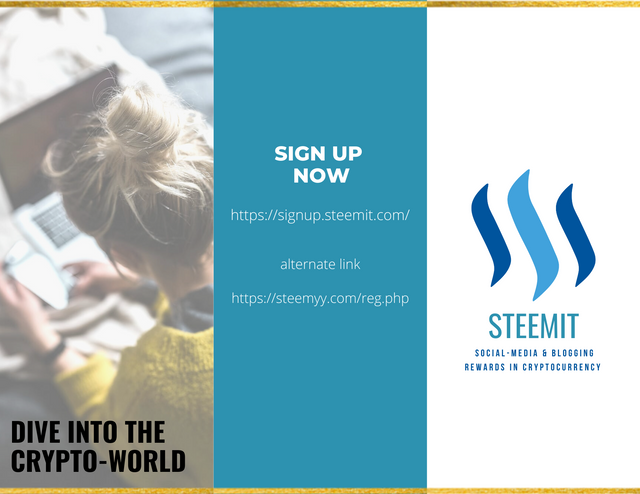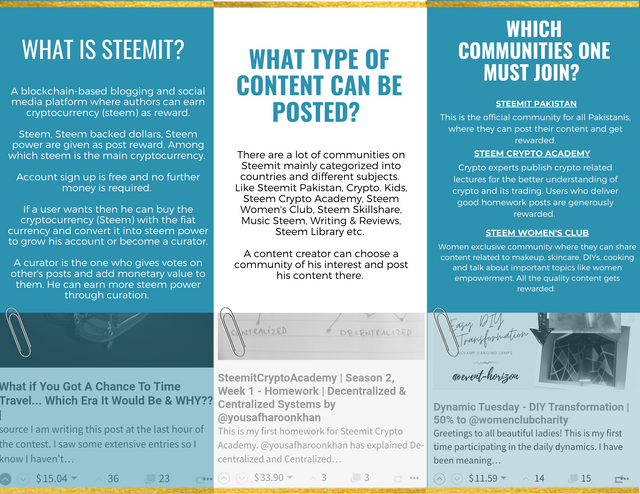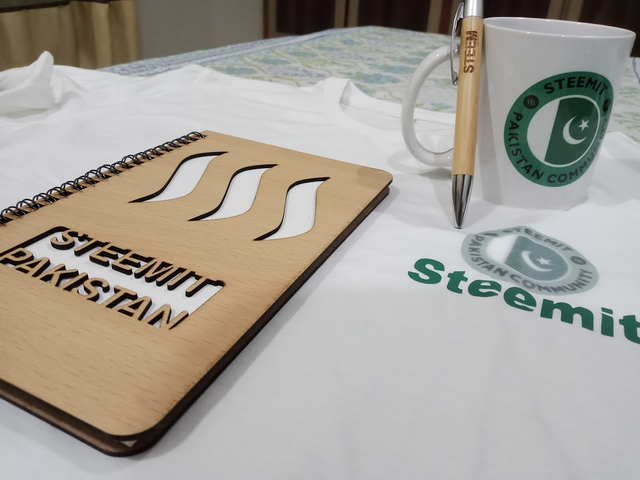 ---
External Promotions:
---
@Haidermehdi will personally Visit some of the famous local restaurant with brochures of Steemit Pakistan Promotions which consist of Steemit Crypto Academy and Steemit Pakistan. This will be a big step as these would be live promotions. Going to Happen in the next few days.
The designs are ready to be displayed.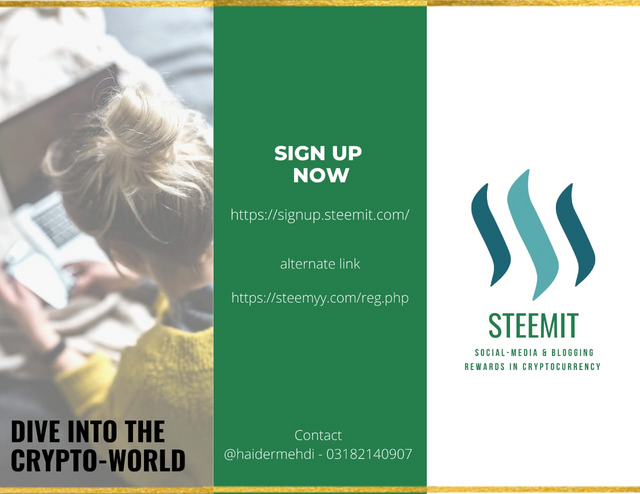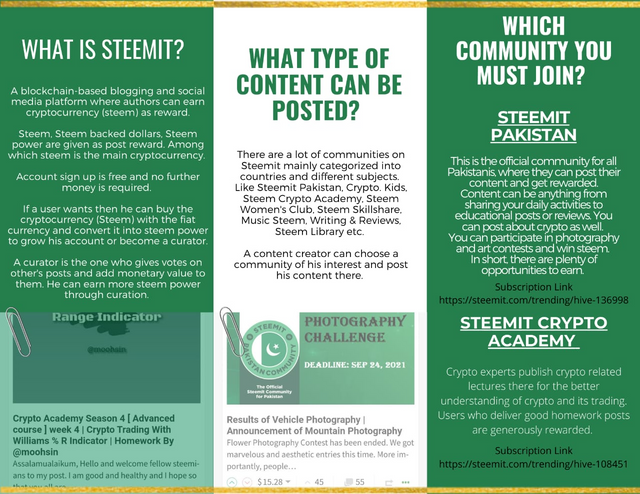 ---
One more thing, we are working on is to encourage members to join the crypto academy. We get a lot of queries from newbies about joining the academy but they lack basic requirements. For this, we are making a plan of giving extra support through steemcurator07 to such genuinely interested students.
---
As mentioned earlier, we have themes three days of the week. The reason behind those is that:
We want newbies to have basic crypto knowledge, hence the crypto theme.
We want to spread awareness and educate people about country issues and .. , hence the educational theme.
We encourage people to share reviews of different brands and re share them on other social media by tagging the brand to attract them to Steemit, hence the review theme.
---
---

⭐⭐⭐#CLUB5050⭐⭐⭐

Country Representative's Commitment to #Club5050 with 100% Power Ups!



⭐. Acceptance Post For 5050Club - All Earnings Powered up (100%) - Step to Motivate fellow Community Members As a Founder. BY @Hassanabid.
⭐. Club5050 - Another 100% Powerup - Powerups For Community. (20% to Steemit-pak) BY @Hassanabid.
⭐. Club5050 - 100% Powerup! Betterlife with CLUB 5050! BY @Haidermehdi.
⭐. Another Powerup for Club5050! 7,043 Own Sp! 6400 to Steemit-pak! BY @Haidermehdi.
⭐. Powerup half of your weekly earnings, use the tag #club5050 and get the support from the curators BY @Vvarishayy.
⭐. Showing Commitment to #club5050 as the CR Pakistan welovepowerups- 20% to Steemit Pak BY @Vvarishayy.
Moderator's Commitment to #Club5050!

⭐. Joining Club5050 | Powered Up Total 1000 Steem in the Last 30 Days | 20% to @steemit-pak BY @Event-horizon
⭐. I Just Powered Up 300 Steem and Accumulated 4700+ Sp of my own | I can't keep calm, I will be a Dolphin at my next power up BY @Event-horizon
#Club5050 Efforts and Guides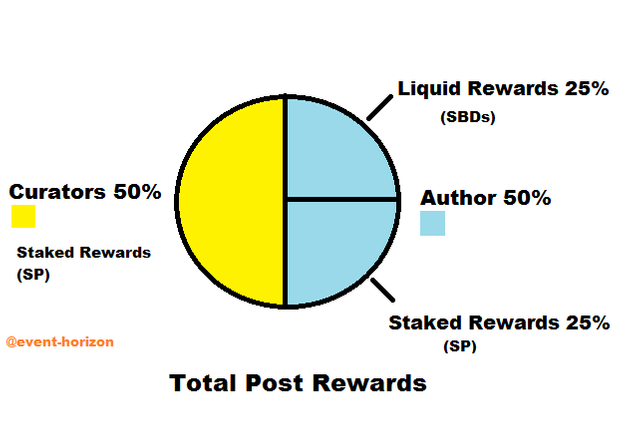 The whole Steemit Pakistan is devoted to #club5050! All the team members have shown complete dedication towards the #club5050 initiative. This has been a massive change on the platform and the whole Steemit Pakistan is also coming towards. The more they understand the more they know its beneficial!
Such unique efforts are for all of us. People who think of it as a non-profitable deal are real dumb and don't understand the reason behind it. Thank God that me and my Team were able to convey the right message towards our members and glad to see that they have understood and now they are all coming towards the club!
Encouragement to Community Members

Everyone loves respect and to show respect on steemit, there is widely used method which is called labeling. We in Steemit Pakistan have started the New Labeling system. People are happy with their new labels and they are in good mood to join the club5050 initiative.
Another sacrificing effort that we realized was about the beneficiaries. When we dig deep into the matter of encouraging members to join club5050, we thought of it as their 20% earning go to steemit-pak. Half of their rest of the earnings will be powered up in club5050 and then they are left with almost 10%sbd which is perhaps too less to offer.
This is why we have now decided to take the following step, which will not only help users to take part in #club5050 but also allow them to powerup some more steem and grow their accounts too.
As they will get 100% payout to their account, There will be 10% extra powerup than they used to do while setting beneficiaries!
Giving up On Beneficiaries for the sake of #CLUB5050

Steemit Pakistan community is achieving new heights everyday. With the help of club5050, we are now powering up more than 50% of the community earnings. We have come to know about our loyal members. We now know the members who are ever dedicated and ready to take any step for the community and its progress. Users are more than happy on joining the club5050 as with this they are getting their accounts stronger.
Stronger accounts are much more capable of delegating so we are keen to get more delegations in the future because of Club5050.
Community is getting stronger. Regular powerups in the community make it look more powerful. Powerup culture is something we have always wished for.
Quad Batch Powerup
300% Powerup
200% Powerup.
Welovepowerups
Powerup50pc
and much more.

ANYTHING ELSE?
External promotions:
Steemit Pakistan is now all focused towards External promotion and one of our respected team member @Event-Horizon is out on the way talking to influencers regarding joining and promoting Steemit. This will help us in good ways to promote steemit Externally.
The request of partnerships with Walls Pakistan can be of a huge advantage if we get a positive response from there as we might be able to get steemit promoted through the joining of a Huge company.
The Distribution Of brochures in Universities and schools has been started. @Vvarishayy has already brought her Classmates to Steemit through promotions and others are highly interested in getting brochures printed and their distribution among fellow people.
We also have a contest going on for this very reason. Here are the Contest Details.Click here to follow.
Promotions are going to be taken to another level through Sponsorship program set to be started with Walls Pakistan. Details are shared above in the post.
Promotions on Social Media Applications:
Steemit Pakistan is also focusing on social media promotions f Steemit. We have made this a compulsory rule to share your post on any one Social Media Application to be eligible to participate in a Contest organized with in the Steemit Pakistan Community.
Activities and Responsibilities in Steemit Pakistan.
The team of Steemit Pakistan is working very hard. We have excel sheets that we follow daily and update that. We have dedicated responsibilities. We have divided the days. We follow big patterns. All of us keep our eyes on the delegations. We have introduced new labelling system. We daily check the curator deserving posts.
We have done daily powerups with our country curation account and you can see that we have powered up a total of 5000 Steems in past few days!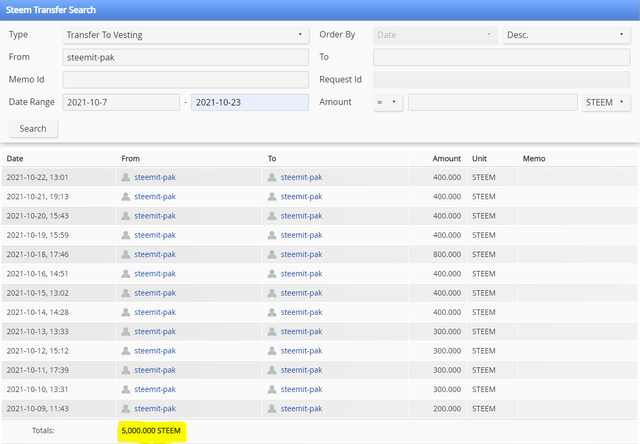 The RoadMap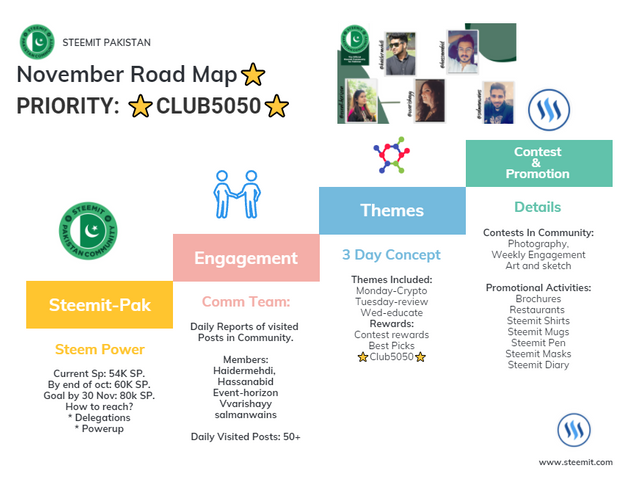 Steemit Pakistan is the only official country community for all Pakistanis. We are working hard to promote and educate Steemit in Pakistan and as a result we are getting hundreds of new members every day.

It is one of ours Major Moto to make #steemexclusive posts.

We believe that encouragement and support yield better results. We have many talented members who have the potential, and they add value to steem ecosystem. And they really showed it this month that why we are one among the top Communities!

Steemit Pakistan has always played an active role for the growth of steem. We encourage our members to do powerups. Our members participate in the monthly SPUD. We also initiated a program called Power Up Quad Batch in which we feature four members who do the weekly powerup based on first come, first serve. We also give them the full upvote from official account and try to support them in every possible so that maximum users get encouraged and participate in this program.

Steemit Pakistan is one of the first community whose members are doing business on Steemit in return for Steem. Here were referring to Sell for Steem's many successful business deals. We have got honey sellers, book sellers, boutique owner, and Our admins selling Steem promotional assets on half of it's manufacturing price, and are happily selling their goods for steem.

With the inclusion of club5050, i am sure we will be the community accepting it for the longest time. Everyone tend to leave the new initiatives but we hold it tight and never let it go off our hands!
We are already doing our best to promote powerup culture and now with the help of club5050, we are even more excited to make this known to the world!
In short, we are working hard and willing to do everything that could help boost the steem. Continuation of Support from Steemit team will be very much appreciated.