Book your place in the Booming Sheet! Know the Constraints.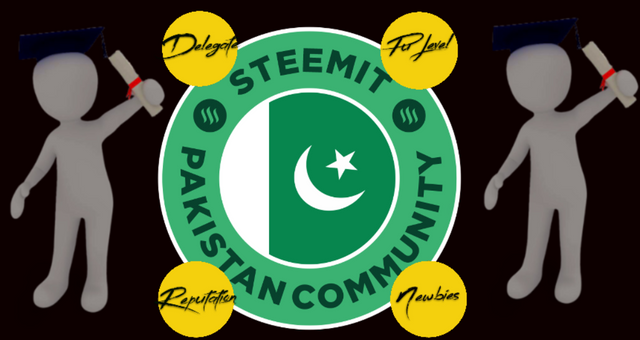 Dear Members, This is your very own Haidermehdi, Country Representative of Pakistan and Admin of the Steemit Pakistan Community!
Along with my team which is working very hard for the development and progress of this community, we have started observing that now we are moving in a better speed than before. Knowing all this and keeping the support program fresh in our minds, we have come to some very few conclusions which may prove to be helpful for all of us.
We have been thinking to distribute the booming support to all members. But we were facing some huge hurdles and we almost stumbled everyday in search of best picks and then distributing booming rewards.
There are a lot of things that we have to keep in mind while we are sending the post's link first to the Best picks and then to Booming Sheet! Today with this post, i am here to discuss them all with all of you and help you all to better understand what it's like to manage all these things and what are our future plans.
I am doing this to make the efforts of me and my team transparent in front of all of you and that the community working and support also gets transparent and visible to all.

Daily Team work
This is a very summarized picture that might help you understand that how a procedure is followed by us all day and all month long to help you all. These are all just extra work beside posting and commenting. We also have to look for contest, for steemit-pak statistics, for wallet and powerups, for new labelling, for guidance and support, for different art contest and photography topics and many more like this!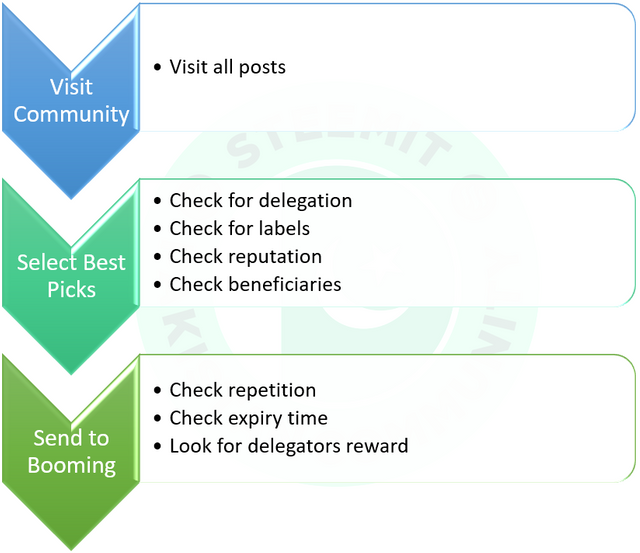 And even after all this, we conduct regular meeting of moderators and Admins of the community and listen to each other for new ideas. W are always looking to distribute this support fairly to everyone. We have been assuming that the newcomers are doing a great job thus now we have come to an equal support for all phenomena and i would be explaining this in this very post.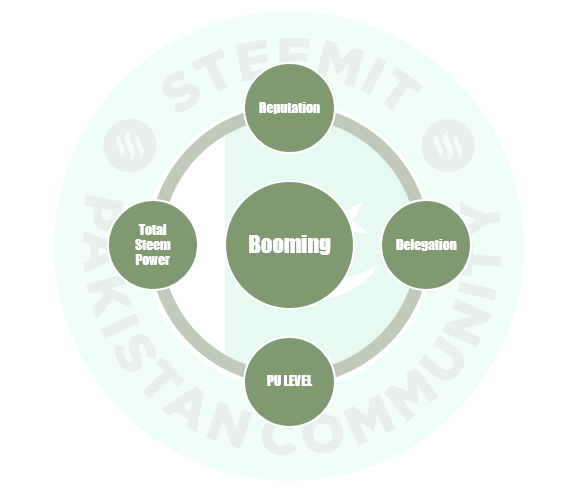 How to get a guaranteed Booming Upvote?
Back in the days, we needed delegations thus we initiated a rule that stated "Delegate 500 Steem Power to @steemit-pak and get one booming vote weekly". It was going so well but then the newcomers started complaining about their low steem power! So we also understood that yeah, it's not that easy to increase steem power nowadays as it was earlier in those days.
So, we have come up with some easy plans and these plans will now be followed and it will be made sure that we provide equal opportunities to everyone. There is a very Simple smart art that will help you understand how things are going to proceed!
PS: There are some basic points that you have to be active in the community with quality posts. Atleast 2-3 posts in a week. You should be making valuable comments on others posts and increasing engagement. Setting 10-20@ beneficiaries to @steemit-pak in your posts. The few points and points in the charts sum it all up.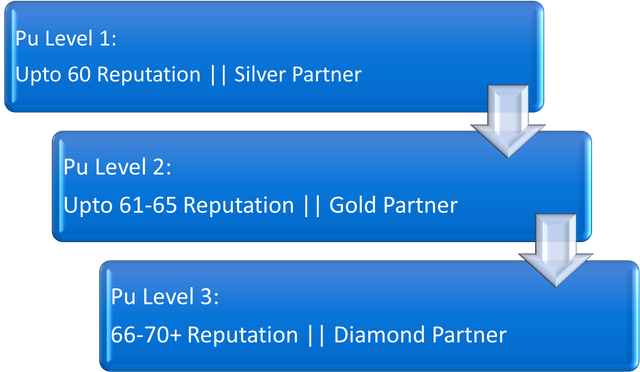 The picture clearly states that:

All those who have crossed Reputation 54+ and are under Reputation 60:
Shall be atleast at Pu Level 1 (Powerup 50 Steem)
Delegate atleast 100-499 Steem power to @Steemit-pak
---

All those who have crossed Reputation 60+ and are under Reputation 65:
Shall be atleast at Pu Level 2 (Powerup 500 Steem)
Delegate atleast 500-999 Steem power to @Steemit-pak
---

All those who have crossed Reputation 65+ and above:
Shall be at Pu Level 3 (Powerup 1000 Steem)
Delegate 1000+ Steem power to @Steemit-pak.
NEWBIES CONCERN:
As far as the Newbies are concerned, we have decided to not bound them in any rule until they reach atleast 54 Reputation, but they are advised to stay connected with us and write quality posts that attract and inspire. Make comments on others post and gain exposure. Make powerups in their early days. Follow the examples of quality writers and start by following the rules of the Community. We will make sure that we keep a good sight on your profile and help you with booming upvotes whenever required.

I am sure i have sent the words towards you all in the right manner. If there is still any confusion, you can contact any of my Teammates or Me. Here are my Contact details. Make sure that this contact is vital and a genuine. Don't drop in the inbox to beg for upvotes. It is all clear now :)
CONTACT DETAILS
| Country Representative Pakistan | Haidermehdi |
| --- | --- |
| Contact | +92 3182140907 |
| Discord | Haidermehdi#0457 |
| Telegram | haidermehdii |

Yours, Haider Mehdi.
Country Representative Pakistan❤️
Steem on!