Contest Announcement - The role of smartphone in supporting your activities on steemit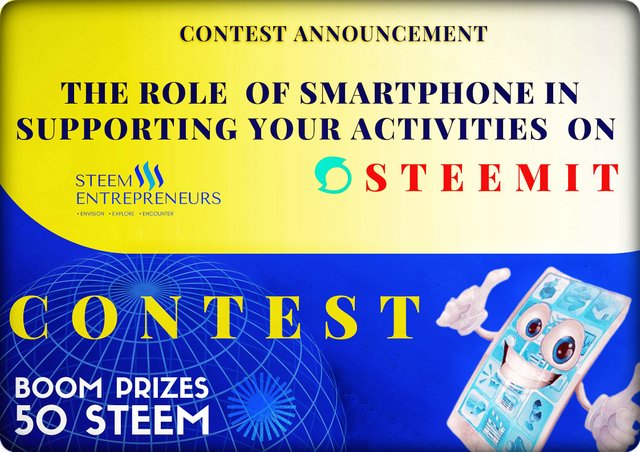 Dear stempreaneurs - the role of communication technology today is very important because of the many demands for the need for fast and precise exchange of information. Communication technology that is currently developing has allowed humans to connect with each other without being limited by distance, space, and time. The unification of various functions of communication tools has been united in a communication tool called a smartphone. Smartphones are cellular phones with more capabilities, ranging from resolution, features, to computing, including the presence of a mobile operating system in it. The presence of this smartphone is indeed able to provide various benefits and conveniences for its users, especially for users of steem.com and steemit.com. Smartphones are useful and really help users in exploring new knowledge and supporting various business activities and interactions on social media or others.
The purpose of the contest is to see an overview of steemit users maximizing smartphones to support activities:
Steemit or promo - steem
Business
Transaction
Social interactions
or other
Participants can write activities carried out from several topics or all of the above topics. We also want to know your experience using https://what3words.com with your smartphone. (if ever use).
The terms and conditions of the contest are very easy
Subscribe and post on the Steem Entrepreneur community page
Write down the role of smartphones in supporting your activities on steemit or other activities according to the topic.
Posts are written in English or language you understand and must be at least 250 words (not including greeting words or photo descriptions).
Your original photo and include the original source when using a copyright-free photo
Show screenshots of transactions, steem promos or other if needed
Use the title: My activities with smartphones - The title of your entry
Use taq #steemsmartphone #steemexclusive #yourcountry (ex. Indonesia) and #contest in your first four taqs
Paste your participation post link in the comments column and resteem this post.
Plagiarism and participants who do not complete the terms and conditions will be automatically disqualified.

BOOM PRIZES -- 50 STEEM -- FOR PARTICIPANTS
| Ranking | Participant Account | Full Prizes |
| --- | --- | --- |
| 1 | ? | 12 Steem + Booming Support |
| 2 | ? | 10 Steem + Booming Support |
| 3 | ? | 8 Steem + Booming Support |
And consolation prizes for 5 participants as much as 20 Steem.
---
All publications will be rated by Steem Entrepreneurs Team
The jury's decision cannot be contested and is the responsibility of the contest organizer.
The contest started from the announcement of the "the role of smartphones in supporting your activities on steemit" contest was released and will end on Sunday, August 21, 2021 (Western Indonesia Time).
Winners will be announced after the contest period ends.
We don't guarantee participants get support from@steemcurator01.
We don't guarantee that every participant will get booming support except for the first, second and third place winners
The first, second and third place winners can post the 'the role of smartphones in supporting your activities on steemit contest' winnings if the publication of the contest entries has passed the voting deadline.
Other things that are not clear can be asked in the comments column.
Thank you for participating in the "the role of smartphones in supporting your activities on steemit contest" hopefully this will be the best event for entrepreneurs or steemit users to deepen and familiarize themselves with the value of steem in transactions or other economic activities.
---
Organizer : @harferri
Thanks and wish U have wonderful day
Cc. @steemcurator01 @pennsif @disconnect

Open opportunities for useful contributions and collaborations with steem power delegates for community development.
Please select one from the link :
Special THANK YOU to all stemians who have supported and encouraged us to work hard to advance the Community and STEEM to reach wider people.

Steem Entrepreneurs Team