The Interview Showcase #10 - A Talk With Some Interesting Steemians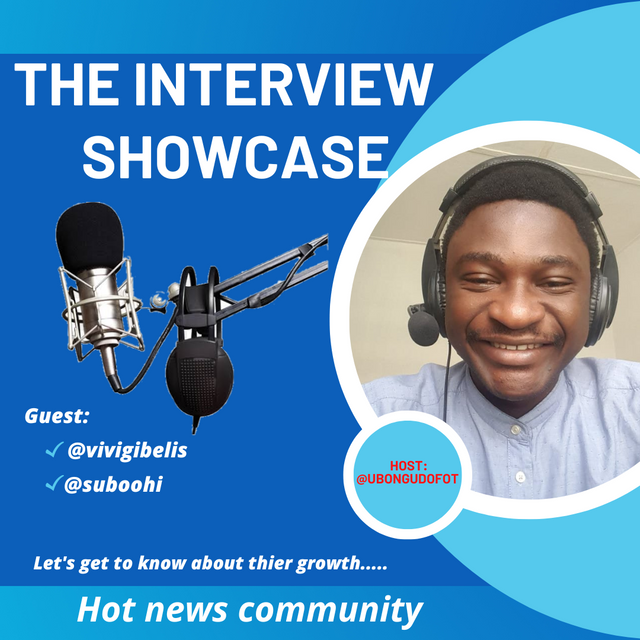 Welcome to The Interview Showcase!!!. This is the 10th Edition of "The interview Showcase". A lifestyle program that Comes with Much Education.
A weekly interview of top Users in the blog Concerning Some Super trending topics in the Steemit Platform. And tips that Can help Other steemians to Progress positively and help boost Steem growth, it Will help you get to know more about Steemians around the globe.
---
---
I take time to look at Some of the Most Important/trending topics in the blog and I have a Chat/call with top Steemians who have a greater idea about those topics across the globe.
They also Share Some tips that Can help other Users to Understand the Platform and Make Use of it in A Great Way.
We dig out Everything for your own consumption, So you have nothing to lose Following this Program till the end.
---
This week is another Super, exciting, and interesting week on the Show because we have two Steemians from Venezuala and Pakistan On the Show today.
Alright, folks, come with me, while I have a Conversation With @vivigibelis who is from Venezuala and actively Sharing Content on the blog, She is lively and amazing.
Ubongudofot

: Hi Vivi , great to have you in the Show. How would you describe yourself?
🔶Vivi:I would say that I am a Charismatic, spontaneous, multifaceted, pleasant, and hard-working woman, I have always considered myself a very brave and determined person, constant and who fights for what she wants, no matter how long it takes me to achieve it. I have a very optimistic and hopeful spirit..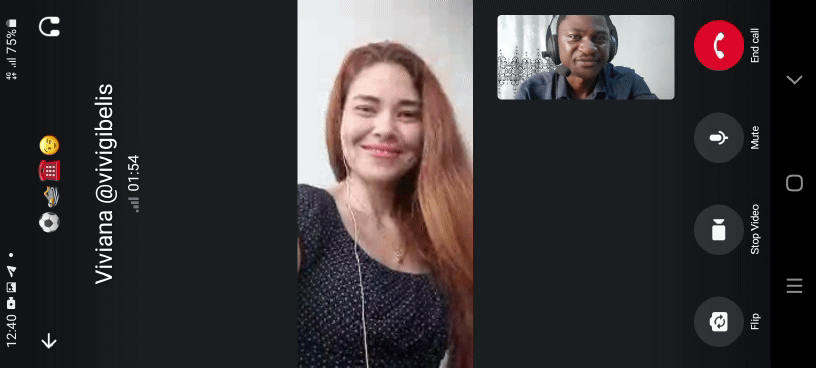 Speaking Spanish with ViVi wasn't Funny at all 😂
Ubongudofot

: How would you describe your experience on Steemit since you joined?
🔶Vivi:It has been more than a year since I entered the network and it has been fascinating in every way, I have been able to develop myself, focusing on what I love to do in it, which is writing and writing, and I have been able to connect with incredible people from different parts of the world, in addition to my Venezuelan countrymen, I have been able to make friends, create special ties, have loyal readers to my content and it is amazing.
Steemit has become part of my life and I get to cover that part where my passions and tastes are unified.
Ubongudofot

: You mainly post daily games, why have you chosen this post as your main post type?
🔶Vivi:My blog is a carousel of content, at the beginning, I was based a lot on complying with many protocols in various communities, I exposed science topics, informative articles, some interviews, etc, but as I got responsibilities and my activities at the university I had to reinvent a way to be active and let them know me, that they could see my human side and that I am not only in Steemit. So I took the diary game as a special content, where I could express myself naturally and present a window to my life, which in the end is quite hectic and a bit routine.
It should be noted that it's not that it's my favorite, it's just my way of being among everyone now, but soon I'll bring you more varied material. It's a promise😄 .
Ubongudofot

: Describe a typical day in your life.
🔶Vivi: My day consists of getting up every day at 7 am, preparing breakfast, and organizing my lunch for work. As many of you know, I am a serigrapher and in the midst of all this work, I carried out other tasks related to my life, such as being active on the Internet, talking with my friends, creating, designing my banners, thinking of ideas, etc. On a typical day, I always enjoy a sweet or cake, I allow myself to read, watch a series at night and try to balance my life to give me the opportunity to relax and do other things.
Ubongudofot

: What is your favorite secular song?
🔶Vivi: It's very difficult, I love music and I have many favorites but I love The Weekend, and their song blinding lights. In general, I love all his repertoire..
Source
Ubongudofot

: I also Sang One of my Favourite Spanish track by Wycleaf for ViVi
Source
Ubongudofot

: What is something specific that you would like people to know about Venezuela?
🔶Vivi: My beautiful country is simply amazing, Venezuela is my home, my homeland and if there is something I should highlight about it, it would be the quality and value of its people. The warmth and friendliness of the Venezuelans are incomparable, I could name the beaches or the Angel Falls but I consider that the name is a factor that everyone should know, that the Venezuelans is affectionate and generous.
Ubongudofot

: What has been your greatest achievement since you joined the Steemit platform?
🔶Vivi: Ubo believes me that you make me go to my beginnings and observe all that path that I have walked until today. I have discovered how proud I am of myself, that is why I have so many achievements that have given me happiness and satisfaction, but I could tell you that the day I became the moderator of the Latino Community, simply gave me a lot of joy.
And another moment that I dare to mention because it caused me euphoria was to be among the winners of a challenger, coincidentally in this community and it made me jump with pride because of so many authors I had a privileged place, strengthening my quality as a blogger.
Ubongudofot

:What is your biggest fear?
🔶Vivi: In addition to my irrational fear of frogs (Laughter) I am afraid of failing myself, of letting things affect me, I am afraid when something goes wrong because I know that my emotions will be affected so I try to control it.
Ubongudofot

: If Steemit were yours, what do you think you can do to improve its growth?
🔶Vivi:A very ambitious goal😄 , if I owned steemit I would create more curator accounts with more purchasing power to support more authors with extraordinary qualities. I've seen so much great and exclusive content on the net that sometimes I wish I had a huge voting power to support them.
It would also create more dynamics such as challenges where participation expands to more communities, for me it would be essential to have the ecosystem as balanced as possible and happy users..
Ubongudofot

: If SC01 and SC02 no longer support users in your country... do you think you and the people in your country have what it takes to keep or support members?
🔶Vivi: The presence of both is essential in my country, many know the economic situation that Venezuela is facing and Steemit is a source of income for many primary and others as something extra, however, it is still a valuable entry.
The communities support the users and the curator accounts as much as possible from 04 to 08 but in itself, the strength is when you manage to get a more robust reward, so we could live without them but we don't want to 😃, on the contrary, I wish SC01 and SC02 can continue to see Venezuelan talent worthy of unconditional support.
Ubongudofot

: What advice would you like to give to some hard-working Users who are striving to succeed on the blog?
🔶Vivi:Ub I am an example of perseverance, I started as a small fish, with only aspirations and dreams, I saw all those users with a high reputation and I thought when I would be in that position. Currently, I am close to being a reputation 70 and getting my first dolphin, which makes me reflect and confirm that hard work generates pleasant results.
So my advice is not to give up, always believe in yourself, in your strengths, your abilities and show them to the world. The priority is to make a difference, leave your mark, be memorable and go after your stamp. If you understand what you want to be in steemit, mark your path and fight for it.
Ubongudofot

: What can you say about the interview showcase
🔶Vivi:I am flattered by this opportunity, I have seen great users and renowned characters in this position that you now grant me and I can only tell you Thank you Ub, I met you a long time ago and I can attest to your kindness.
I am grateful that you allow me to be among your guests and that those who do not know me know about this dreamy and witty Venezuelan redhead.
To all those authors who read me, I sent a big hug that reaches each country where Steemit has representation.
Ubongudofot

: Thank you So Much ViVi, you are Such an Amazing and loving Person and thanks for Coming to my Show.

And now, let's meet @suboohi who is From Pakistan and Presently Serving as One of the Country's representatives of Pakistan.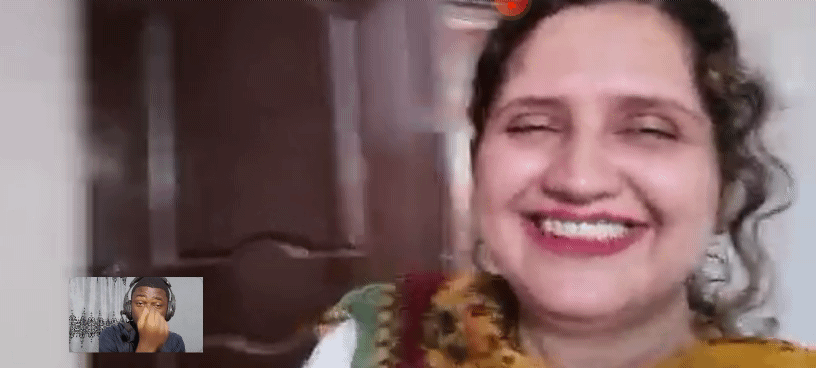 Here, I learned Some Urdu language
Ubongudofot

: How would you describe your experience on Steemit since you Join ?
🔷Suboohi: I have good experience on steemit, at the start of the journey faced some difficulties in posting, wrong tags, and not enough Steem Power to vote.
Ubongudofot

: Are the Changes, would you say they are positive or Negative?
🔷Suboohi: Some are positive and some I'll say negative. Steem is a good source of spending time, building Steem, and being self-sufficient.
Ubongudofot

: What has been your biggest achievement since you joined the Steemit platform ?
🔷Suboohi: I've become the Pakistan CR, this is the biggest achievement. And I've 20k+ steem power.
Ubongudofot

: What is your greatest fear?
🔷Suboohi:Not supported by sc01.
Ubongudofot

: If steemit was to be your own, what do you think you can do to improve its growth?
🔷Suboohi: I'll make it decentralized like it was before. Steemit has become a Centralized system where the center is sc01. I'll not stop everyone from cashing out while encouraging them to power up by giving extra votes. But votes will be given without any club system.
Ubongudofot

:Do you think there are many farming account in Pakistan?
🔷Suboohi: Not only does Pakistan has account farmers, but many countries also have account farmer. I heard 1st time about an account farmer (last year) that was Indonesian, two crypto professors I didn't remember their names as husband and wife were caught in corruption by voting many accounts through achievement posts and crypto academy tasks, and many users were caught in cryptoacademy, Users accounts that belong to Ghana, Nigeria running more than one account and doing crypto tasks. Many accounts are running in India that are operating by account Spammers.
So not only Pakistan have account farmers but they may be all over steemitFrom different countries.
Ubongudofot

: As a Country Representative, how do you plan to tackle this?
🔷Suboohi: I have caught 4 account farmers through them more than 15 accounts became suspicious.
As CR I can only point out them and muted them from the community. If any community labels them account farmers then others also muted them. So they have no place at steemit.
Ubongudofot

: Apart from your Country, have you ever visited any other place in the world?
🔷Suboohi: Yes I have visited Saudi Arabia three times. I'm Muslim alhamdulillah so it's my religious trip to perform hajj and umrah.
Saudia is the center of Muslims so I found Islamic culture there and I'm familiar with it. But different Muslims from different religions have their regional culture in their dress, food lifestyle, etc.

I have visited Dubai two times. It was my vocational trip. In Dubai many tourists were from all over the world so found many different cultures.
Ubongudofot

: What will you like to advice any up coming Author?
🔷Suboohi: First thing for success in every field of life is a struggle. At steemit, you have to put not only effort but follow the rules that are mandatory from the steemit team and have patience. If you work intelligently with honesty you will be reached the level you want.
Ubongudofot

: What can you say about the Interview Showcase?
🔷Suboohi: This is one of the most Outstanding and Interesting Programs I have Come across on this platform, It's just a good way to have Some Good time and learn From others. It was a great experience to talk to you and also See you. You are such a nice friendly guy.
Ubongudofot

: Thank you so Much, it was also a good experience to talk with you and the good Conversation.
The End

I hope you enjoy the Show...? Do you think I am missing Something? please feel free to tell me, let's make this better every day. Share your Suggestions With me, I'll so much appreciate it.
Do you have a particular topic you will like me to feature? Is there a User you will like me to feature?, please Contact me, language is not a barrier and all would be handled Successfully.
If you are interested in being one of my guests, please don't hesitate to contact me any time Soon through my details: discord: ubongudofot#9499
Telegram: Cantact Me
Please Note that Users/Guess Privacy or Confidentiality would be Considered First before Posting, thank you.
See You next Week for another interesting show, don't miss it !!!
---