howdy folks and greetings from the heat of the Great Plains of
North Texas were it's 102 degrees today and rising.
Well I've been talking about the Wild West during the 1800's and
nothing was wilder than Dodge City before the Lawmen came
into town and settled things down a bit.
Dodge City started out as a small sod home located about 5
miles from Fort Dodge. The fort was used as a base for the Army in
the Indian Wars and as protection for wagon trains moving West
along the Santa Fe Trail which also started there. Oh, and the U.S.
Postal Service also used the fort as it's base.
This was in the 1850's folks, so there were A LOT of Indian War
Parties marauding around there attacking anything that moved
basically.. because they were Pissed! These were the Kansas
tribes of Cheyenne, Kiowa, Arapaho, Pawnee, Comanche and a
few others but there were MANY.
And their lands were being taken away so it was very dangerous
for white folk of any kind. Those folks heading West on the wagon
trains were either stupid, ignorant of the dangers, or the bravest
people on earth!
Comanche war party: tshaonline.net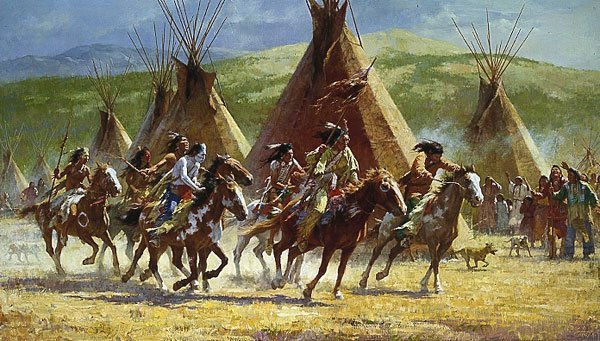 The man who built that sod house 5 miles from the fort began
trading with hunters and soldiers and his little place became a
popular stopping point so people from the fort decided that it was
a nice spot for town so they started building there.
Of course the first building they put up was a whiskey bar made from
sod and old boards! lol but hey, it was a building! too bad that one
didn't survive to be a tourist joint. Anyway shortly thereafter came
the new railroad tracks and the city's boom was on.
At first they called it Buffalo City because of the huge numbers of
buffalo hides they were shipping out by rail to the East but that
name was already taken by another town so they just called it
Dodge City after the fort.
Here's some buffalo hides, 40,000 of them stacked up: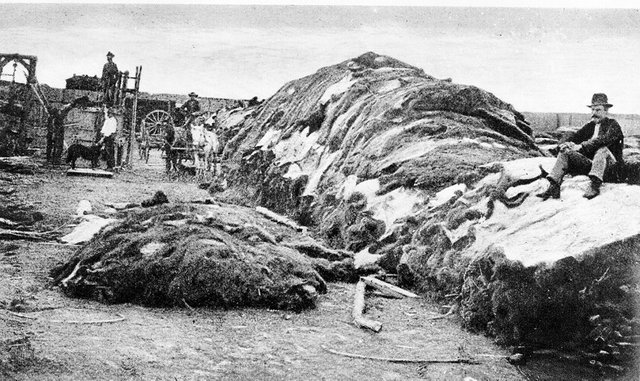 wikipedia common
There were thousands of buffalo being slaughtered every year in the
Plains. why? Because it was a strategy to starve the Indians into
submission by taking away their main food and clothing source.
The man in charge of putting an end to the Indian Wars said this:
---
"Let them kill, skin, and sell until the buffalo is exterminated, as it is
the only way to bring lasting peace and allow civilization to advance."
– General Philip Sheridan
---
here is a famous photo which gives you an idea of the numbers: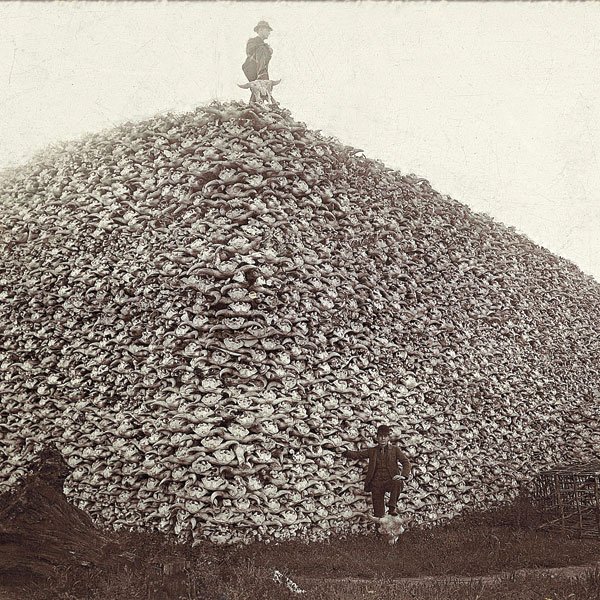 wikipedia common
The bounty on hides was $3 and also 25 cents for tongues so that
means very good money back then and hundreds of hunters flocked
to the Plains to take advantage of it. Hundreds of buffalo were being
killed each day.
His plan worked too, dang near exterminated the entire species
and did indeed drive the Indians to starvation. Okay that was a
bit of a sidebar but it was such an important fact which affected
all the Plains tribes and Dodge City so I wanted to include it.
Dodge was the main center for buffalo hunters and buyers as
well as railroad workers, cowboys, gamblers, drifters and
gunfighters. And there was no Lawmen in town! You can guess
what happened...lots of people got killed and wounded, usually
for no reason. Just a bunch of men getting drunk and fighting.
vintage photo of Dodge from 1874.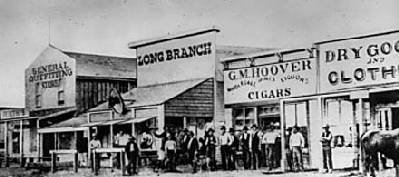 kansashistory.us
To try and stop the violence and bloodshed the city founders
decided to hire tough, hardened men who knew no fear..buffalo
hunters, gunfighters, ex soldiers and the like who would be a
disincentive for trouble makers to mix it up with.
And it worked..for awhile. Then men with evil intent began to
join the ranks of these enforcers and used their authority to take
advantage of people, to bully, intimidate and extort them for
their own selfish desires. What good men were left quit in disgust.
So things were falling apart again and order had to be established.
Enter the Lawmen. Wyatt Earp, Bat Matterson, Charles Bassett,
Bill Tilghman. What happened when they come to town will be
discussed in the next post.
thanks for reading folks, God bless you all!
-jonboy Texas
the gentleman redneck
ps- ya know, you might just be a redneck if:
your wife's hairdo was ever ruined by a ceiling fan!