THE HARD ROCK SOLUTION
The solution is simple once it becomes obvious.
The hardest part of actually doing something is starting.
Sitting at the computer and typing is not considered "productive" work around here, especially when there is a ton of rocks I have dug up over the past week in clearing an area to expand our garden plot. Rocks are lying around and have to be moved somewhere so the best way to dispose of them is to use them to create a border around a mostly non-productive planting area. That means picking them up and moving them to where rocks are needed.
Rocks are heavy. Deceptively heavy. The more you pick up, the heavier they get. Pick one up, put it in cart, haul cart, pick rock up and put in place. That's at least two pickups for each rock.
So, over the next five hours of the morning, I picked up and moved rocks. Each load weighed about 100 pounds. There were 22 small wagon loads of rocks! That's 2,200 pounds picked up two times!
As I unloaded one rock at a time, I placed it around the edge of the area we had finally gotten several plants to grow in the rock-hard white clay surface near the side of the pond. I had to transplant a small clump of bamboo and it took a pickaxe to break the surface.
By the time I got that far, it was already 88 degrees (31 C) and my shirt was wet with sweat ("perspiration" sounds better, but I was undeniably sweating.)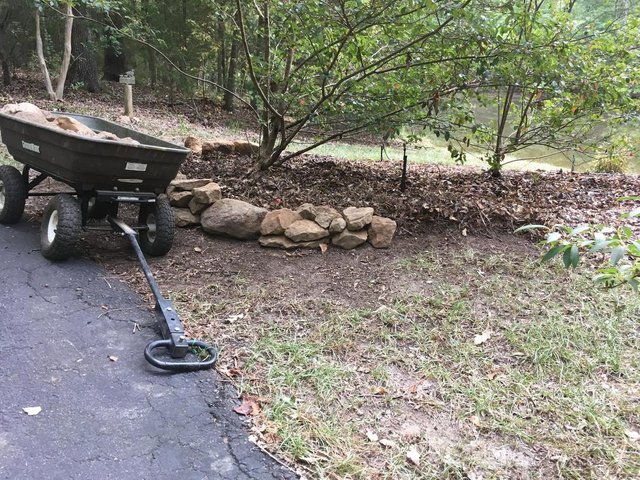 This little fellow could not find a place to hide, so I brought him with a load of rocks (no fare charged) and placed him in the leaves inside the his new home where it was shady and moist. I made him a little fist-size home in between two rocks and apologized for his inconvenience.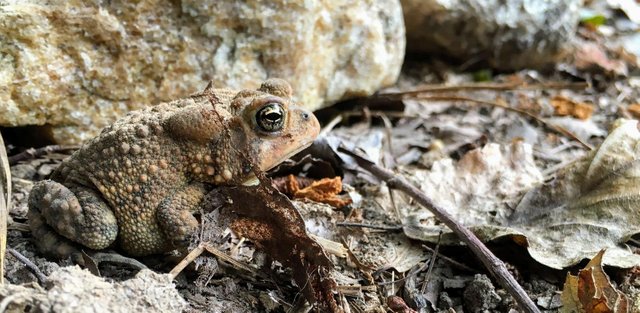 I relocated two water lines to the irrigation sprinklers and moved the sprinkler heads for better distribution. I also brought two loads of shredded leaves and grass collected from mowing the lawn and not-lawn and spread it to cover the ground. That will keep the surface cooler, provide cover for earthworms, and will retain moisture in the hard ground. The worms love soft earth and will tunnel through it and within one year we will have rich organic soil to nourish the plants instead of bomb-proof clay.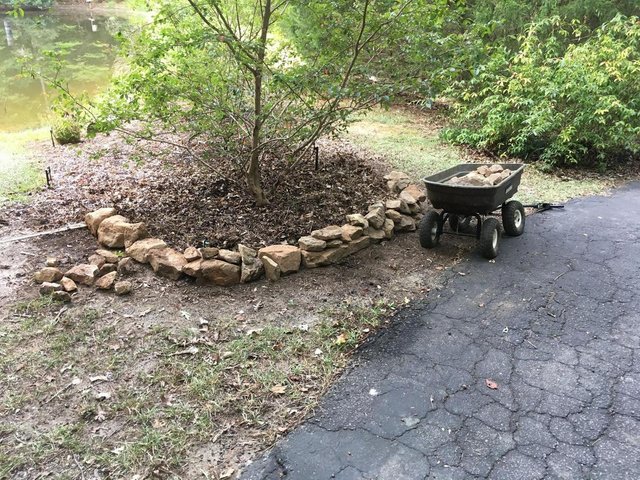 The downside of moving anything at all around here is that whatever it is, is someone's home. I hate that part. Prying a rock up always reveals a small colony of some sort of creatures scrambling for shelter, of ants collecting their tiny larvae, worms trying make themselves alert and get away from the burning rays of the sun. And all that time I'm destroying habitat like a demonic presence from another world spreading mayhem to smaller creatures.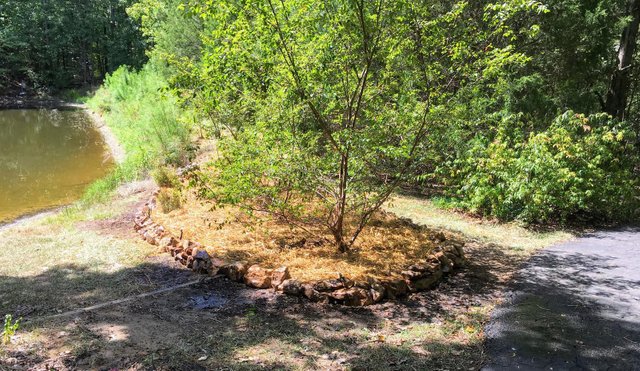 The results are not as grand as I had envisioned, but adequate for the job of holding the mulch in place around the plantings and slow the water from running away with the topsoil.
I doubt anyone will notice the hidden rocks masquerading as a containment border around ground mulch.
Hide them in plain sight! Diabolically clever, Mr. Holmes!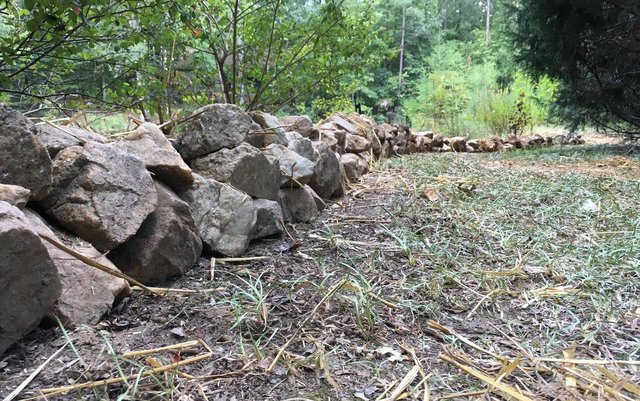 Images by @willymac

finis

Comments from real people are welcomed.
About Me:
My Writing: