Hi there everyone, just giving a small update to this year's garden progress. It's been a great year so far for plants that love the cool side of things. This week's temperatures are not set to exceed 19C so its a good thing I focus on frost tolerant plants. I hold off on more tender plants until it looks like temperatures are going to get reasonable. I now think an additional tarp and hoop setup is going to be required if I am going to be able to grow anything like that this season. Today a devastating volcanic eruption rocked Guatemala, putting that much more dust into the atmosphere.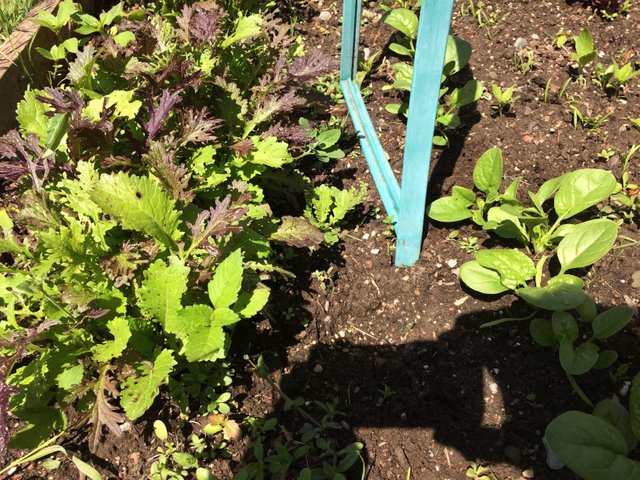 I can now pick my spicy asian greens, they are very hot and crunchy! The spinach are healthy but are still a few days from picking. I have been planning on putting in a new raised bed in a shady place so that I can keep growing lots of spinach and cilantro through the heat of July. Now I'm not so sure I need to worry about excess heat in July. Yesterday I had to make a fire after the below freezing night we had I just can't abide by cold hands and feet in June. I have only heard stories about springs this cold and slow to warm from the old timers here.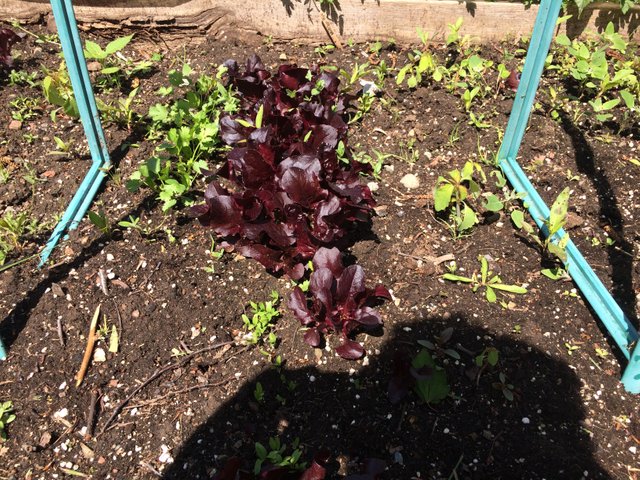 Only the radicchio red survived from our mescalin mix planting, but we have so many greens on the go that I replanted with cilantro. I've never had such a nice early crop of cilantro, it often bolts at this time of year when we usually have hot afternoons. I had a little of it to eat it had very little spice to it. It is because it's fresh and tender still, as opposed to when the stems start to become tougher. Most years I am waiting on a few specimens to get large enough to pick from, now I have small rows of dense cilantro. I am hopeful I can grow a surplus to sell locally.
Thanks for reading my thoughts on gardening and climate. This is one of the biggest challenges for gardeners, each season has it's own personality and we can't depend on it being the same from year to year. Despite its challenges and set backs my successes and failures drive me to keep at it and to do my best to remain flexible when we are thrown unwanted curve balls!
If you liked this article please leave a comment or resteem!
Links to my previous articles can be found here:
https://steemit.com/gardening/@mobios/Hot-beds-and-cool-lights
https://steemit.com/gardening/@mobios/spring-yields-its-early-rewards
https://steemit.com/gardening/@mobios/planting-seeds-and-potting-up
https://steemit.com/food/@mobios/simple-grocery-store-gardening-trick-1
https://steemit.com/gardening/@mobios/cold-frame-warm-plants
https://steemit.com/permaculture/@mobios/get-shut-in-the-cold
https://steemit.com/permaculture/@mobios/secure-your-food-vault
https://steemit.com/permaculture/@mobios/save-your-harvest-like-your-cryptos
https://steemit.com/gardening/@mobios/a-look-at-my-seed-garlic