Pasta with Tomatoes | Recipe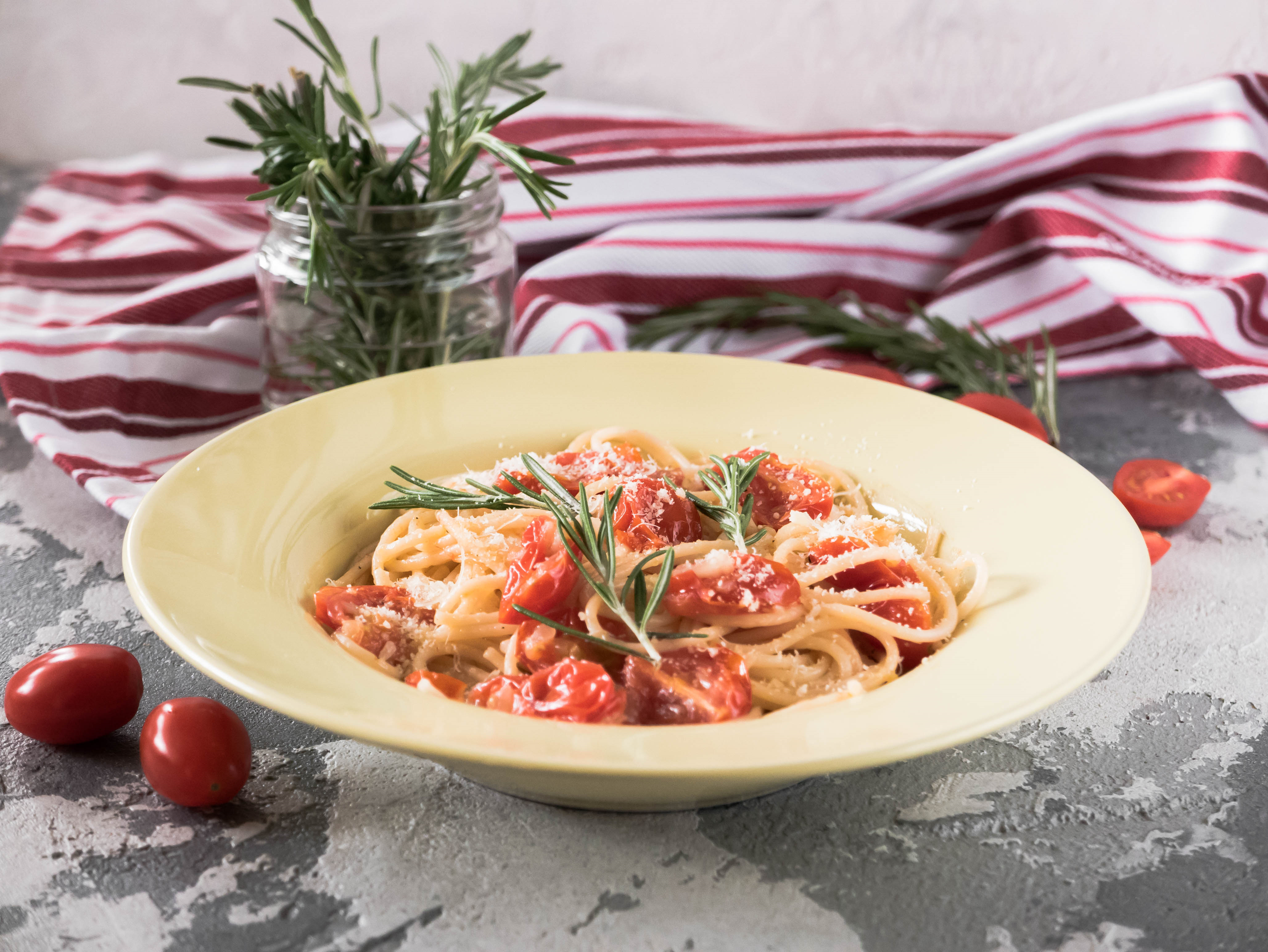 Friends, today I decided to make a pasta with small tomatoes, garlic and parmesan. I love to cook pasta and especially add tomatoes, garlic and various greens.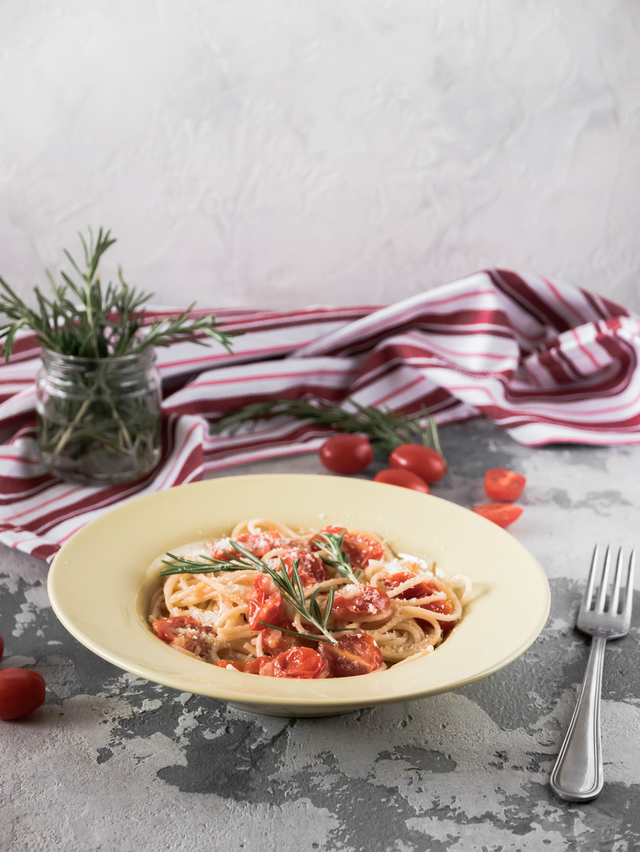 Pasta with small tomatoes is a very simple and incredibly tasty dish. If you use macaroni of solid varieties of wheat, then you can make the dish less caloric.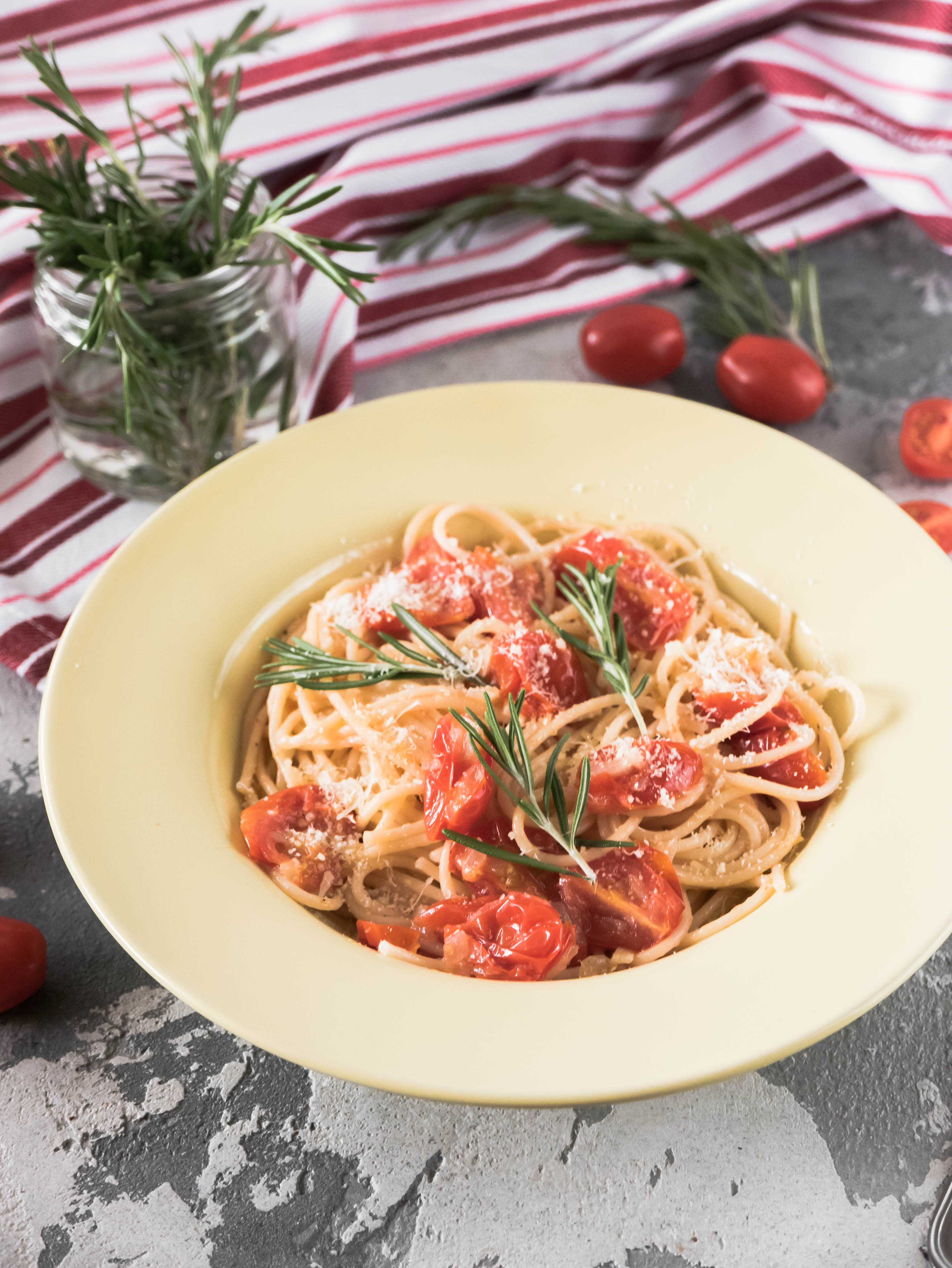 If you add rosemary sprigs to the pasta, the pasta will turn out very fragrant. Rosemary will give an interesting and pleasant taste to pasta.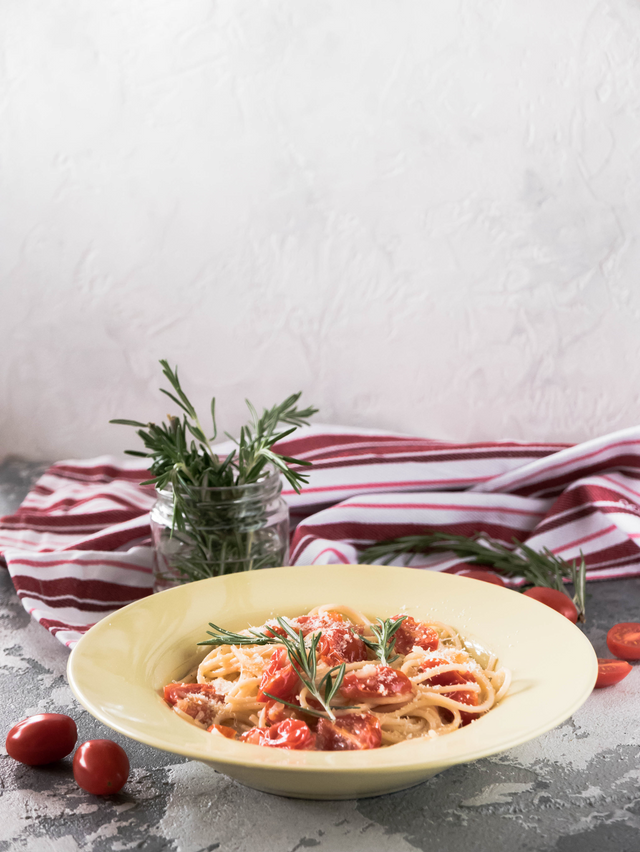 In the end, I sprinkled the pasta with chopped parmesan. He melted slightly and made the pasta more juicy and soft.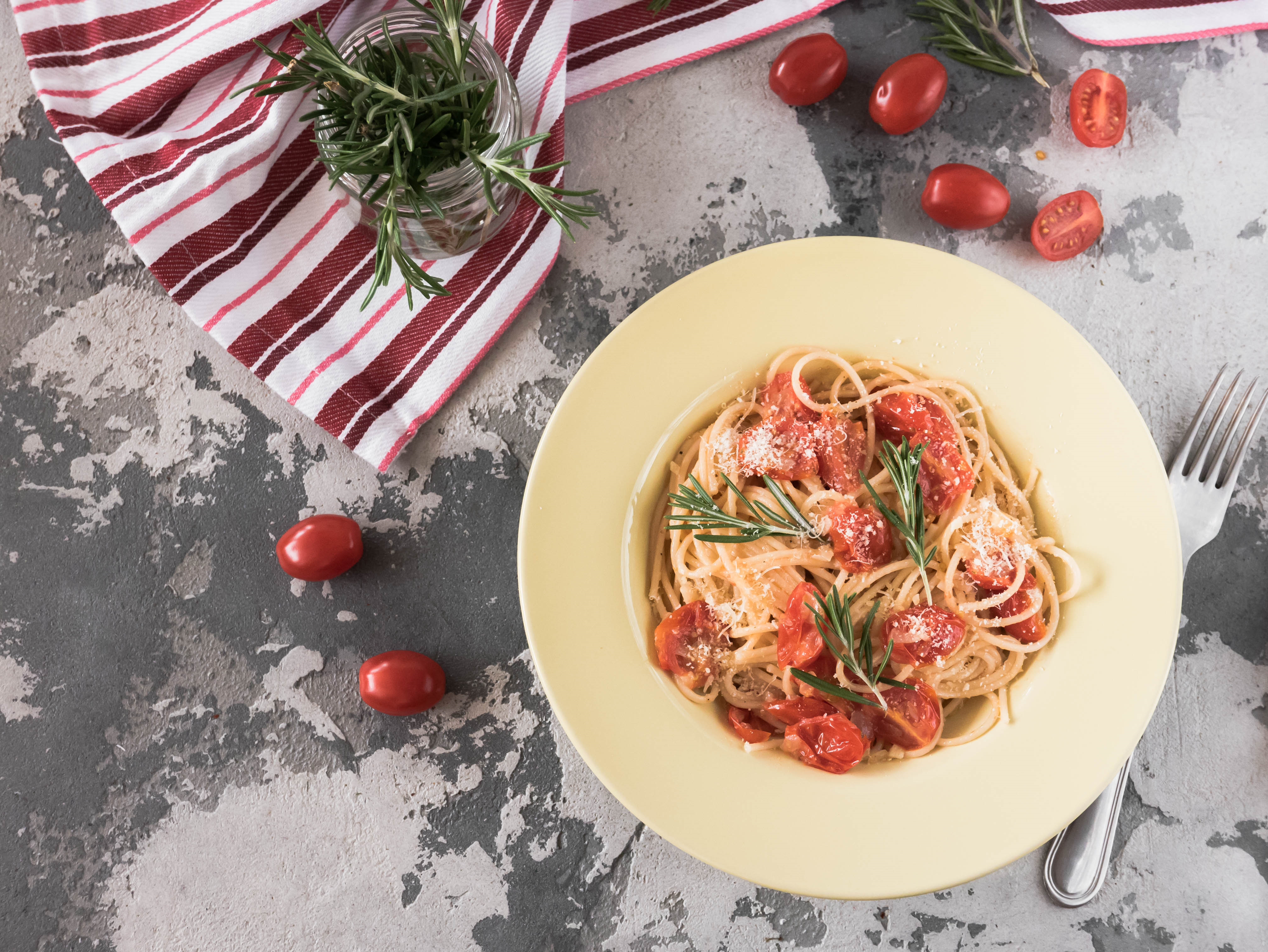 So if you liked my recipe, safely write it down and hurry to cook it in your kitchen :).
Ingredients:
120 g pasta
60 grams of tomatoes
1 small onion
1 clove of garlic
15 g of butter
20 ml of olive oil
1 sprig of rosemary
black pepper to taste
salt to taste
Directions:
1. Boil the pasta in salt water for 5-7 minutes.
2. Finely chop the onions and garlic. Cut the tomatoes in half.
3. Pour the olive oil into the pan and heat it over medium heat for 1-2 minutes.
4. Add onions and garlic. Fry all within 1-2 minutes.
5. Then add the tomatoes to the onions and garlic. Fry, stirring constantly. Tomatoes should give juice.
6. Add the pasta and butter to the frying pan. Add salt and pepper to taste. All mix well.
7. Put the pasta in a deep saucer. Add sprigs of rosemary and sprinkle with parmesan.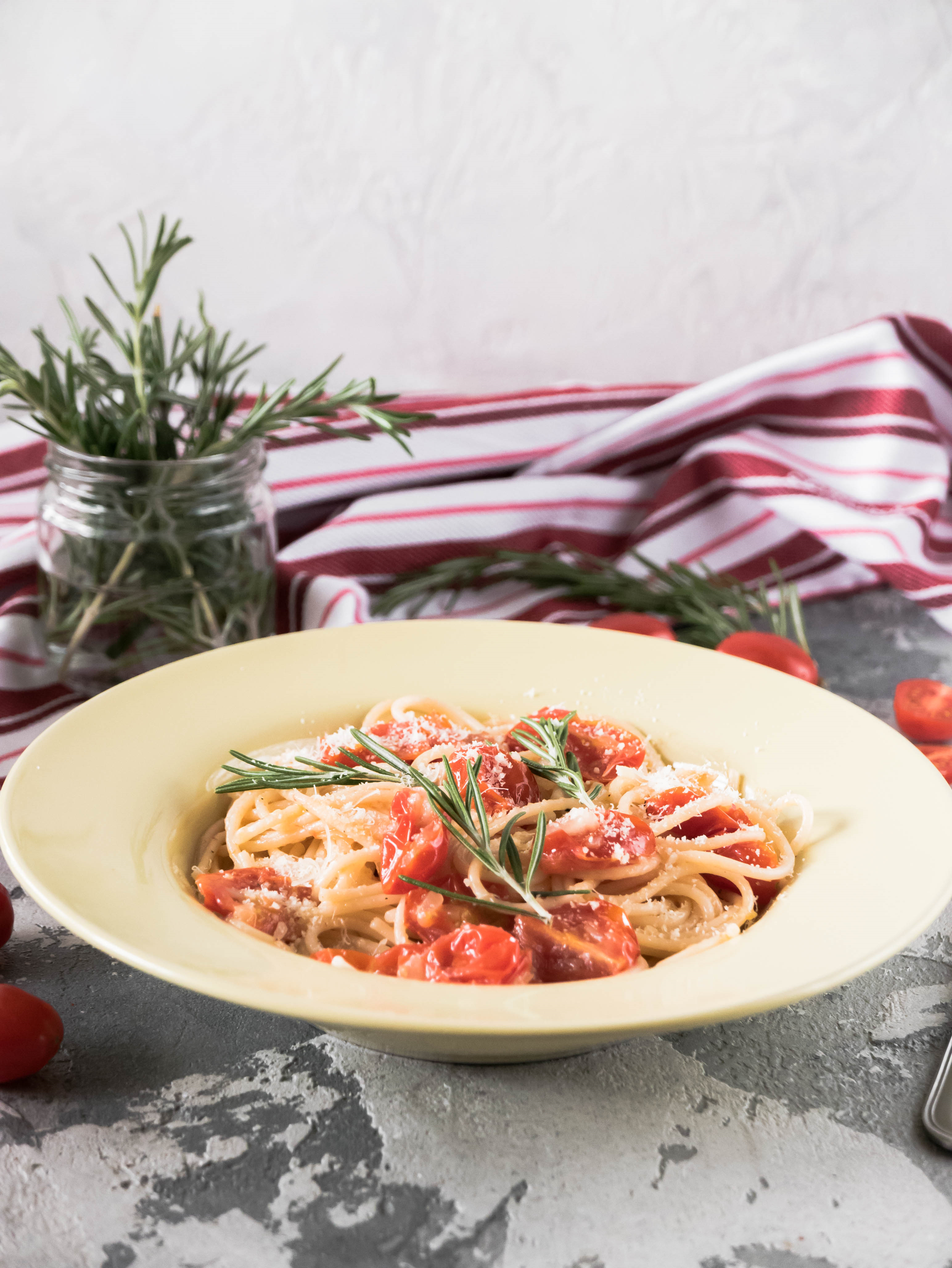 Bon Appetit!
Camera: Panasonic Lumix DMC-LX100
---
Thanks for watching and your time, I always appreciate it!
---
Here you can see some of my recipes:
1. Tiramisu in Glasses
2. Viennese Waffles
3. Pasta in Tomato Sauce with Meat, Thyme and Garlic
4. The Pie with Figs
5. Refreshing Drink with Strawberries and Lime
6. Little Meringues
7. Milkshake with Banana and Blackberries
8. Baskets with Curd Cream and Mango
Enjoy excellent day, friends!
---