The San Jose. Riches? Check.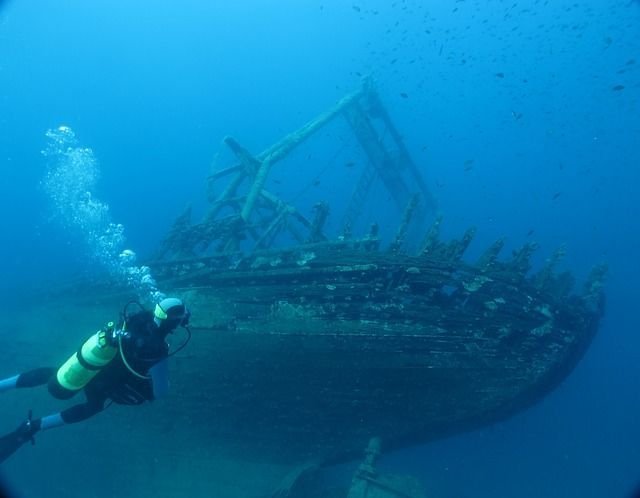 "Somewhere down there is the end of our search." I couldn't have disbelieved with him more. When Jake spewed out this bit of nonsense I just about threw up. But hey, who am I to rain on his parade? He's excited, involved, and motivated. That's more than I can say for most boyfriends.
Nine years ago he told me that he had found it. The holy grail of all shipwrecks. That was our first meeting; we met in a small beach bar of all places. His passion and dedication ensnared me, and to this day I cannot explain why I gave up a lucrative career as a marine biologist to become a treasure hunter. Treasure? Nah. The closest we've come to treasure is the small bit of ambergris that we found floating off the coast of Denmark.
That paid for not only our new dive gear, but also caught us up on three years of payments that were routinely falling behind by a month or two.
Our current goal (indeed the goal of the last decade) was the San Jose, a wreck from 1708 that was supposedly a treasure ship. Having gathered gold and silver from the Spanish colonies in Peru and Bolivia, she set sail for Spain. The British intercepted her with the intention of securing her cargo: gold, silver, gems, and jewelry. Ultimately she was sunk instead of being commandeered. Jake says there's somewhere between one billion and ten billion dollar's worth of precious metals and gems on board. Yeah. Right.
Personally I think he's full of crap, but hey... I love him. His indomitable spirit and drive towards his goals is second to none. The fact that I get to spend every day either out on the water or close to the beach is a big plus. It detracts from the fact that we've lived through an unending series of failures.
First he was convinced that the San Jose was sunk off the coast of Cuba. Being American citizens we had a tough time getting the permits we needed, but in the end a little bit of lubrication in the form of US dollars sent from his brother smoothed out the path. Who would have thought that $200 would buy so much? After three years of searching we found several wrecks, none of which were the San Jose. Nevertheless, the little bits we were able to salvage kept us afloat.
Next he was convinced that the San Jose was off the coast of St Maarten. Really? You still think they made it that far out of the Spanish Main before being beset by the British when the British obviously knew that they were coming? Right next to the British Virgins? THAT is the path that Captain chose? Come on.
I went along anyway, because... St Maarten! White sand beaches, sunshine, palm trees, and the winding mountain roads all contributed to the sense of mystique and allure that I couldn't resist. The fact that we struck out after three months of searching was punctuated by the discovery of an old British log in the local maritime museum. Our visit to Amuseum Narutalis in Grand Case was an impromptu stop on our way to the next dive site. Who would have thought that his little hole in the wall would hold the key everyone was looking for?
Jake actually stole the log. No shit. He told me to distract the person in charge as soon as he found the entry. I assumed that he was going to just open the case and read the parts he was interested in. How was I supposed to know that he would steal the damn thing?
Fast forward two years. We're now off the coast of Columbia. In theory, the San Jose sits just below our skiff. Jake has calculated the exact location based on the log entries he found in the book he stole from the museum in St Maarten. Those old astrological entries are difficult to translate into today's GPS coordinates with any degree of certainty. A two percent error on the part of the navigator could easily result in a difference of one hundred miles. Here's a challenge for you: search the entire sea floor in a one hundred square mile square area. Jake thinks he's done it, though. Narrowed down the 'search parameters' as it were. Finally.
Over the side he goes, with the look in his eyes of imminent success. I give him a kiss, just because. Maybe one day we'll find some sort of stability. Who knows?
About 20 minutes pass, and I'm starting to get worried. Jake is not usually down this long. Granted, we're working at a depth more than we're used to, but still. He's been down a long time.
Just as I was about to grab the VHF and call for help, bubbles announced the imminent arrival of Jake.
Imgine my surprise when the first thing to break the surface was hand holding several million dollars worth of Spanish Bullion. Holy crap. I chose the right horse after all!
This is my entry for the steemit competition https://steemit.com/contest/@steemfluencer/round-3-of-the-shipwreck-challenge
I've had a busy week and I couldn't put as much thought into this as I'd have liked, but I don't think it's awful. That's bonus for me.
Special thanks to @steemfluencer for putting this three part contest together, and all of the folks at @isleofwrite and @thewritersblock for helping me along the way.