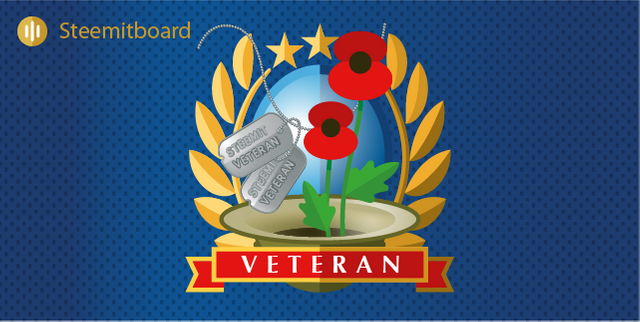 Did you know there is a very active Military Veterans Community on Steemit?
@guiltyparties, a well known witness working in the @steemcleaners' team, is the initiator and manager of the Veterans Project on Steemit and operates it with the help of fellow veterans. You can read more about this project here.
You can check out the #veterans tag or @chairborne's blog.
The veterans' project already had a signature badge that they could use in their publications and profiles. But @guiltyparties wanted to modernize it and integrate it with SteemitBoard. It follows in the footsteps of the @steemcleaners' verification badge.
@guiltyparties contacted us and together we created the first Community Badge.
A new badge in your personal awards bag
Members of the Veterans Community (i.e. accounts followed by @chairborne) will be automatically awarded a brand new badge:

@steemitboard will notify you as soon as it is available on your board.
Do you want to reuse it in your publication? That's quite easy, insert the following code in your posts or comments:
https://steemitboard.com/@username/veterans.png
Do not forget to replace username with you own account name.
Congratulations to all our Veterans and thank you for your service!
---
Do you like SteemitBoard? Support the project and vote for its witness!


Read here why to support @steemitboard as a witness
Read SteemitBoard's latest witness report here

Steemitboard is a project created by @arcange