💞 Community Sharing Challenge [Whaleshare and Beyondbit Rewards for ALL Participants]
We been having so much fun sponsoring our Art and MEME challenges over that last few weeks and are so proud of EVERYONE who has participated in both the art challenges themselves and the supporting Tokens for Tweets challenges.
It's time to take a moment to reflect on all the great art work that has been created and share a bit of love for those who created them. This is a challenge EVERYONE can take part in and be rewarded for giving support and feedback to the community.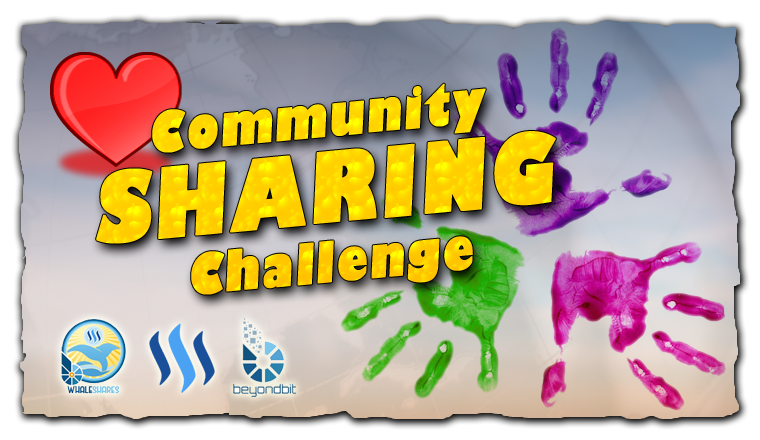 🌟 Your mission should you choose to accept it:
Go back through the last few art challenges ( listed below ) and select your favorite 3 entries from any of the challenges and create a post to share why you like those entries, how they may have inspired you, and any helpful tips and feedback you would like to give.
Please keep it positive!
We want to encourage as many people as possible to join in and be an active participant in our community.
📜 Please follow ALL the guidelines...
1) Choose AT LEAST 3 entries from any of the art challenges listed below.
2) Create a post to share those entries.
3) Copy/Paste the art images you like into your post and give credit to the Steemian who created them.
Ex: Art Created by @OfficialFuzzy
4) Give a short explanation of why you like the art work, how they may have inspired you, and any helpful tips and feedback you would like to give. Again, please keep it positive to help encourage and inspire more participation.
5) Put the link to your post in the comments below along with your Bitshares/OL account name.
6) Please Upvote AND ReSteem This Post
(afterall, this is a community-building challenge)
---
Recent Art Contest Entries from these Challenges
☯ Cross-Chain Synergy Art Challenge #1
🐱 "Save the Kittens" MEME Challenge
'EOSIO Themed' Tokens for Tweets Title Image Art Contest
🔁 Community Art Challenge #1 "EOSGo"
🐱 "Eth Killed by Kittens?" DPOS Meme Challenge
---
🏅 Challenge Rewards
EVERYONE Who Participates in this challenge and follows the basic guidelines will earn an equal reward of:
100 WHALESHAREs and 5 BEYONDBITs
---
What are WHALESHAREs and BEYONDBITs?
Beyondbits and Whaleshares started as a conversations in the BeyondBitcoin hangout series shortly after Steem was launched historically in those very hangouts. It began as "community tokens" or "tag coins". These cross-chain tokens give their holders the power to Summon a Whalevote to posts without having to pay for attention. And they are only given to people who Win Contests and do other things of value to the community!
BeyondBit and Whaleshares tokens are on BitShares! So make sure you have a BitShares/OpenLedger account to receive and send them for upvotes on your Steem posts!
---

Join the BeyondBitcoin Communities
Please join in the discussions with us by becoming a member in ANY or ALL of the BeyondBitcoin and Bitshares communities. We have a wealth of knowledge and information waiting for you.
EOSTalk Discord
EOS.IO related community and topic discussions.
https://discord.gg/WaN27D2
Whaleshares Discord
Steemit community discussions, contests and events.
https://discord.gg/E9Rm9yT
Bitshares Discord
Bishares development community and discussions.
https://discord.gg/z2MSfWg
---
BE SUPPORTIVE and HAVE FUN WITH IT!