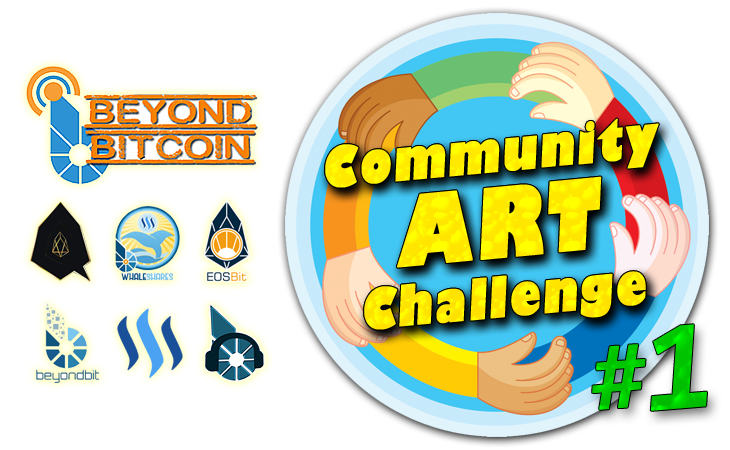 🌟 Let Spread the Creative Love!
Each week we will host several opportunities for you to earn tokens through participation in various contests and community building challenges. We want to use our collective abilities and talents to help build and promote the communities that help spread the missions of synergy and growth by working together.
We have such a vast group of creative people in our BeyondBitcoin community and we want to offer you the ability to get paid for using your talents to help others. This week we will focus on pooling our collective abilities to help those who are helping to promote our beloved DPoS chains and related projects.
Your mission should you choose to accept it:
Giving EOSGo a FRESH NEW LOOK!
Create a Bright and Inpirational Account Cover Image AND Post Title Image to be used to promote the @EOSGo community posts about all the EOS related telegram channels and activities. Be creative and let your artistic side run free!
Think EOSIO, Community, Communication.
Please Do NOT use Dan's image or the EOSIO logo by itself, this is NOT officially affiliated with Block.One/EOS, it is a Fan-based support community.
As awlways, we want you to go all out on this!
📜 Please follow ALL the rules...
1) Entries MUST include BOTH an Account Cover Image AND a Title Image to be used in their summary posts.
2) The Cover Image MUST be 2048 x 512 pixels in size and include the EOSGo logo.
3) The Post Title Image MUST be 730 x 450 pixels in size and include the EOSGo logo, the phrase "EOS Telegram Summary" somewhere in the image with a space they can add the date as needed.
4) Entrants MUST Upvote AND ReSteem This Post
(afterall, this is a community-building challenge)
5) Create a post with your entries, then reply below with a link to your your post, you can put your images too, and your BTS/OL account name in the comments.
---
EOSGo Logo Art (PNG Files)
Right-click on the image and "Save File As".

---
🏅 Challenge Rewards
Winners will be chosen by the @EOSGo Team and announced in one week, after this post ends. You will need a Bitshares/OpenLedger account to receive any rewards.
🥇 1st Place: 30 BeyondBits (Estimated $41 upvote / $185 USD payout)
🥈 2nd Place: 20 BeyondBits (Estimated $28 upvote / $120 USD payout)
🥉 3rd Place: 10 BeyondBits (Estimated $14 upvote / $65 USD payout)
Plus, ALL other genuine entries will recieve a small upvote reward.
---
What are Beyondbits and EOSBits?
Beyondbits and EOSBits started as a conversations in the BeyondBitcoin hangout series shortly after Steem was launched historically in those very hangouts. It began as "community tokens" or "tag coins". These cross-chain tokens give their holders the power to Summon a Whalevote to posts without having to pay for attention. And they are only given to people who Win Contests and do other things of value to the community!
BeyondBit and EOSBits tokens are on BitShares! So make sure you have a BitShares/OpenLedger account to receive and send them for upvotes on your Steem posts!
---

Join the BeyondBitcoin Communities
Please join in the discussions with us by becoming a member in ANY or ALL of the BeyondBitcoin and Bitshares communities. We have a wealth of knowledge and information waiting for you.
EOSTalk Discord
EOS.IO related community and topic discussions.
https://discord.gg/WaN27D2
Whaleshares Discord
Steemit community discussions, contests and events.
https://discord.gg/E9Rm9yT
Bitshares Discord
Bishares development community and discussions.
https://discord.gg/z2MSfWg
---
GOOD LUCK and HAVE FUN WITH IT!
---
Winners for the Cross-Chain Synergy Art Challenge #1
will be announced on Wednesday January 10th!