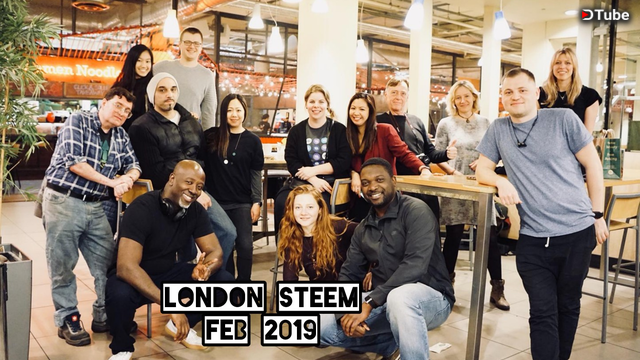 ---
Most will agree the London Steem Meetup we had a few days ago, was pretty damn amazing (check all the posts from the others - further down).
Make sure you watch the video for all the silly clips and pics I took of the meetup. I had lots of fun making it ;)
Thank you so so much to everyone who made it out to the London Steem Meetup on Wed 27th Feb.
---
You are the reason I love our Steem community as much as I do.
You are the reason I organize these monthly Steem Meetups
I love seeing you all, and I love meeting new people.
Some of you know by now, how absolutely eclectic and awesome the people you meet through Steem can be.
So the Meetups are always fun and filled with many interesting conversations.
It's just great to have other likeminded Crypto/Steem veteran/enthusiasts to speak to and learn from.
And more often than not, you make a new friend or two ;)
---
To everyone who made a post about the meetup: You are all awesome, I loved them all!
Massive thanks to all the London Steem "grandparents" who went around upvoting everyone, you guys are the best!
@Adetorrent: London Steem Community Meet Up In Kensington
@Breadcentric: So I went to a London Steem Community Meetup. Wzięłem i poszłem na Steemitową Schadzkę w Londku Zdroju. [PL/EN]
@Dougalporteous: LONDON STEEM MEET UP
@Ezzy: Just got back from a fantastic evening spent with some awesome Steemians! This particular Steem meetup ...
@Inesafreedom: London Steem MeetUp 27 Feb 2019
@Nanzo-Scoop: Reconnecting with Steem
@Rea: Enjoying a Great Night Out with Some Awesome Steemians
@Soyrosa: Steem meet-ups are the best - London Edition
@Steevc: February 27 2019 Another London meetup
@Teodora: London steemit meetup
@Ultravioletmag: Steemit meetup - Wholefoods Kensington
See you all again at the next one ;)
Much Love from Red
---
▶️ DTube
▶️ IPFS