Arriving at Pancras International, London, I sat on a bench for a bit, to observe people and not jump into all the busy London street life immediately after 5,5 hours of traveling. After talking to an ehm, interesting lady, she'll be the subject of one of my next posts, I decided to take an Uber to the meet-up location that @redrica picked for us - a Canteen in a Whole Foods Market, or in other words: a free, no-strings attached seats and tables and food and drinks to the liking of everyone :-)
I was received with quite literally open (Hugs! This is why I attend Steem Meet-ups) arms of @adetorrent and @redrica and a few new Steemians I hadn't met before like the very lovely @zool237, new Steemian @dougalporteous, essential oil loving @inesafreedom, and Ukrainian Steemian @wizzdom. More and more people arrived, like @steevc, @veritanuda, @teodora, and later on the meeting @breadcentric, @ultravioletmag and @susanlo joined as well.
SteemFest attendees @ezzy and @rea were my dinner partners, which was amazing since I knew they were at SteemFest and I've seen them many times in photos of meetings with @exyle, but I had never had a chance to meet them yet. You guys are amazing! Another (first generation) SteemFest attendee I was finally able to meet and chat with is @nanzo-scoop - I really appreciate the enormous bear hug I got at the end :D
As always, these meet-ups are over before you know it, and there's never enough time to chat with everyone, or with everyone as long as you'd like - It's a meeting of minds and passion and heart <3
Being spoiled by @redrica
---
After the meet-up I jumped in a car with @redrica, who was so kind to invite me to her home for two nights to spend some quality time with her and her awesome kids and husband. We had brunch with @breadcentric's home made rye bread which was so so good, and I've been enjoying the view from her couch, somewhere along the Thames: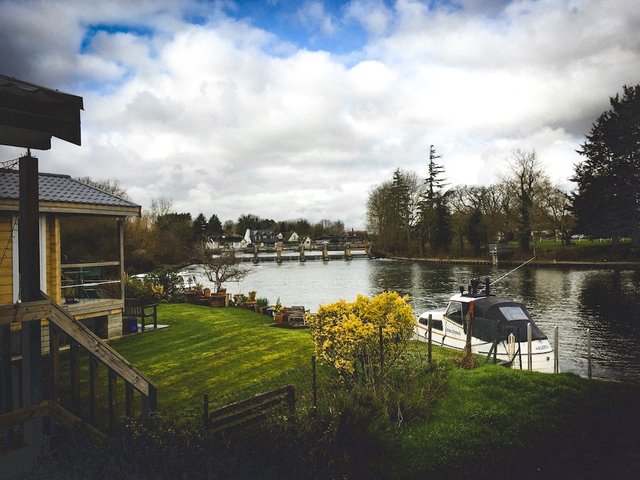 Of course, we're gossipping endlessly about all you Steemians now we have endless time to do so, don't you think we're talking about anything else :D
Tomorrow I'll hope to do some photo shooting with @adetorrent and have a decent cup of coffee with @teodora at the end of the day, after which I'll jump in the mega king size hotel bed of my favourite design hotel chain, before taking the 5,5 hour train ride back home :-)
Thanks to everyone who was at the meet-up yesterday, I had an incredible time and it will never stop to amaze me how easy and fun and mind-expanding it is to talk to Steemians... We're a special breed and I love all of you.
---
For pictures or video material I'll refer you to the following posts:
Edit: for future reference I'm plugging the other posts as well