Despite the short-term increase of the major cryptocurrencies rates over the past three days, their farther growth till the end of the June should not be expected. For the joy of the "bears" and for the depression of the "bulls" of the crypto-currency market, it is likely that by the end of the month we will see new minimum values ​​for a wide range of crypto-currencies and if the total capitalization of the entire market.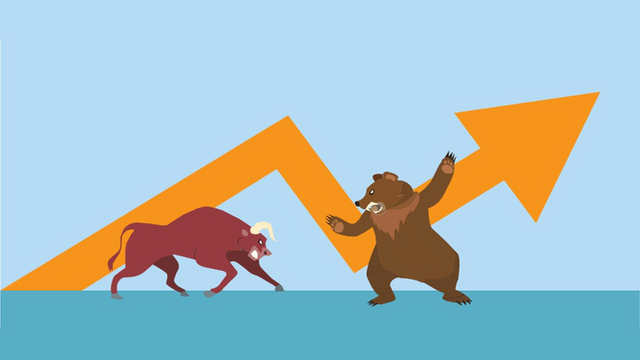 At the moment, the situation on the crypto-currency market can be described with confidence as stagnation with a lack of desire to buy. So, if at the end of last month the market turnover amounted to $ 20-22 billion per day, today it is only $ 11-12 billion, that is, the fall was more than 44% (2 times).
BINANCE COIN
Admittedly, one of our favorite coins is BNB's own commercial token of one of the largest cryptocurrency exchanges Binance - in its ongoing upward trend approached the next resistance zone $ 16.8- $ 17.6 per piece, the successful overcoming and consolidation above which in the very near future will open the way for it $ 19- $ 20 per unit and further, much higher, up to the update of the new maximum values. To promote this, not only the constant quarterly burning, that is, the withdrawal of some of the coins from circulation, conducted by the exchange itself, is called for, but other fundamentally positive events, such as the signing of agreements between the exchange and the bank and the possible start of receiving funds in the currency, and the planned opening of margin trading and, in some, more distant future, the transfer of BNB tokens to its own blockchain, as well as the launch of its own decentralized trading platform. In addition, one must always take into account that it is unlikely that successful managing exchanges are interested in a possible "dump" of their own cryptocurrency and will continue to support its policy in an as yet not over regulated market.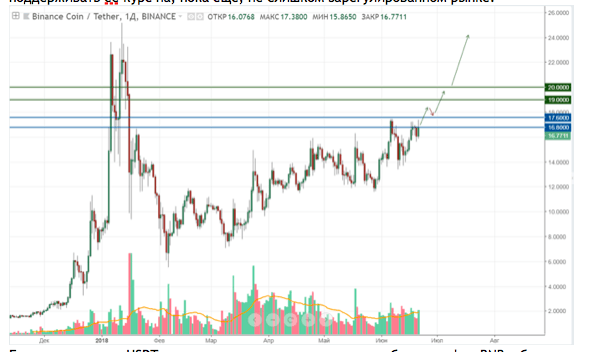 If you do not have USDT and you are "in the crypto", then it's not a problem, the BNB chart to bitcoin or ethereum (see the bottom figure, but the graphs are identical) is currently even more preferable for purchase and shows some current correction after rapid growth , at which it is possible to go into the coin at a more favorable rate.

Conclusion: Given the recent instability on the market, more and more projects are trying to avoid the impact of the bitcoin exchange rate. One of the best for that is exchange tokens, a striking example of which is BNB, which is increasingly willing to follow the market and tries to break the downtrend line.
My previous article - How blockchain might change identification and verification sphere
My Telegram channel - Captain Hook Crypto Tails