Hello friends!
Welcome to the eleventh edition of "Care To Read" Crossword Puzzle!
Here comes this week's blog posts on which tomorrow's crossword will be based.
We know all Steemians read a lot. But we want to know how many of you care to read, what you read. Most people just scan the article and put their comment asking or clarifying something which was already answered in the original post. So how about incentivizing a thorough read?
"Care To Read" Crossword Puzzle is designed to make you read some posts and have fun in solving a crossword based on the contents of those posts.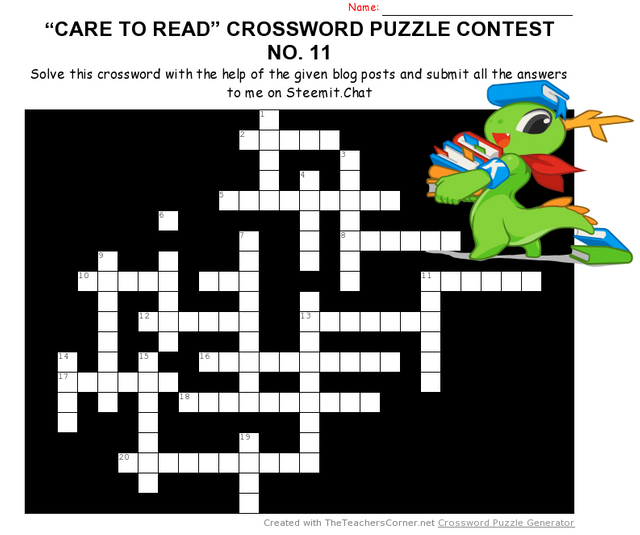 PRIZES
Apart from reading, playing and having some fun, we have also got some really cool prizes on offer. Thanks to our generous sponsors, we have got A TOTAL OF 150 WHALESHARES IN THIS WEEK'S PRIZE POOL. This prize pool will be distributed among the participants of this game as below:

Distribution of the Prize Pool:
QUICKEST CORRECT ENTRY will be entitled for the first prize of 50 whaleshares
After the winning entry, ALL CORRECT ENTRIES (maximum up to 5 entries) will be equally distributed the remaining prize pool of 100 whaleshares. If there are more than 5 correct entries apart from the Quickest Correct Entry, 5 of them will be chosen on the basis of a random draw and 100 Whaleshare tokens will be equally distributed among them.
Since we have a limited prize sponsorship at the moment, so I'll be contributing 50% of the SBDs from the Crossword Puzzle post payout to the prize pool in case the requirement arises. For all the correct entries not winning any Whaleshares, 50% of the post's SBDs will be equally distributed among all correct entries subject to the maximum limitation of 1 SBD each. So that ALL CORRECT ENTRIES RECEIVED BEFORE THE DEADLINE i.e. Friday, 8th December 2017, 23:59 Hours, UTC will be honoured.
Sorry, it won't be possible for me to reward SBDs to incorrect entries at the moment.
No one will be awarded more than 50 whaleshares from the prize pool. Unclaimed whaleshares in prizes will roll-over to next contest.
---
It's not possible to name everyone here but accept my heartiest thanks to all of you who UPVOTE & RESTEEM / REBLOG the contest post to increase the prize pool for all correct entries.
---
******
Whaleshares won in prizes will be transferred to your BitShares account. All participants should comment their BitShares account username after submitting their answers over Steemit Chat to me. If you don't have an account there, please open one and convey it to me. In case you don't want to open an account (though I recommend you get one), you can send me one of your recent post links which will be upvoted by @officalfuzzy account according to the number of whaleshares won by you.
******
HOW TO PLAY
You will be given some clues in the form of a phrase, question or a word string based on the contents of the posts given below. You need to figure out the answer according to its corresponding post / article or a related word mentioned there.
The empty squares of a crossword puzzle have to be filled with one letter each and you need to write a whole word by filling one letter each in succeeding squares.
Clues are categorized separately for writing the word Across (Horizontal) and for Down (Vertical).
Serial no. of the clue is mentioned in one square of the crossword. You need to begin your answer to that clue from this square (Across or Down according to the clue category).
At the end of the clues there is a number in the brackets. This tells you the total number of letters your answer should comprise of.
You may either take a printout of this crossword image, and reload it as your answer after completing it or just write down your answers according to the clue number. You can also use any image editing tool to complete and submit the crossword. Please note, due to increasing no. of image edited entry, I've added a "Name" option at the top of the crossword to make the sorting easier at my end. Please write your Steem username there.
Write all your answers listed by clue no. (Across as well as Down) in a single message and send it to me over Steemit Chat. Also, don't forget to send your Steemit username along with your answers. DO NOT POST YOUR ANSWERS IN THE COMMENTS ON THE CROSSWORD POST. IT WILL DISQUALIFY YOUR ENTRY.
The first quickest entry with all-correct answers will be awarded the first prize as mentioned above. Please note that you are not allowed to edit your entry once submitted. The first original submission will count. So solve it as fast as you can and try to be the first to submit your answers to grab the first prize. Contest ends at 23:59 Hours (UTC) on Friday, 8th December 2017.
In case of no correct entries until the contest deadline time, the first prize will be awarded to the entry with the most correct answers. Rest of the Whaleshares in prize will be rolled over to a future contest.
Since this contest is still in its infancy, puzzle is fairly easier. Please note that you are not expected to watch any videos linked or embedded in the post. You also don't need to look into the comment section to search the answers. Just read the post in its entirety. I sincerely hope that you will have fun while playing it.
N.B.: PLEASE DO NOT POST YOUR ANSWERS IN THE COMMENTS HERE. IT WILL DISQUALIFY YOUR ENTRY. SEND YOUR ANSWERS TO ME ON STEEMIT CHAT. MY USERNAME THERE IS xyzashu.DO GIVE YOUR STEEMIT USERNAME ALONG WITH YOUR ANSWERS.
ELIGIBILITY RULES :
No rules. All are welcome to play this game.
DISCLAIMER & FINE PRINTS:
In the rare eventuality of some errors or confusions, I reserve the right to award or not to award the prize at my own discretion.
HINTS AND ANSWERS ARE HIDDEN HERE:
Please go through all the above blog posts, read every word of them and be ready to solve the crossword based on them at the scheduled time. The fastest one wins though there are prizes for every successful entry as described above. Clues for the crossword will be published along with the crossword puzzle on this Monday around 8:30 am (UTC).
---
The Crossword Puzzle along with Clues
will be posted here on:
Monday, 4th December 2017 at about 8:30 AM (UTC)
---
Archive
If you want to have a look at the previous crossword announcement
go here
, to check the actual crossword puzzle released after the announcement
go here
. Keys & Winners' announcement for the previous puzzle is
here
. Visiting these links you can get a good idea about the format of this game.
---
*****
---
GRATITUDE AND A SHOUT-OUT:
A thumping thanks and shout-out to @akrid & @officialfuzzy of Whaleshares Project for all these whaleshares in the prizes here. If you are wondering what these whaleshares tokens are, please find out more about it in posts linked here. To interact and know more about whaleshares, you are welcome to join the Whaleshares Project's Discord Community.
*****
It's not possible to name everyone here but accept my heartiest thanks to all of you who UPVOTE & RESTEEM / REBLOG the contest post to increase the prize pool for all correct entries.


💓I LOVE YOU ALL!!!💓
---
*****
---