BitShares (BTS) Update: Attractive Buying Opportunity Approaches!!

SUMMARY
BitShares (BTS) is not a crap coin! One thing for sure is that it's not declining because BTS is a bad coin or a dead coin..not at all! It's called a correction. And a healthy one for that matter! My personal impression is that not too long from now, most cryptocurrency exchanges will be run on the decentralized platform. In fact, most exchanges, including the NYSE, NASDAQ, Nikeii, Kosdaq; etc, will be running on a decentralized blockchain platform which could become the golden standard. It would be priceless to see such a transformation of transparency!
The below chart contains slight updates to the prior Elliott Waves of the correcion that's in progress.The red a,b,c waves could be in based on the subwaves...however, this correction is too fast. It doesn't adhere to the "Hurry Up & Wait" syndrome of the Altcoins. The impulse waves (1,2,3,4,5) almost always completed with rapid movements and the corrections are near guaranteed to be slowere than molasses flowing uphill, outdoors in Maine in the middle of January! Yes, that slow with grueling churn of price at a slower pace than an ant walking a mile! So, I well expect this down wave to bounce and likely morph into one of the 36 corrective combinations.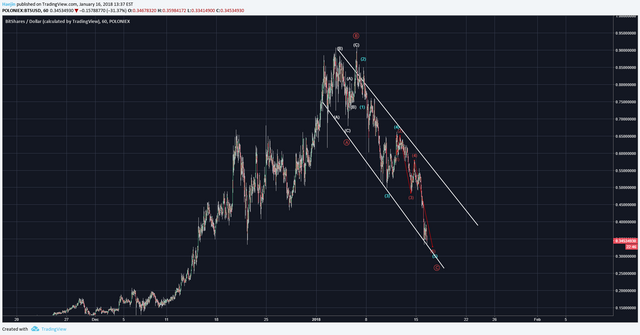 This chart provides more of a bigger picture perspective. The Cup & Handle pattern is quite visible and how the current correction fits into the pattern. If the prior five waves (i,ii,iii,iv,v) represent wave 1 of a higher degree of trend; then the subsequent red a,b,c then represents the wave 2; it woudl naturally mean that wave 3 is in progress and the current rise and correction represents 1 and 2 of higher degree wave 3. Now that's exciting! The MACD shows a bit of oversold zone so a bounce could be visible.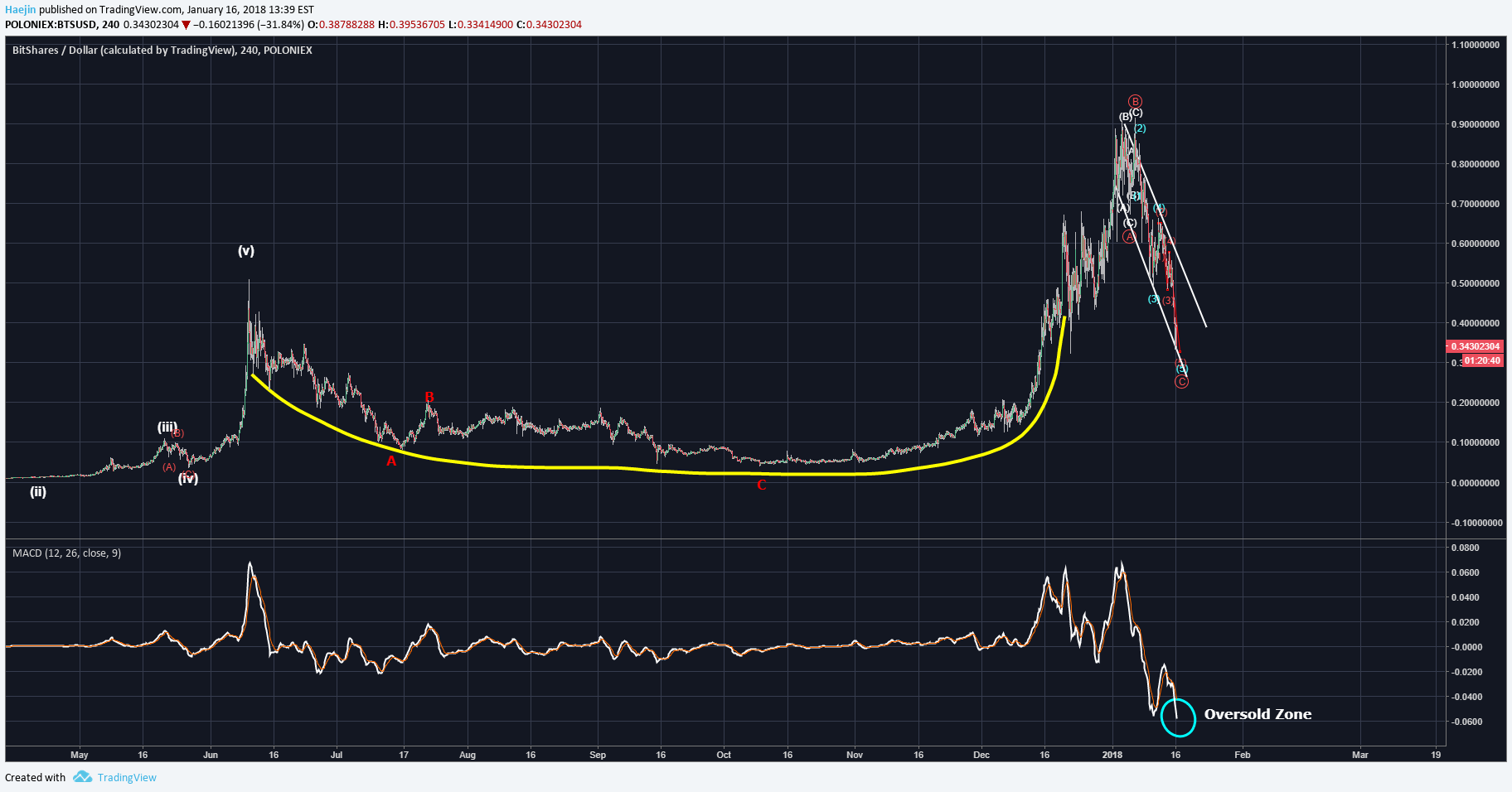 Legal Disclaimer: This is only my opinion, make of it what you wish. What does this mean? It means it's not advice nor recommendation to either buy or sell anything! It's only meant for use as informative or entertainment purposes.
Please consider reviewing these Tutorials on:
Elliott Wave Counting Tutorial #1
Elliott Wave Counting Tutorial #2
Elliott Wave Counting Tutorial #3
Laddering and Buy/Sell Setups.
Laddering Example with EOS
Tutorial on the use of Fibonacci & Elliott Waves
These Technical Analysis Books: Elliott Wave Priniciple & Technical Analysis of Stock Trends are highly recommended
@haejin's Trading Nuggets
Essay: Is Technical Analysis a Quantum Event?
Follow me on Twitter for Real Time Alerts!!
Follow me on StockTwits for UpDates!!
--
--


If this blog post has entertained or helped you to profit, please follow, upvote, resteem and/or consider buying me a beer:
BTS Wallet - haejin1970
BTC Wallet - 1HMFpq4tC7a2acpjD45hCT4WqPNHXcqpof
ETH Wallet - 0x1Ab87962dD59BBfFe33819772C950F0B38554030
LTC Wallet - LecCNCzkt4vjVq2i3bgYiebmr9GbYo6FQf