ZCash (ZEC) Projections Remain Unchanged, Despite Healthy Correction!

SUMMARY
I like ZCash (ZEC) not for the subterfuge attribute; but for the Technical Perspectives...bullish! Yes, one might be thinking how a bullish sentiment can exist during a correction...very simple, awareness of the higher degree of trends. The best way to perceive this is to not confuse the trees from the forest. While price at a microwave level can flick around like a fish out of the ware, the Ocean remains calm and undisturbed. The below chart contains my prior, original markings, pretty close and now the wave 2 correction is in progress. Not too shabby.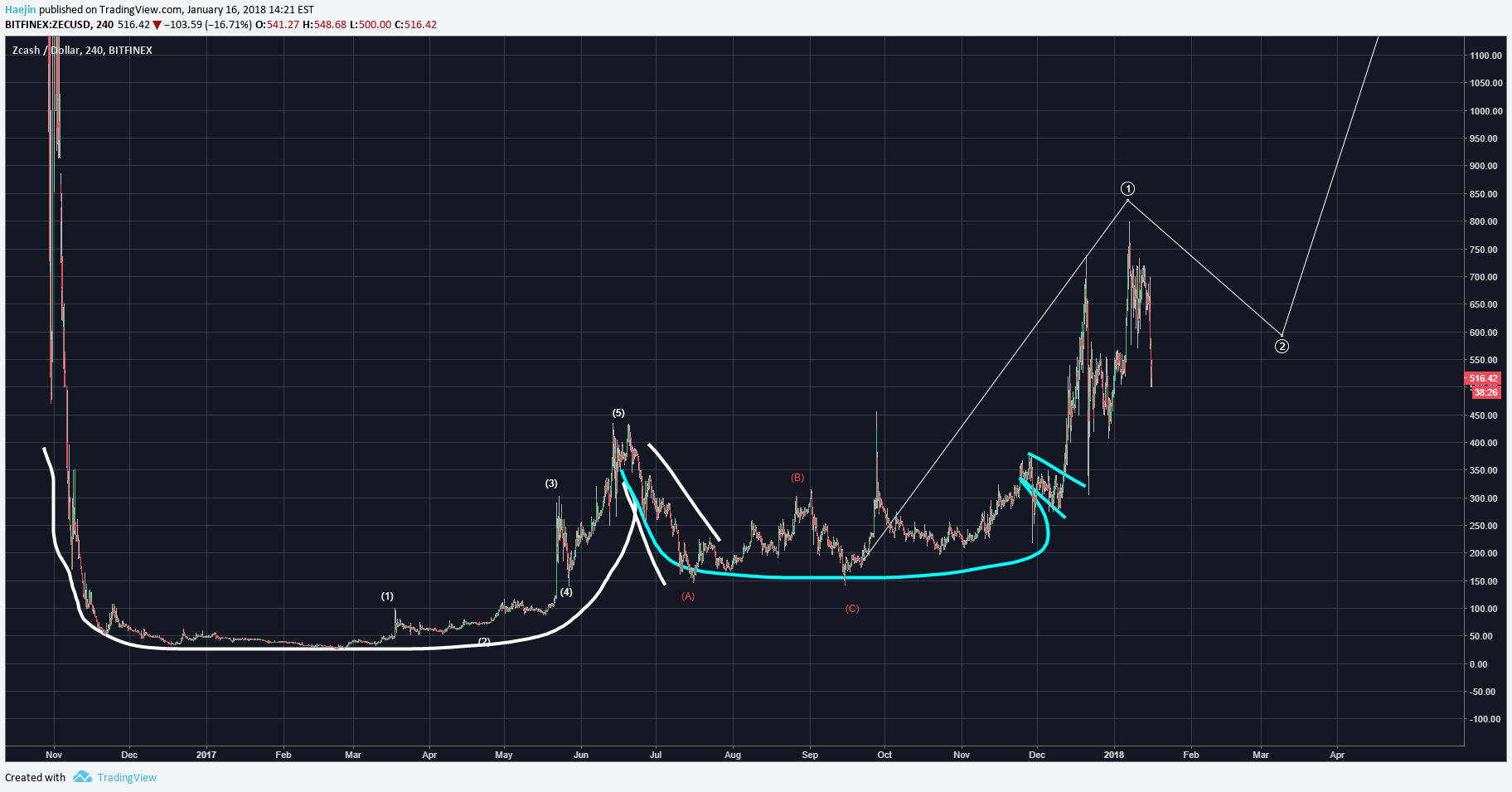 Here is the larger degree of trend perspective which ebs and flows with ease and calm. The microwaves seem nothing more than a tempest in a tea cup! A forgiveable event because it mattered none to the higher degree, real waves. My original targets remain solid!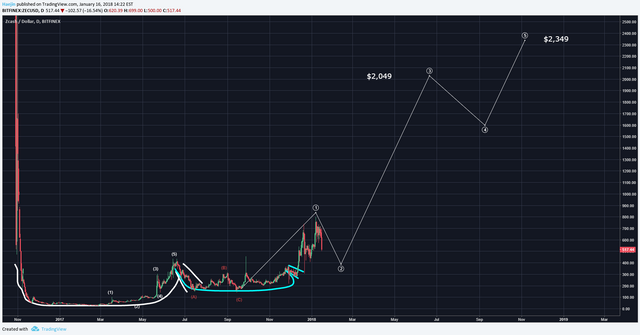 I'm discerning a probable fractal between the previous correction and current decline. The green boxes show the fractal potential region. What are fractals? They are highly similar but not exact patterns. So, per this, we could see another Cup & Handle or another form of extended, lateral, lengthy correction. They have to live up to their genetic syndrome of Hurry Up & Wait!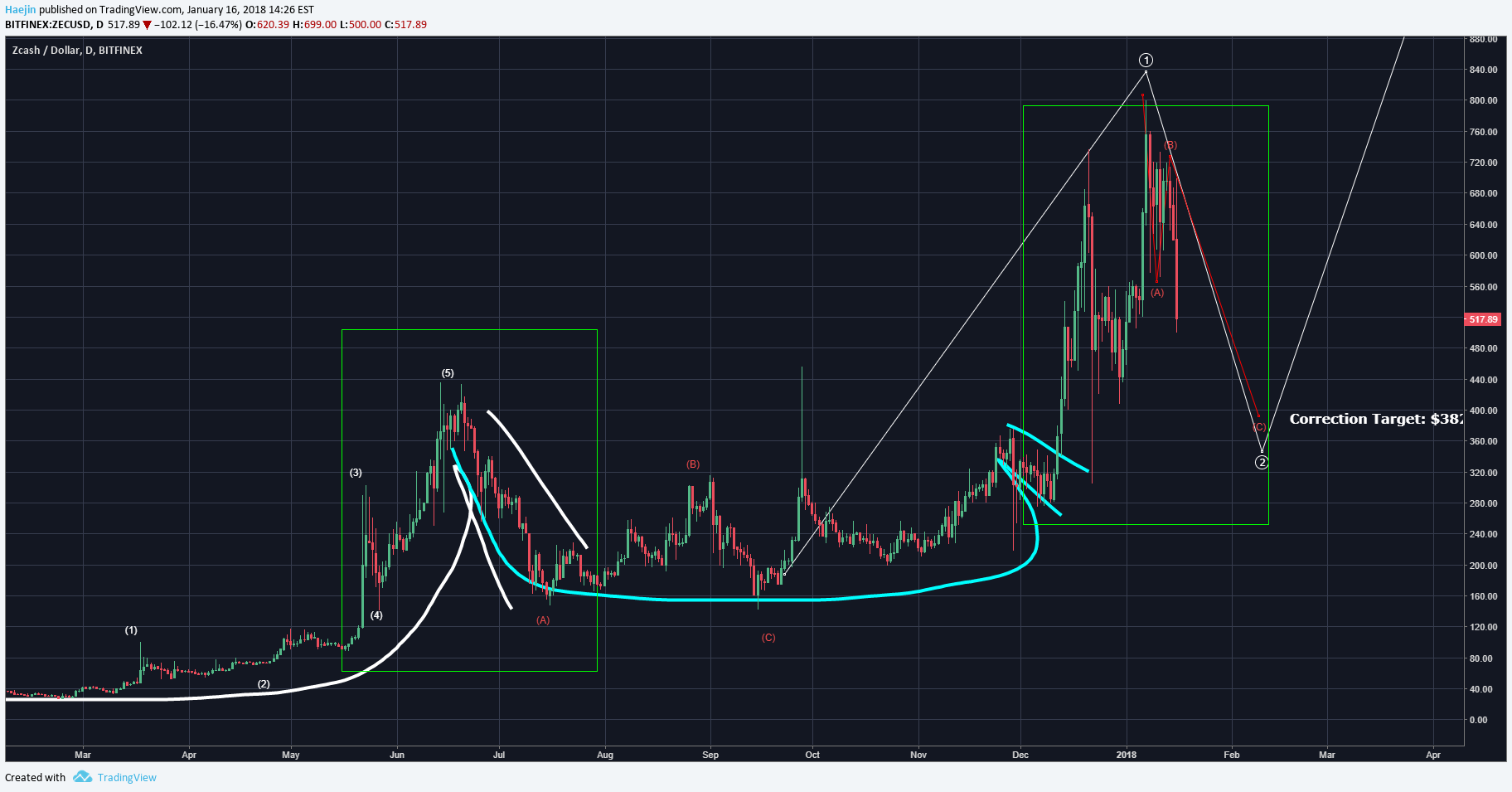 Legal Disclaimer: This is only my opinion, make of it what you wish. What does this mean? It means it's not advice nor recommendation to either buy or sell anything! It's only meant for use as informative or entertainment purposes.
Please consider reviewing these Tutorials on:
Elliott Wave Counting Tutorial #1
Elliott Wave Counting Tutorial #2
Elliott Wave Counting Tutorial #3
Laddering and Buy/Sell Setups.
Laddering Example with EOS
Tutorial on the use of Fibonacci & Elliott Waves
These Technical Analysis Books: Elliott Wave Priniciple & Technical Analysis of Stock Trends are highly recommended
@haejin's Trading Nuggets
Essay: Is Technical Analysis a Quantum Event?
Follow me on Twitter for Real Time Alerts!!
Follow me on StockTwits for UpDates!!
--
--


If this blog post has entertained or helped you to profit, please follow, upvote, resteem and/or consider buying me a beer:
BTS Wallet - haejin1970
BTC Wallet - 1HMFpq4tC7a2acpjD45hCT4WqPNHXcqpof
ETH Wallet - 0x1Ab87962dD59BBfFe33819772C950F0B38554030
LTC Wallet - LecCNCzkt4vjVq2i3bgYiebmr9GbYo6FQf