🗞 Daily Crypto News, November, 7th 💰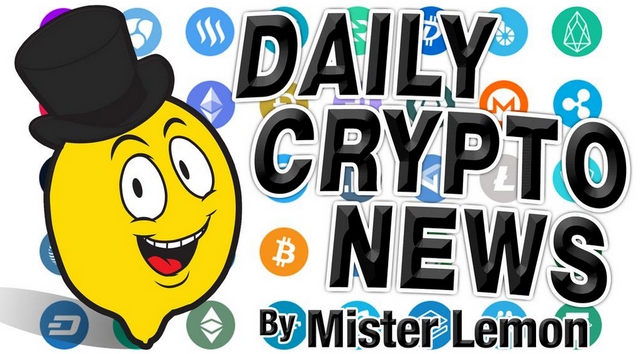 Tezos Price Rallies, Beats 99 Cryptos on Coinbase, OKEx News ;
China Signs Agreement With Hong Kong Central Bank for Blockchain Push ;
First-Time Bitcoin Buyers 'Doubled' in Square's Q3 Report ;
Asia's Bakkt? AAX Rolls Out Crypto Trading With London Stock Exchange Tech ;
Micree Zhan Claims He Was Removed From Bitmain Without Consent ;
🗞 Daily Crypto News, November, 7th💰
STEEM Trading Update
Welcome to the Daily Crypto News: A complete Press Review, Coin Calendar and Trading Analysis. Enjoy!
On Thursday morning (UTC time), Tezos (XTZ) is the best-performing coin among the top 100 by market capitalization, surging on news from two major cryptocurrency exchanges.
At pixel time (06:32 UTC), XTZ, ranked 19th by market capitalization, trades at c. USD 1.15 and is up by 27% in the past 24 hours and by 31% in the past week, increasing its monthly gains to 27%. The price is still lower by 14.5% than a year ago. In contrast, the absolute majority of other coins from the top 20 is in red in the past 24 hours.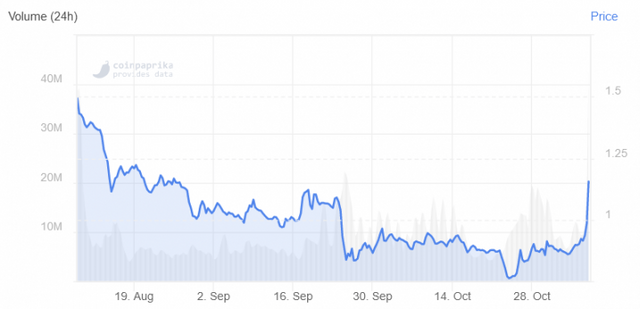 Blockchain has received fresh endorsement from China in the form of a development pact with the de facto central bank of Hong Kong.
In a news post on Nov. 6, the Hong Kong Monetary Authority (HKMA) confirmed it had signed a Memorandum of Understanding (MoU) with a subsidiary of the People's Bank of China (PBoC).
Central banks want "more convenient trade finance"
The deal aims to create a Proof-of-Concept for a trade finance platform from Q1 2020, linking two existing projects: the HKMA's eTradeConnect and the PBoC's Trade Finance Platform.
Square processed $148 million in bitcoin sales in the third quarter of 2019.
The payments company, founded by Twitter co-founder Jack Dorsey, released its earnings results on Wednesday, reporting revenues of $1.27 billion between July 1 and Sept. 30 of this year.
Though Square's crypto business remains a niche concern for the publicly traded company, more users are turning to Square's Cash App as a gateway to bitcoin investing, particularly after the company rolled out a new user interface for the app.
AAX, a Hong Kong-based cryptocurrency exchange that uses the London Stock Exchange (LSE)'s matching engine technology, has officially launched.
After 19 months of development and testing, the company said on Thursday that the exchange platform has gone live on web and mobile, targeting retail and institutional investors with spot, futures and over-the-counter peer-to-peer trading.
The LSE said previously that AAX would be the first crypto exchange to utilize its Millennium Exchange matching engine. Other major equity markets like the London one itself and the Hong Kong Stock Exchange also uses trading platform tech from the LSE.
United States-based cryptocurrency exchange and wallet service Coinbase said today that it has expanded access for staking the cryptocurrency Tezos (XTZ).
In a blog post on Nov. 6, Coinbase announced that it is now introducing staking rewards for all Tezos holders on Coinbase, so that each eligible U.S. customer can earn interest on their XTZ holdings for depositing and holding the token on the platform.
The estimated return for Tezos staking is around 5%
Staking lets customers passively earn income with their crypto by holding funds in a cryptocurrency wallet to support the operations of that tokens' network. Staking purportedly makes the underlying blockchain of that asset more secure and more efficient. In exchange for locking up their assets in a staking wallet, customers get rewarded with more assets from the network.
🗞 Daily Crypto News, November, 7th💰
Ripple hosts Swell from November 7th - 8th in Singapore.
"Enjoy, meet and learn from fellow Steemians through the conference and social events scattered across several locations in the city..."
"#Waves is joining Odyssey... We're kicking off on Nov. 7 at Polaris..."
Deposits open at 9 AM (UTC) on Nov 6, spot trading opens at 9 AM (UTC) on Nov 7, and withdrawals open at 9 AM (UTC) on Nov 8.
Komodo (KMD), Syscoin (SYS)
Block Party Amsterdam in Amsterdam from 17:30 - 22:00.
STEEM Trading Update by my friend @cryptopassion
Here is the chart of my last analysis :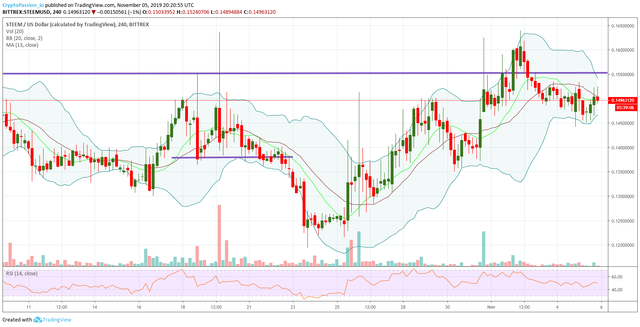 Here is the current chart :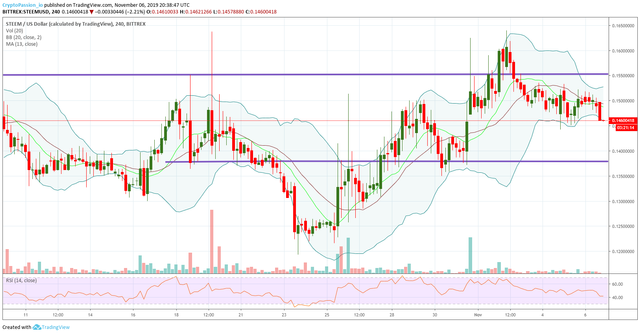 The bounce that we experienced yesterday due to the doji is apparently already finished and we just had a big correction candle which is sending us lower than the doji. We could now go in direction of the support line around 0.1375$. Let' see if that support will support a bounce or if the market want start a new correction phase on the STEEM.
Last Updates

Join this new Free To Play on the STEEM Platform !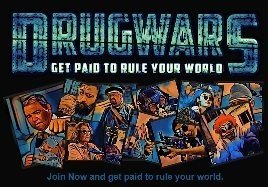 You don't want to miss a Crypto news?
Join SteemFollower and get Upvotes back !