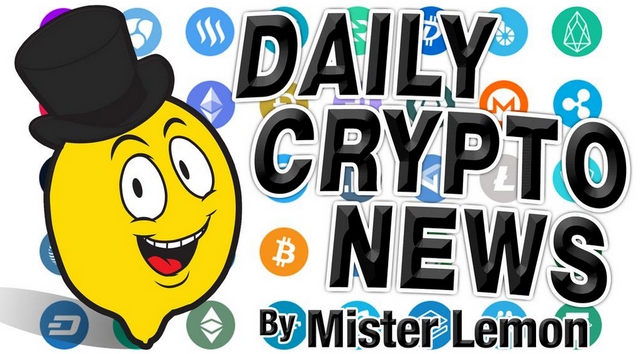 As Bitcoin Price Consolidates, Litecoin Looks Ripe for Massive Gains ;
Bittrex Target of Latest $1 Million Crypto SIM Hack Lawsuit ;
One Whale Was Behind Bitcoin's 2017 Bull Run, Claim Researchers ;
UK Introduces New Crypto Tax Rulings, Says Bitcoin is not Money ;
After Painful 2018, Chinese Blockchain VCs Are Getting Back Into the Market ;
🗞 Daily Crypto News, November, 4th💰
STEEM Trading Update
Welcome to the Daily Crypto News: A complete Press Review, Coin Calendar and Trading Analysis. Enjoy!
Bitcoin price (BTC) failed to ignite much interest as October closed. There are approximately 194 days left until the next Bitcoin halving, which probably feels like an eternity away for those involved with the crypto space.
This week there was also a surplus of negative news events like the Bitmex email leak and the Coinbase flash crash that caused mass liquidations on Deribit. So can we really expect Bitcoin price to do anything spectacular in the short term?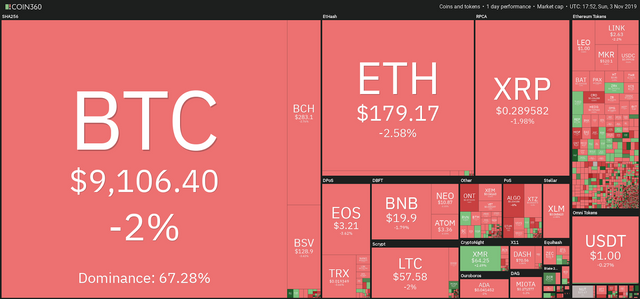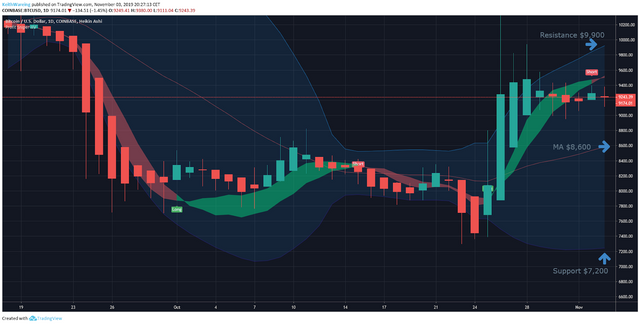 Is the weekly MACD turning bullish?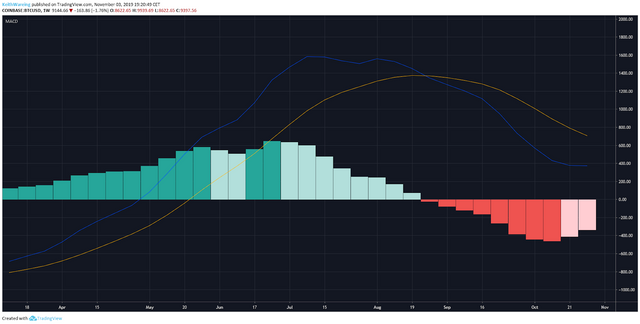 The weekly chart for Bitcoin has some golden nuggets starting to appear but they are not quite there yet. Using the Moving Average Divergence Convergence (MACD) we can see that the MACD line is beginning to gear up for a bullish cross, and for the past 2 weeks, the red candles on the histogram have been getting weaker.
This is a telltale sign that Bitcoin is due to enter its next bullish phase in the coming weeks. How long this will take depends on a multitude of factors, but one such place to look is on the Relative Strength Index (RSI) indicator to see if Bitcoin is oversold yet.
Crypto exchange Bittrex is being sued over a SIM swap that netted criminals 100 bitcoin, currently worth nearly $1 million.
The case resembles other recent high-profile heists in which a hacker seizes control of a victim's cell phone to then loot online crypto accounts: the swap was from cellular carrier AT&T, money was taken from Bittrex, and the hack took control over the victim's online identity.
The hack against Seattle-based angel investor Gregg Bennett, however, has not been resolved by criminal investigators, as others have before being made public in legal filings.
Researchers have escalated their claims about market manipulation in winter 2017, now claiming that a single whale was responsible for Bitcoin's historic price surge. The development was reported by Bloomberg on Nov. 4.
John M. Griffin and Amin Shams — of the universities of Texas and Ohio respectively — have updated their previous research, which made the case that market misconduct was allegedly behind Bitcoin's bull run to an all-time high of $20,000 in December 2017.
"Clairvoyant market timing" or manipulation
Griffin and Sham's analysis, first published in a research paper in June 2018, had argued that transaction patterns on the blockchain suggested Tether had been used to provide price support and manipulate the Bitcoin market:
"Purchases with Tether are timed following market downturns and result in sizable increases in Bitcoin prices. The flow is attributable to one entity, clusters below round prices, induces asymmetric autocorrelations in Bitcoin, and suggests insufficient Tether reserves before month-ends."
The British government has updated its cryptocurrency tax rules, adding stipulations for businesses that work with crypto. Also, they stressed that they do not consider Bitcoin and other digital tokens to be money.
The UK's tax agency, the HMRC (HM Revenue and Customs) had already released a series of guidelines for individuals, which it also amended slightly on Friday last week.
But per the latest document, firms will be obliged to declare cryptocurrency-related business actions on their company tax returns, and could be liable to pay the following taxes on their crypto dealings:
Capital Gains Tax
Corporation Tax
Income Tax
National Insurance contributions
Stamp Taxes
VAT
The Takeaways:
After the 2018 crypto crash, up to 90 percent of blockchain-focused Chinese venture capital firms left the market.
Now, as China's central government pushes for greater blockchain adoption, some are returning and deal-flow is increasing.
Surviving funds are retooling and diversifying into fields such as secondary trading and bitcoin mining.
🗞 Daily Crypto News, November, 4th💰
CASCON x EVOKE 2019 from Nov 4 - 6 in Toronto.
Stellar Meridian conference from Nov 4-5 in Mexico City.
Make sure to tune in to SDF Executive Director @DenelleDixon's livestream on Monday at 4:45PM CST for updates on critical SDF initiatives...
NWC will be listed on a new exchange.
Mainnet Launch
Cappasity (CAPP), General Event (CRYPTO), Pundi X (NPXS)
Lisbon Web Summit in Lisbon, Portugal from November 4 - 7.
STEEM Trading Update by my friend @cryptopassion
Last Updates

Join this new Free To Play on the STEEM Platform !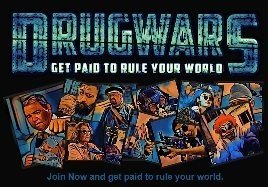 You don't want to miss a Crypto news?
Join SteemFollower and get Upvotes back !