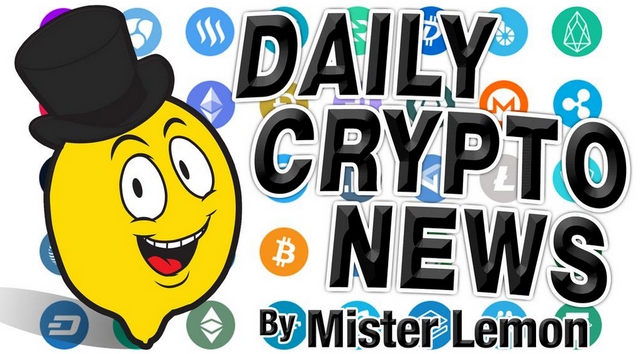 US Lawmaker Introduces Bill Classifying Stablecoins as Securities ;
'Source of Truth' — Winklevoss Says Bitcoin Is More Than Digital Gold ;
Zuckerberg: Facebook Will Not Launch Libra Without US Approval ;
ING Bank Devises Privacy Fix for R3's Corda Blockchain ;
Pomp's Morgan Creek Raises $61M for Blockchain Fund, Targets $250M ;
🗞 Daily Crypto News, October, 23rd 💰
STEEM Trading Update
Welcome to the Daily Crypto News: A complete Press Review, Coin Calendar and Trading Analysis. Enjoy!
Congress may consider a bill to classify stablecoins – cryptocurrencies whose values are pegged to a fiat currency or other assets – as securities.
In a draft bill published Tuesday, Rep. Sylvia Garcia (D-Texas) introduced legislation to the House Financial Services Committee to regulate stablecoins under the Securities Act of 1933, seeking to provide clarity in an area the bill suggests lacks regulatory guidance.
The bill states:
"The market value of such digital asset is determined, in whole or in significant part, directly or indirectly, by reference to the value of a pool or basket of assets, including digital assets, held, designated, or managed by one or more persons."
Cameron Winklevoss — one half of the eponymous family office Winklevoss Capital and co-founder of the Gemini crypto exchange — says Bitcoin's (BTC) possibilities go beyond digital gold.
In a tweet posted on Oct. 23, Cameron argued that:
"Because Bitcoin is open source software, its possibilities are boundless. I often talk about gold as a target market cap, but that's really just the beginning...it's digital gold, source of truth, etc…"
Mark Zuckerberg, the founder of social media giant Facebook, plans to tell United States Congress that Libra will not launch anywhere in the world until U.S. regulators approve it.
Libra won't launch anywhere without congressional approval
According to Zuckerberg's prepared remarks released on Oct. 22 in advance of planned hearings before the U.S. House Financial Services Committee, the Facebook CEO wants to assuage regulatory concerns over the launch of the coming stablecoin. He said:
"Facebook will not be part of launching the Libra payments system anywhere in the world until US regulators approve."
ING, the Netherlands megabank blazing a trail with extra privacy measures for enterprise blockchains, has come up with such a solution for the Corda distributed ledger system built by R3.
Announced Tuesday at the annual developer conference CordaCon, ING has helped solve a security/privacy trade-off that currently bedevils Corda users. The bank's blockchain team did so by applying zero-knowledge proofs (ZKPs) to the
Corda notary service, the means by which the network verifies the uniqueness of transactions and prevents double-spending.
Unlike most blockchains that broadcast data among all participating nodes, R3 designed Corda to control data and limit the amount of information that needs to be shared. The Corda notary service offers a choice between using validating notaries, which can view transactions to check they are legit, and non-validating notaries which have no such visibility but instead just keep a record.
Morgan Creek Digital has raised over $61 million for a blockchain fund to explore opportunities using distributed ledgers.
On Oct. 18, the cryptocurrency asset management firm Morgan Creek submitted a filing for its second blockchain fund to the United States Securities and Exchange Commission (SEC) and has so far raised nearly $61 million from 11 investors.
The filing — a Form D, that requests an exemption for the offering — shows that the fund started its first offering on Oct. 16 and is ongoing.
In an exclusive interview with Cointelegraph, Morgan Creek co-founder Anthony Pompliano said that the ultimate goal of the fund is to raise $250 million, with a new funding round in December of this year and a final round planned for the end of the first quarter of 2020.
🗞 Daily Crypto News, October, 23rd 💰
Cardano (ADA), General Event (CRYPTO)
"One of a kind gathering of 500+ curated & pre-qualified investors, CEOs, CIOs, CTOs, Heads of Blockchain, Chief Digital Officers, Heads of ...
"CloakCoin competition : solve the CloakCoin ENIGMA transaction, 3rd round."
"Unstack the Stack Series: Loom Network" from 6:30 - 8:30 PM (SST).
"Come check out our latest Bi-Weekly Report (09/23-10/14)!"
"$WTC deposits and withdrawals on #TaibiExchange will be suspended from 00:00 Oct 22 (UTC+8) and are estimated to resume at 15:00 Oct 23..."
STEEM Trading Update by my friend @cryptopassion
Here is the chart of yersterday :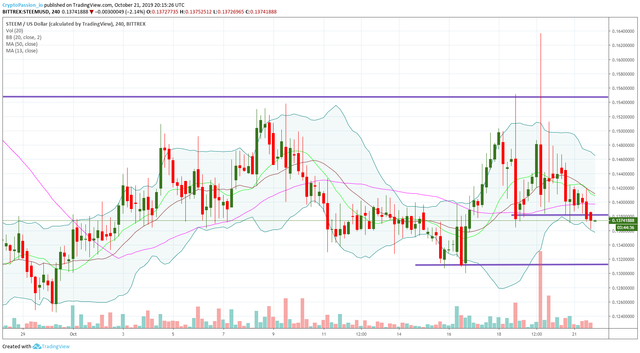 Here is the current chart :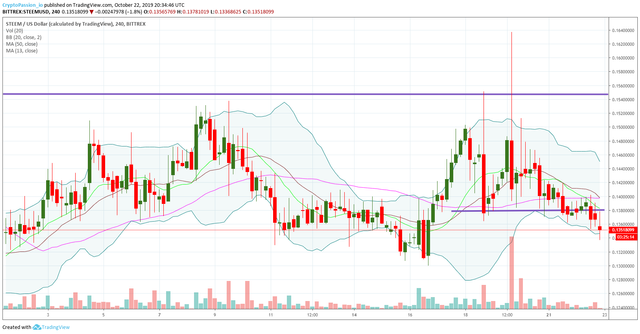 We can now consider the support line at 0.138$ as broken as we did a pullback on it and a new drop is now starting. So in theory, we are now going in direction of the low around 0.126$. Not a good new but if the BTC is continuing to correct, I don't expect that STEEM will do a UP alone.
Last Updates

Join this new Free To Play on the STEEM Platform !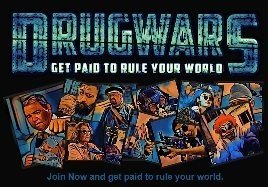 You don't want to miss a Crypto news?
Join SteemFollower and get Upvotes back !